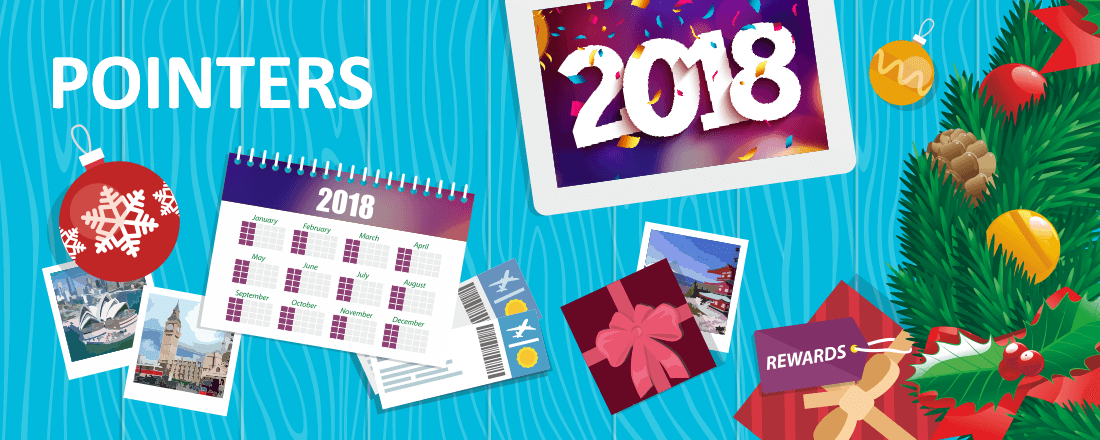 If you want to hit the road in 2018 and make it your best travel year so far, we have some great suggestions for you. These are our favorite tips on how to maximize your credit card benefits and loyalty program perks while also earning and saving miles and points.
IHG Rewards PointBreaks
This popular loyalty program puts many of its hotels around the world on sale for as few as 5,000 points per night . That can take the sting out of visiting popular cities that might otherwise be considered expensive. You won't always find Kimpton or Intercontinental properties at the lowest rates, but for those looking for convenience and value, this quarterly, rotating list of discounted hotels is a must to keep in handy. Don't forget that IHG is a transfer partner from many credit card programs like Chase Ultimate Rewards, which can help you plump up your account quickly.
Flying Blue Promo Awards
Flying Blue, the loyalty program spearheaded by Air France and KLM, puts many of its roundtrip routes on sale under its Promo Rewards. This means that you can score roundtrip economy or business class seats for more than half-off the normal redemption price. Its monthly list of city and region pairs is an important one to stay on top of especially since it is a transfer partner with American Express Membership Rewards.
American discounted mileage award
American often puts many of its routes on sale for fewer miles. These are typically segments that may see less demand during certain times of year making the airline more willing to provide incentive to fly them. The list changes each quarter and is worth reviewing. Also important are the mileage discounts that American gives to co-branded credit cardholders no matter what the route. Depending upon the destination and type of credit card, travelers can save several thousand valuable miles per trip.
Mileage runs
While the fun has been sucked out of true mileage running (taking flights for the purpose of earning miles), there are still some great opportunities out there if you can credit miles and points to lucrative programs like Aeroplan, Alaska Mileage Plan, and Avianca LifeMiles. Because of alliances you can choose the best place to credit miles flown.
Credit to the best loyalty program
It becomes a habit to credit miles and points to the airline booked, but this practice could leave behind valuable miles and points. That's because not all programs provide the same style of award currency at the same rate. Some programs are revenue based while others focus on distance or cabin class traveled. This can lead to tremendous variance in earning. Always check Where to Credit to enter your fare class to determine, which partner program will provide the most value.
International programs can be better
We have chatted about how North American programs have lost their luster in the change to revenue-based earning, but there are still some foreign programs with airlines like Aegean, Avianca, Flying Blue, Singapore, and Turkish. There are a variety of award program sweet spots like that one via Flying Blue between New Caledonia and U.S. that clocks in at France to U.S. prices and Aeroplan's first class awards between North America and abroad for reduced prices despite fuel surcharges. These programs are all worth reviewing.
Why pay in cash?
Most simple of all, it is shocking how many people pay things in cash that could be paid for with a credit card. Even if paying taxes or rent with a card, these are big-ticket spend items that can lead to earning lots of miles and points. Sure, many places may charge a percentage of interest to use a credit card for these items, but if your card has a spend threshold for securing elite status or bonus mileage perks, it could make a lot of sense to pay a little in interest percentage to win big in the travel game.
Credit card category bonuses
If you haven't read up on the category bonuses that come with your credit cards, you could be missing out big time. This means that with certain cards like Chase Sapphire Reserve (3x dining and travel) and American Express Platinum (5x travel booked through its portal), there could be significant gaps in your earning potential. Know where the sweet spots are to take advantage of your card perks, especially when you can gain outside value from them when compared to annual fees.
Don't forget stopover programs
While many airlines have made it more difficult to score a stopover on award tickets, there are still some options out there such as United's Excursionist perk that can include legal stopovers on some itineraries. This could be a great way to add another destination to your trip. There are also airlines like Icelandair and TAP Portugal that allow free stopovers on normal, paid tickets in their respective hub cities of Reykjavik and Lisbon. Normally, airlines would charge a bundle to break the fare and add another stop, but these flag carriers want to encourage people to visit their countries for free while en route elsewhere. TAP Portugal will even throw in a free bottle of famous Portuguese wine for those that take book a stopover on their ticket.
Online shopping
Many of us like the convenience of trying on clothes in the store or flipping through merchandise before paying for it. But, it can be both convenient and valuable to make the maximum number of purchases online going through airline or hotel program website portals that provide bonuses for how much you spend.
United even has the Mileage Plus X app that awards miles for each gift card purchased. Online shopping can earn as many as 100,000 miles per year for average spenders if you use the right web portals when shopping.
Small business programs
Most airlines have small business programs that are designed to award the company for spending as much of its travel revenue with one airline. While larger companies can typically negotiate discounts and extra perks with airlines to earn the bulk of their business, smaller organizations have less leverage. These programs are designed to provide an incentive for corporate loyalty from smaller companies. There are requirements such as a tax identification number, a legitimate small business with decent travel spend and number of company travelers, and possibility of a regular audit, these programs are quite valuable as they can award free travel quickly. Don't let your small business miss out on these awards.
Leverage travel partner networks
As much as you may think you are familiar with a loyalty program, there are always partners that are not as obvious as it seems. For example, did you know that Air Tahiti Nui and Fiji Airways are redemption partners with American Airlines putting many popular South Pacific destinations on the map for those looking to redeem miles. The Avios program has a great redemption partner in Royal Air Maroc, which flies regularly to the United States, and Virgin Atlantic has partnership with ANA of Japan and South African Airways that can be quite lucrative for those looking to score free travel. With a little research, there are a lot of hidden-gem redemption opportunities, which are great when it seems like you have maxed out all the obvious redemption partners.
Hotel-airline partnerships
You can travel further with more benefits when you link related airline and hotel accounts. For example, United and Marriott have a wonderful partnership where elite members of both loyalty programs can enjoy reciprocal status. Delta and Starwood have a similar partnership, which can provide things like free flight and suite upgrades. These are the kinds of perks that can really boost the overall experience and help you to enjoy your travel even more.
Points pooling
Programs from JetBlue to Hilton Honors are introducing new ways to take advantage of your points. Especially if you travel as a family and everyone earns their points individually, it can hugely pay off for everyone to earn points because they can be pooled together for one award. Never forego earning points (even for your kids), even with programs that you don't expect to use again. You never know when you can transfer those to another program where points can be pooled within one household.
Search for more comprehensive airfare
Many travel websites like to promote that they are the most comprehensive, but there are some that are better than others. If you can save more money, you can use that to travel more! Try ITA Matrix and use BookWithMatrix to ticket your flights. Kayak and Orbitz also perform well. The hunt for discounted fares works well in places like The Flight Deal and Secret Flying.
Don't let miles and points expire
Use tracking sites like Points.com or AwardWallet.com to monitor all of your loyalty program balances (and their expiration dates) in one place. If one is about to expire, use these tips to extend the expiration date so that you can use them for your next big trip.