An airport lounge is a great environment to enjoy while you're waiting for your boarding announcement. At the very least, you get a comfortable and quiet seating area with free coffee, soft drinks, snacks and WiFi. Some lounges also have showers and quiet areas. High-end lounges can be quite luxurious and offer striking design, gourmet food, top-shelf alcohol and even day beds that can be a rather attractive feature for a weary traveler during a long transit.

Lounges are usually reserved for first and business class flyers, as well as for those who hold elite status. Some lounges will sell you a pass, but the privilege can cost you up to $50 or more, depending on the lounge. But if you carry a particular credit card with lounge access, you may get the pass or even membership for free.
Best Credit Cards for Domestic Lounges
AMERICAN EXPRESS PLATINUM CARDS
There are three AMEX Platinum cards that offer very similar benefits to consumers and small businesses.
American Express Platinum Card for Mercedes Benz
While AMEX Platinum Cards normally carry an annual fee of $450-475, the benefits you can get from them are amazing. Here are only the most pronounced ones:
And of course, free access to Priority Club airport clubs and also to the following lounges:
Centurion Lounges and Studios
American Express International Lounges
Airspace lounges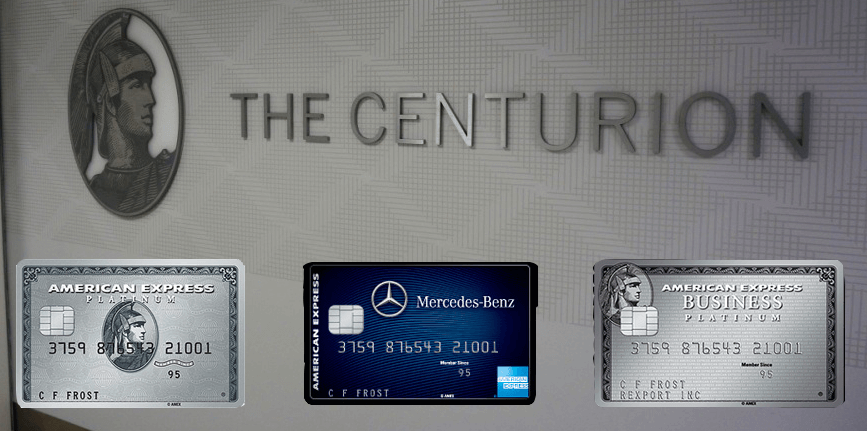 While Priority Club has over 600 airport lounges worldwide, it is not represented very well in the U.S., so if you travel mostly domestically you might be better served by Centurion Lounges and Studios located in the major U.S. hubs: Dallas, Houston, Las Vegas, Miami, New York (LGA), San Francisco, and Seattle (Studio). Some of these lounges are quite luxurious and offer seat-down menus and cocktails designed by award-winning chefs and mixologists. Some even have spas.
Access rules to the above clubs vary.
Centurion Lounges and Studios: Spouse or domestic partner and their children under 18 or up to two companions (one companion for Centurion Studio)
American Express International Lounges: Spouse or domestic partner and their children under 18 or up to two companions
Delta SkyClubs: Spouse or domestic partner and their children under 21 or up to two companions is available at a discounted rate (Delta flights only)
Airspace lounges: Up to two guests
Priority Club Select: Only the cardmember has access, others must pay a reduced fee of $27
You can get up to three additional cards for $175 annually. If you have a family of four, all of you will have access to every lounge in the program; besides, all your family members will get their Global Entry or TSA Pre fee credited for up to $100. These additional cards will pay for themselves, at least in the first year.
Best Credit Card for International Lounges
CITI THANKYOU PRESTIGE CARD
The Citi ThankYou Prestige card also carries the $450 annual fee, but not unlike AMEX Platinum, it has enormous and very tangible benefits.
50,000 points transferable to airline programs or redeemable for up to $800 in AA tickets
$250 credit for any airline purchase
$100 credit towards Global Entry or TSA Pre memberships
Free three rounds of golf annually
And free access to Priority Club lounges and American Airlines Admiral Clubs
The reason why this card is better for international travel is that Priority Pass is very strong outside of the U.S., and the Citi Prestige Priority Pass membership offers free access to the immediate family or up to two companions. You also get access to the AA Admiral Clubs and also for the immediate family or up to two companions — but only when you fly on American Airlines.
Here is where it gets even better. A member can add an authorized user for only $50, and an authorized user can bring his own companions. You can have a cheap family reunion at a lounge with this card, which can be fabulous if you pick a nice one.
Best "Budget" Credit Card for Lounges
We use the word "budget" in a very tongue-in-cheek manner. The Chase Ritz Carlton credit card is one of the best credit cards in the U.S. and being made out of heavy metal, it doesn't look "budget" at all. However, with the $395 annual fee price tag, and $300 annual credit for airline incidentals, it's the cheapest way to get access to the worldwide airport lounge system, as well as other excellent benefits, such as:
Two free nights at a Tier 1-4 Ritz Carlton
Gold Elite status at Marriott and Ritz Carlton for the first year
$300 travel credit annually
And access to the Lounge Club airport lounges
The Lounge Club is a somewhat watered-down version of the Priority Pass, but you still have access to over 300 lounges worldwide for up to two people.
Aside from lounge access and other tangible benefits, this card also has great perks for Ritz Carlton guests and terrific protection benefits that exceed benefits offered by other premium credit cards. The Ritz Carlton card even covers emergency medical evacuation, which is a very unique benefit.
Other Credit Cards
There are other cards to get access to lounges. They don't offer the same plethora of benefits, but they might make sense if you are loyal to one particular airline. All three major U.S. airlines have cobranded credit cards that offer you access to their own lounges.