The longest line you'll face when traveling may not be at check-in or even airport security. Instead, clearing customs and immigration can take hours at busy airports when several international flights arrive at once. Global Entry is one of the best programs available to travelers who hope to skip past these lines in the U.S. We also give you a few other options that may be cheaper.
All You Need to Know about Global Entry
Although marketed toward international travelers, the first thing you should know about Global Entry is that it includes a Known Traveler Number (KTN) that you can use to access TSA PreCheck lines for ordinary domestic flights. That means even if you take just one international flight per year, you can still get tons of value from the time you save visiting family over Thanksgiving and every other ordinary trip. If you have been considering paying $85 for TSA PreCheck, stop and take another look at Global Entry. You get all the same benefits and more for $100 — a small $15 premium.
With that out of the way it's time to cover the more nuanced details of Global Entry. The largest benefits are dedicated kiosks to scan passports, the ability to submit a customs declaration electronically without waiting to see an officer, and shorter queues to exit the customs hall after collecting their luggage. Travelers who don't check their bags may be able to go from the airplane to a taxi in less than 10 minutes. Yes, it's really that fast. You'll wonder why you don't take spontaneous trips to Europe more often.
As mentioned the cost of speeding through the airport is $100 for five years — just $20 a year for all these benefits — plus a mandatory background check and interview. Fortunately it's possible to renew your Global Entry membership online in future years, and many premium credit cards will even reimburse you for the cost of Global Entry, which makes the interview the primary obstacle.
Why offer PreCheck at all if Global Entry is so much better? Well, besides the interview there is also a smaller pool of eligible people. Applications for Global Entry are available to legal U.S. residents as well as others who may travel there often, including:
Citizens of the United States
Lawful permanent residents of the United States
Citizens of Germany
Citizens of the Netherlands
Citizens of Panama
Citizens of Singapore
Citizens of South Korea
Mexican nationals
Be sure to visit the CBP website to learn more about special restrictions if you are a citizen of another country since additional rules may apply.
Expediting Your Interview
Though the application process is quite easy to do online, the interview is the biggest impediment for most people who want to be approved for Global Entry. Delays can be weeks or even months into the future. There are three possible solutions. First, check back often and you may be able to reschedule your interview. Second, schedule your interview for a location other than your hometown. You may be able to visit another airport during an upcoming trip.


But the best chance you have at being approved quickly is to stop by the office whenever you have time. Walk-in visitors are welcome at most interview locations on a space-available basis. However, it is very important that you have an appointment already scheduled, even if it's for sometime next year.
Alternatives to Global Entry
Although Global Entry is the most convenient program for many people to join, there are two additional options worth considering if most of your international travel takes place within North America.
NEXUS is a program that provides pre-clearance for travelers between the United States and Canada. Sentri is a similar program between the United States and Mexico. Both programs provide a Known Traveler Number for TSA PreCheck as well as permission to use Global Entry checkpoints when arriving at the U.S. border from other countries. However, the important difference is that these programs also facilitate entry into Canada or Mexico rather than just expediting re-entry to the United States. As a result, NEXUS and Sentri are more useful–they may even be cheaper.
So why doesn't everyone get NEXUS or Sentri? The application process isn't as simple. Almost any CBP office can perform your Global Entry interview, while very few U.S. locations are equipped to provide interviews for NEXUS and Sentri.
NEXUS enrollment centers can be found at most major Canadian airports. Beyond that, the majority of enrollment centers in the U.S. are at ground crossings in Maine, Michigan, Minnesota, Montana, New York, North Dakota, Vermont, and Washington. Sentri enrollment centers are limited to ground crossings in Arizona, California, and Texas. Unless you really are traveling to these countries often, it's difficult for people who don't live by the border to apply. These are not really programs to enroll in because you think it might be useful in the future.
Yet some people persist. NEXUS and Sentri both provide cheaper paths to Global Entry kiosks and TSA PreCheck than an ordinary Global Entry application. NEXUS tends to be considered better than Sentri since it charges just $50 per person. Families could save money with Sentri. The normal cost of $122.50 per person is waived for children under 14 when applying together (cheaper than Global Entry on average).
Since the average person will not be traveling regularly to Canada or Mexico, and because the difference in price is not significant, Global Entry is the simpler choice.
Automated Passport Control
If you are not eligible for Global Entry or the other programs above, you may still be able to speed your way through customs and immigration by using the free Automated Passport Control (APC) kiosks located at roughly three dozen major airports in the United States. You'll also find them at international airports such as Dublin and Toronto that have pre-clearance facilities for U.S.-bound flights.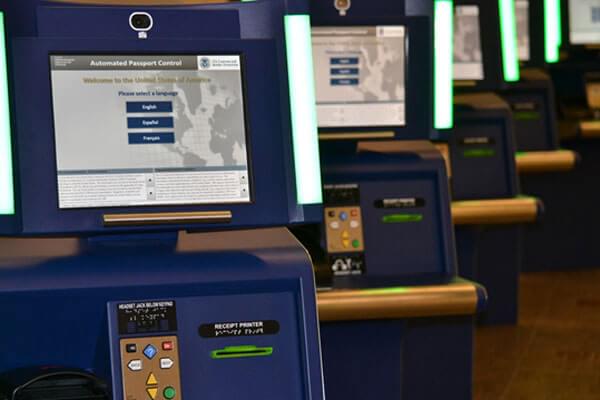 Travelers can avoid filling out a customs declaration form and will not have to wait in line to speak to an officer in most cases. Like Global Entry, you'll be asked to enter passport information and answer a few questions about items you're bringing to the United States. However, lines to use APC kiosks are likely to be longer than those for Global Entry.
To be eligible for APC you must have either a U.S. or Canadian passport or reside in one of 38 countries that participate in the Visa Waiver Program. ESTA authorization is still required prior to travel.
Mobile Passport Control
You may even be able to answer these questions while waiting on the plane after you land using the Mobile Passport Control app on your smartphone. (It's usually permitted to use your phone after landing and while taxiing to the gate.) Create a new trip on the app by entering your arrival airport and airline, take a selfie, and answer a few questions to expedite the customs declaration process.
You'll receive an electronic receipt after submitting these details and may include your entire family on one form. Then present the receipt to the CBP officer. With any luck you'll spend less time in line as the officer already has the necessary information and just needs to review it before allowing entry to the United States.
Summary
No one wants to wait in a long line for customs and immigration, least of all U.S. Customs and Border Patrol. Fortunately there are many options available to clear yourself with authorities in advance and speed past those queues using automated kiosks. Most people will benefit from Global Entry, which looks pretty affordable when averaged over five years. NEXUS and Sentri are good alternatives for some, but the hassle to enroll is greater.


If for some reason these aren't options for you, or if you almost never travel outside the country, see if you can take advantage of Automated Passport Control on your next journey. Ensure that your point of entry has one of these kiosks available. If not, choosing a different route may be the best way to avoid long lines. Once you clear you can easily jump on a connecting flight to your final destination.