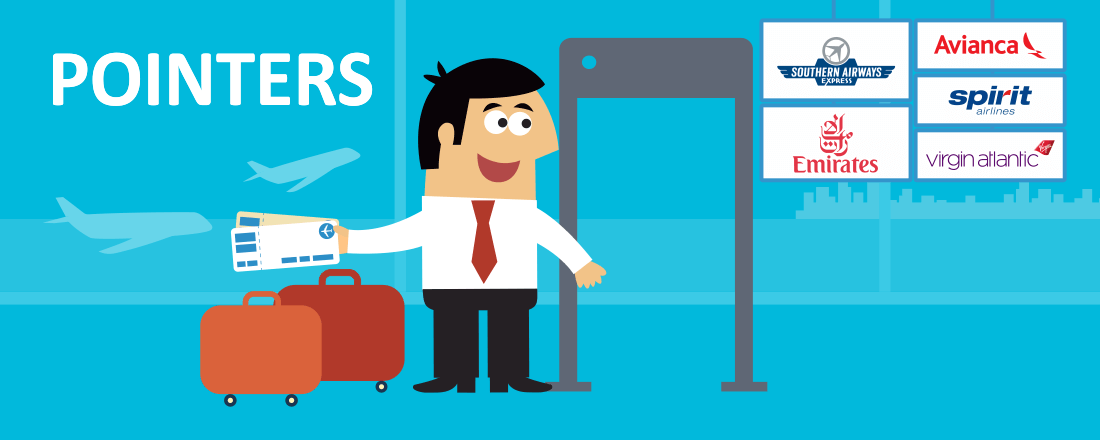 There are a variety of programs that allow travelers to get through security more quickly at the airport. One of the most widely used is TSA PreCheck. The TSA just announced that 11 additional airlines have been approved to participate in the PreCheck program. Previously there were 19 airlines in the program, so the total has increased to 30.

The list of new airlines runs the gamut from tiny regional airlines to major international airlines. The complete list of additions is displayed below:
Aruba Airlines
Boutique Airlines
Key Lime Air
Miami Air International
Southern Airways Express
Sunwing
Xtra Airways
While many of these airlines may not be of much interest to most travelers, Emirates, Spirit, and Virgin Atlantic are nice additions to program.
Comparing Expedited Airport Security Programs
TSA PreCheck
TSA PreCheck is a program that allows you to enter an expedited security line at the airport. There are several benefits to this privilege. The lines are typically shorter than the regular security line, especially during busy times. There are also less stringent requirements for how you handle your baggage and clothing as you go through the screening area. You may leave on your shoes, jackets, and belts. Laptops may be left inside briefcases or folios. Ziploc bags with liquids may be left inside your bag. Some airports only require you to walk through a metal detector instead of the privacy-invading body scanners. While not all airports are the same, the benefits described above are typical of most.
The approval process for TSA PreCheck is fairly simple relative to some of the other programs we will cover. The steps are as follows:
Go to TSA site and fill out the application. When you get to the end you will have the ability to schedule an in-person appointment at a local center. Walk-ins are also allowed but appointments receive priority.
Show up to your appointment and bring the specified identification documents. This process only takes about 5-10 minutes. They verify your personal information, run a background check, and take some fingerprints. Here you will pay the $85 application fee.
Wait for an email indicating your application status. This often arrives in 1-2 days. If you have been approved you will receive a "know traveler number" or KTN.
At this point, all you need to do to put your PreCheck into use is make sure any airline reservations include your KTN. You can update previously existing reservations that were made prior to your PreCheck approval. When you go to the airport, your boarding pass should clearly have the TSA PreCheck logo on it, which will allow you enter the PreCheck line.
The one drawback of PreCheck is that it does not include any expedited privileges for going through immigration; however this shortcoming is addressed by some of the programs listed below.
Global Entry
Global Entry is a program designed to expedite the process of going through immigration when you arrive back in the U.S. following international travel. Major U.S. airports have dedicated self-service kiosks set aside for those with Global Entry. This allows you to avoid the long lines and having to talk to an immigration officer on your way through the checkpoint. If you are approved for Global Entry, you automatically receive TSA Precheck as well.
However, there are several drawbacks to Global Entry:The application process can take significantly longer than TSA PreCheck. While PreCheck appointments can be done at many locations, there are many fewer locations for Global Entry appointments (typically airports and customs houses). In addition, the offices are often open far less than 40 hours a week. Therefore, the first available appointment may not be for months in the future. While most officers are friendly and interviews are quick, occasionally applicants are asked more detailed questions, especially if they have traveled to any countries that may raise suspicion. Lastly, self-service kiosks are becoming more prevalent at major U.S. airports, which allows everyone to get through immigration quickly even without Global Entry.

The application fee is $100 relative to $85 for PreCheck, which is certainly worth it for anyone who has determined to apply.
Nexus
Nexus is the most comprehensive of the trusted traveler programs. Those who are approved for Nexus receive both TSA PreCheck and Global Entry benefits. In addition, travelers receive expedited processing when crossing the U.S-Canada border. Interestingly, the most comprehensive program also happens to be the cheapest, with an application fee of only $50. This program is open to both U.S. and Canadian citizens and permanent residents.
Nexus also has a more strenuous application process. For the in-person appointment, you must attend a Nexus enrollment center, which are few and far between in the U.S. Most states don't have a single location, so you will likely have to travel. Approval is required by both the U.S and Canada for all applicants. And unlike PreCheck and Global Entry, the Nexus application fee is not reimbursed by a variety of credit cards.
SENTRI
Sentri is most similar to Nexus in that it includes both TSA PreCheck and Global Entry benefits. The major difference is that the additional benefit is for U.S.-Mexico land border crossings instead of Canada. Sentri is the most expensive program at $122.25 and is also not reimbursed by credit cards.
Credit Card Benefits
There are a variety of credit cards that come with reimbursement benefit for TSA PreCheck or Global Entry. One thing to consider is that these memberships are valid for 5 years, so don't assign too much value to the reimbursement if you are deciding if a card is worth its' annual fee. For example, the Global Entry benefit should only be valued at $20 per year if considering a card for a long-term hold. The following credit cards offer a reimbursement benefit:

Chase Ritz-Carlton card
MasterCard Luxury cards