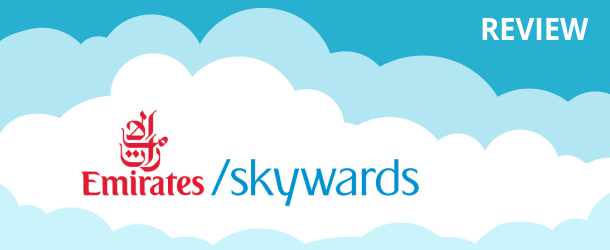 A good way for North American frequent flyers to understand Emirates is to think of it as akin to Alaska Airlines. They are both hometown airlines that have slowly grown through strategic partnerships and smart market choices into major global forces. But they always put the expectations of local passengers first. In the case of Emirates, that means impeccable style and service.

Emirates is not part of any of the major airline alliances, so it is in a position to partner only with those brands that it finds align best with its own. You can see this not only in its airline partnerships, such as its reciprocal earning with Virgin America, but also with hotel and credit card brands. Its new partnership with Starwood Preferred Guest allows for both reciprocal earning and status recognition.
For North American travelers, Emirates now offers flights from 10 destinations, including Los Angeles, Boston, Seattle, Toronto and Washington, D.C., to its hub in Dubai, as well as flights to Europe via its New York-Milan route.
PROGRAM
ALLIANCE
CURRENCY
SKYWARDS
NONE


MILES
POINTS TRANSFER PARTNERS


MEMBERSHIP REWARDS

SPG (STARWOOD PREFERRED GUEST)
AIRLINE PARTNERS


ANA
Alaska Airlines
Cathay Pacific
Jet Star
Qantas
easyJet

TAP Portugal
Virgin America
Air Mauritius
Jet Airways
JetBlue

Japan Airlines
Korean Air
Malaysia Airlines
S7 Airlines
South African Airways
Hub:
Dubai International Airport
How Can You Use Emirates Skywards Miles?
Emirates does not publish an award chart, so it can be a bit of a pain to figure out how many miles you need for any given trip. Somewhat in line with their personal-service, custom approach, you need to use the mileage calculator or just search and see what comes up to find the miles necessary for any given route.
Despite being zone-based, Emirates uses a far more complicated zone division system than many airlines. That means that it's easier to use the mileage calculator than to constantly look up which zone your city pairs fall into. Both the U.S. and Europe are split, into east and west, and west and south, respectively.
Like cash fares, there are two types of awards, Saver and Flex. The more expensive flexible awards can also be used for one-ways, are more readily available than saver seats and include an additional stopover. At the saver level, business class awards cost twice the price of economy awards on the same route, and first class awards cost three times as much.
Program Perks:
First class saver tickets earn four times the tier miles of economy saver tickets
Status is accrued for a rolling 13-month window rather than every calendar year
Saver awards include one stopover
Flex awards include two stopovers
Open jaws are permitted within the same zone
Mixed awards permitted
Booking Quirks:
Miles earned are based on fare category as well as the number of zones transited
Saver cash fares earn only half the miles traveled
One-way awards only available at the flex level
Saver awards allow three months of travel maximum
Changes to saver awards cost $25; changes beyond date changes on flex awards cost $25
$50 cancellation fees on flex awards
$75 cancellation fees on saver awards
High fuel surcharges
Best Value Awards:
Named the best first class in the sky by SkyTrax ahead of even Singapore Airlines and its famous suites, Emirates first class aboard its A380s was the first to introduce the shower in the sky. They even have a mini-bar in each seat and a full bar, complete with bartender, in the in-air lounge.
And when you book through Emirates Skywards, you can experience the Sky's best cabin for even less than you would pay to fly first class in lesser cabins. Roundtrip between New York and Italy runs 45,000 miles in economy, 90,000 miles in business and 135,000 miles in first class, while United charges 60,000, 115,000 and 160,000 miles, respectively, for the same route on their own planes.
Worst Value Awards:
The worst way to use Emirates awards is on routes you wouldn't want to use Emirates for in the first place: bad routing mixed with high prices, such as North America to Australia for 150,000 miles roundtrip in economy, or eastern North America to western North America for 155,000 miles roundtrip in economy.
The Good Stuff: Upgrades and Elite Status
Upgrades are only permitted between economy and business or business and first, unless there isn't a business class cabin on the flight.
Upgrade prices are in line with the mile difference between the two seats on the award chart and can also be calculated through the mileage calculator. There appears to be no issue upgrading a cheap cash fare.
Emirates Skywards Elite Levels and Perks
Emirates has a basic Skywards tier called Blue, and three elite levels: Silver, Gold and Platinum.
Each subsequent level includes the perks of the previous level, unless stated otherwise.
Silver: 25 percent mileage bonus, ability to nominate a personal travel coordinator, priority check-in and boarding, additional checked luggage, lounge access at Dubai International Airport
Gold: 50 percent mileage bonus, international Emirates lounge access for member and guests, priority baggage handing
Platinum: 75 percent mileage bonus, last seat availability at the flex award rate, ability to nominate another member to Gold status, access for member and one guest to first class lounges, first class check-in and baggage handling, guaranteed seat (even on full flights)
Associated Credit Cards
Emirates does not currently issue any co-branded credit cards in the U.S., but it partners with MBNA and American Express in the U.K. and Citibank in the UAE to issue high-earning cards with perks such as global lounge access.