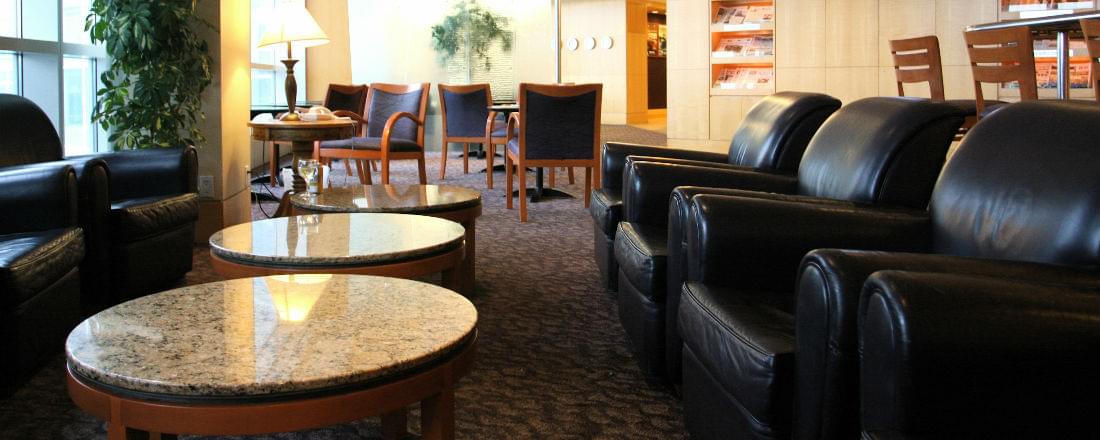 Travel can be a stressful experience if you're not an elite member with an airline or hotel program. There are long lines, cramped seats and hotel rooms, and a la carte pricing that is leading to some pretty inflated costs for even the most basic travel arrangements. Some of the perks enjoyed by elite members include:
Upgrades
Free checked bags
Priority security/immigration
Priority boarding
Airport/Hotel club lounge access
Complimentary breakfast at hotels

The good news is you do not need to fly thousands of miles or have dozens of hotel nights under your belt to access the perks that can make travel more comfortable. Here are five tips for upgrading your travel experience without elite status.
1. Co-branded credit cards. Having a co-branded airline or hotel credit card can get you several perks that are typically reserved for elites including free checked bags, priority security, early boarding, and club lounge access. Most major airline credit cards offer these perks, so it's just a matter of picking the airline of your choice.
American Express Platinum card offers an annual $200 airline fee credit to cardholders. Simply designate the airline of choice each year and when you rack up fees (baggage, in-flight charges, etc.) you'll receive a statement credit from American Express of up to $200 per year. An added perk of the Plaitnum card is free TSA Precheck, which offers registered travelers access to priority screening.
Once you've made it past security in one piece, you might want to avoid the crowded gate, grab some snacks and enjoy the free wi-fi offered at the airline club lounge–without shelling out $50 for a day pass. This is another perk you can get with a co-branded airline credit card. Premium credit cards such as the Citi® / AAdvantage® Executive World Elite™ Mastercard® and American Express Platinum cards also give cardholders either club lounge membership or access to select airport lounges.
On the hotel front, cardholders get mid-tier hotel status that comes with perks including early check-in/late check-out, bonus points, a welcome amenity, complimentary breakfast, lounge access, and the possibility of a room upgrade. You can even spend your way to top-tier status with both airline and hotel credit cards by channeling all of your spending onto one of these cards.

2. Check your credit card perks. The average credit cardholder isn't aware of the majority of perks offered by their credit cards. Aside from well advertised benefits like the ones listed above, there are certain exclusive programs card issuers such as Visa and American Express offer to cardholders.
If you have a Visa Signature card, for example, you qualify for a six-month free trial of CLEAR, a program that grants members access to priority security lines at airports. There are various other travel related discounts available to both Visa Signature and World Elite Mastercard cardholders, including discounted hotel stays, complimentary breakfast, spa and resort credits and more.

3. Leverage Points. There is a lot of weird information out there in the mainstream media about how to score an upgrade (i.e. "get dressed up!) that is just plain wrong and embarrassing. The airlines give priority to folks who are actually willing to pay for an upgrade as well as to elite members who have flown hundreds of thousands of miles with the airline each year. Elites at hotel chains sometimes find themselves haggling for a free upgrade to which they are actually entitled, so it's certainly not accurate to say the average Joe can walk up to the check-in counter in a suit and demand an upgrade.
Put your Sunday best away and look into using miles to upgrade to a premium cabin or a hotel suite. You'll be on the hook for a co-pay with airline upgrades, but this can be offset by charging the fee to a flexible rewards card like the Barclay Arrival card and using your points for statement credits.
Hotel chains allow members to upgrade standard rooms to suites at fairly reasonable rates. Suite upgrades at Starwood hotels start at just 3,000 points per night and range up to 35,000, depending on the hotel category. Hyatt requires 6,000 points per night for a suite upgrade or 3,000 for a club level room upgrade. These confirmed point upgrades are often used by top-tier elite members as well, because upgrades aren't guaranteed and better rooms aren't always available at check-in.

4. Reach out to the hotel. If you're celebrating a special occasion, traveling to a certain destination for the first time, or are just plain excited about an upcoming hotel stay, reach out to hotel management and convey this sentiment. Many times they'll either upgrade your room or send you a welcome amenity upon arrival. If you don't want to play the guessing game, you can also outright negotiate a paid upgrade in advance. This will typically cost significantly less than directly booking a suite.
5. Network. If credit cards don't appeal to you and suggestion No. 3 horrifies you, check your favorite travel hacking blogs. They are constantly running giveaways for things that can upgrade your travel experience: Airport club lounge day passes, hotel upgrade certificates, airline and hotel gift cards, lounge memberships and more. I also see folks successfully finding people on Twitter to guest them into airport lounges.
As you can see, you do not need to be an elite member to enjoy a better travel experience. Simply do a bit of research, check your credit card benefits, and utilize the vast number of blogs and resources out there to score better travel without having to pay for it out of pocket.