American Airlines business class level between the U.S. and the Middle East/India has only increased by 2,500 miles, but the first class rate, which wasn't cheap to begin with, is now a whopping 25,000 miles more. It's hard to recommend spending 230,000 miles just to get pampered, especially since all airlines flying to India and the Middle East offer lie-flat seats in a business class cabin.

The business and first class awards from the U.S. to the Middle East and the Indian subcontinent cost:
| Oneworld Awards | Business | First |
| --- | --- | --- |
| Middle East and Indian Subcontinent: Old Rates | 67,500 | 90,000 |
| Middle East and Indian Subcontinent: New Rates | 70,000 | 115,000 |
There are three American Airlines partners that can take you to the Middle East or the Indian subcontinent on AAdvantage miles: Etihad Airways, Qatar Airways, and Royal Jordanian. Only Royal Jordanian can be searched on the American Airline website.

Qatar Airways
Since Qatar is a oneworld member, you can search for availability on either the British Airways or Qantas websites. We prefer the British Airways site since it's not as prone to errors as Qantas. It's quite straightforward, although you have to have an account with British Airways. If you can't find a flight to your final destination, search segment by segment. For example, if you try to search a flight from New York to Delhi, the British Airways search engine will keep pushing connections with British Airways.
However, if you search flights between New York and Doha and between Doha and Delhi separately, you will find the flights you're looking for.
Qatar flies between Doha and the following U.S. cities: Atlanta (from June 1), Boston, Chicago, Dallas, Houston, Los Angeles, New York (JFK), Philadelphia, and Washington (Dulles). Qatar flies mostly A350s in two-class configuration (economy and business), and its business class is fantastic: semi-enclosed pods, fully lie-flat beds with aisle access and excellent food and service. And availability is quite good if you look far in advance.


Royal Jordanian
Royal Jordanian flies between Amman and the following U.S. cities: Chicago, Detroit, and New York (JFK). Its aircraft of choice is the Dreamliner with 24 lie-flat beds in the 2x2x2 configuration, which is not as comfortable as what you would have on Qatar, since you will be forced to climb over your seatmate if you're in a window seat. You may search for the flights on AA.com, and availability is pretty decent.
Etihad Airways
If you are looking for an excuse to spend 115,000 AAdvantage miles on a 12-15 hour flight, this is it. The new Etihad Airways First Apartment on the upper deck of an A380 is an amazing product that will blow you away. It has a chair and a separate bed. There is an in-flight chef and onboard shower. And it is probably the only first class suite in the sky aside from the other Etihad product – the Residence – that's not only big enough to walk in but also do some exercise.
If the above sounds like an informercial, there is no harm done. Getting this seat on a Saver award from the U.S. is almost impossible. However, you can get it on the way back to the U.S. if you are planning way ahead.
Etihad Airways is a UAE carrier based in Abu Dhabi, from where it flies to Chicago, Dallas, Houston, Los Angeles, New York (JFK), San Francisco, and Washington, although New York – Abu Dhabi is the only route featuring the A380 First Apartment.
Etihad Airways is not a oneworld member, and you can't search for availability on the American Airlines website, but looking for Etihad's award space is very easy.
Navigate to Etihad.com and click Etihad Guest in the top menu.
Find Book your next reward flight and click Book now.
Enter your search parameters. Unless you're leaving in the next few days, the outbound flight availability from New York in any premium class is usually abysmal. Instead, find your outbound flight with another carrier (or from another U.S. city) and search for the inbound New York availability, where you stand a much better chance of getting what you want.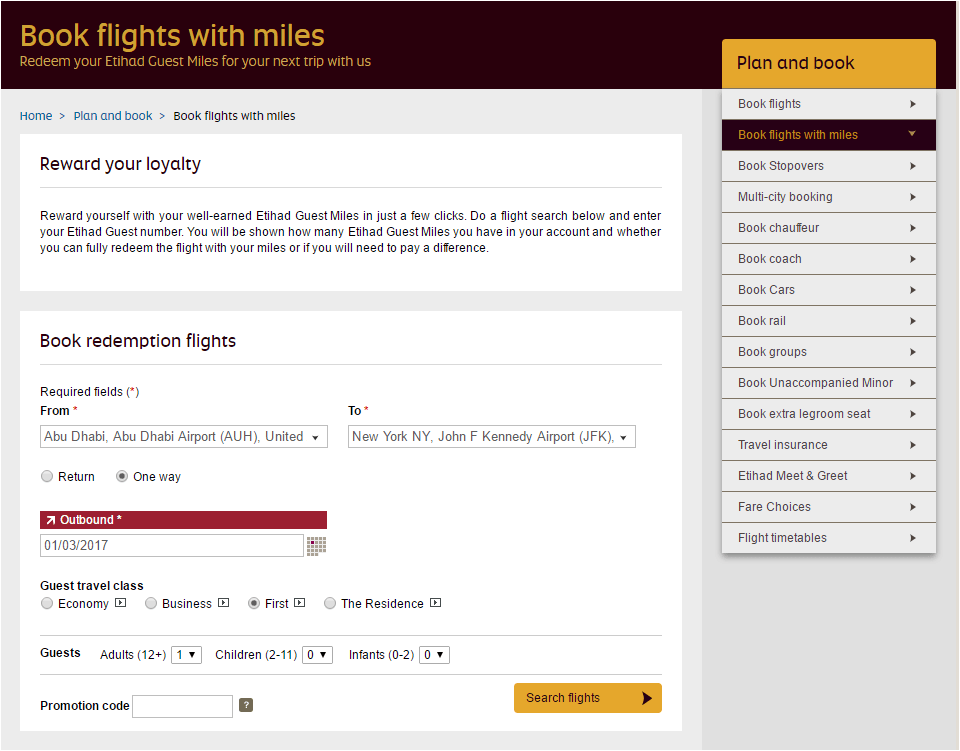 The Etihad search engine is user-friendly, and it's very easy to use. You can see the calendar one week at a time, and the mileage cost at the top of the table hints whether or not you have Saver, or as Etihad calls it, "Guest" award level availability during that week. A flight between NYC and Abu Dhabi, for example, should be around 117,000 miles and between NYC and India around 147,000 miles. If you don't see similar levels during the week in question, just move to the next week.
Of course, in reality, these levels mean nothing to you, because you will book with American and not Etihad.
In our screenshot here, every day of the week has availability, so pick the date you need and note the flight number. Make sure your flight is on an A380.
If you want to travel to India or other Indian subcontinent countries rather than the Middle East, you're in luck, since American Airlines charges the same, be it India or Middle East. Try to search your Abu Dhabi – New York flight first, and then the connecting flight from your city.
Etihad flies between Abu Dhabi and the following Middle East and Indian subcontinent cities: Bangalore, Chennai, Colombo, Dhaka, Islamabad, Jaipur, Karachi, Kathmandu, Kochi, Kolkata, Kozhikode, Lahore, Malé, Mumbai, Peshawar, and Thiruvananthapuram.