So now that you've put in time and effort to earn a bunch of frequent flyer miles, hotel and bank points, you definitely don't want to let those miles expire. Each program has it's own expiration policy so check with your program to find the exact rules. In this post we'll share some strategies for keeping your miles from expiring when that deadline appears on the horizon.
1. Fly with the airline or stay with the hotel
This might seem like a pretty obvious strategy, and if you need a flight or hotel stay it is likely one of the most straightforward methods. If prices and location are comparable, choose to stay or fly so that you are able to extend the expiration of your airline miles and hotel points. Worth noting is that some programs, like KLM/Air France's Flying Blue will only let you extend your miles by flying them or one of their SkyTeam Alliance partners, so sometimes this is the method that you have to use to keep your miles alive.
2. Get or spend on a co-branded credit card
If you don't yet have the co-branded credit card from the program whose miles you're trying to keep alive, now might be the perfect time to get it. In many cases, the sign-up bonus from a credit card will extend your points and miles' expiration date. Likewise, spending on the co-branded card will extend the expiration too. If your miles are getting close to that deadline, just swipe a small purchase on the program's co-branded credit card to extend the expiration date of all your miles.
3. Transfer miles in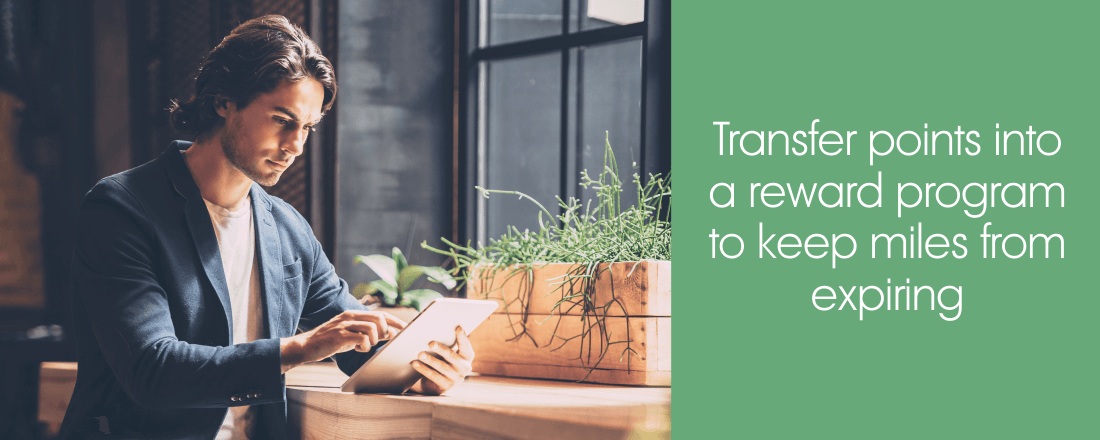 If you don't have the airline or hotel's co-branded credit card but you do have a transferrable points card, another option available to you is to transfer points to the airline or hotel program in question. Ultimate Rewards can transfer to Hyatt, United, and more, for example.
If the program that you have miles expiring with isn't a partner of a transferrable points currency that you have access to, it could also be worth transferring miles from another program. These transfers aren't always possible, and don't always offer good value, but might be worth considering if your miles are otherwise going to lose your miles.
4. Go shopping
Even if you don't have a co-branded credit card, you can still earn miles and extend your expiration date by shopping online – and truth be told, you should be doing this anyway because it means miles and points for no additional cost. Many airline and hotel loyalty programs offer a shopping portal that allows you to earn additional points or miles for much of your online shopping.
The best place to compare rates is Cash Back Monitor Tools. Simply type in the name of the store you are interested in shopping at to see what different shopping portals are offering. If the item you are planning to purchase is available at multiple different stores, it may be worth comparing the number of points or miles you can earn through the shopping portal at each of the stores before you decide where to buy.
5. Dine out
Yes, you read that right. Dining out can help you extend the expiration date of your points and miles, even if you aren't spending on a co-branded credit card. Just like many airline and hotel programs offer a shopping portal, many also offer a dining rewards program. Better yet, the dining rewards programs usually offer a small sign-up bonus when you join!
The best way to find out if a loyalty program offers points for dining is to google the airline or hotel name and 'dining program' – for example, here is American Airlines. Note that not all restaurants are participating, so make sure to choose an eligible restaurant if you want to dine out and extend the expiration of your miles at the same time.
6. Donate to charity
If the above options don't work for you or the program you are working with, donating miles to charity is another option that might be available. Many programs offer the ability to donate as few as 1,000 miles to charity, and generally this also extends the life of your miles.
7. Buy miles
I generally don't recommend buying miles, but this is one case where it might make sense. Usually buying miles and points will extend the expiration date with the loyalty program. If you have a lot of miles and nothing to use them on right now, buying just 1,000 miles could be enough to keep them from expiring. That's a small price to pay to have the miles available for a future trip.
8. Use them!
If all else fails, it's time to use those miles. Hopefully you have enough miles and an upcoming trip to plan, but if you don't it's still probably worth redeeming for something smaller or booking for someone else rather than letting the miles expire.
9. Let them go
If you only have a few hundred miles in a program that are going to expire, you might not have enough to redeem anything at all. If it's unlikely that you will ever have other miles in that program, it might be time to let them go, but otherwise consider one of the strategies outlined above so that you have extra miles (even if just a few!) ready when you need them.