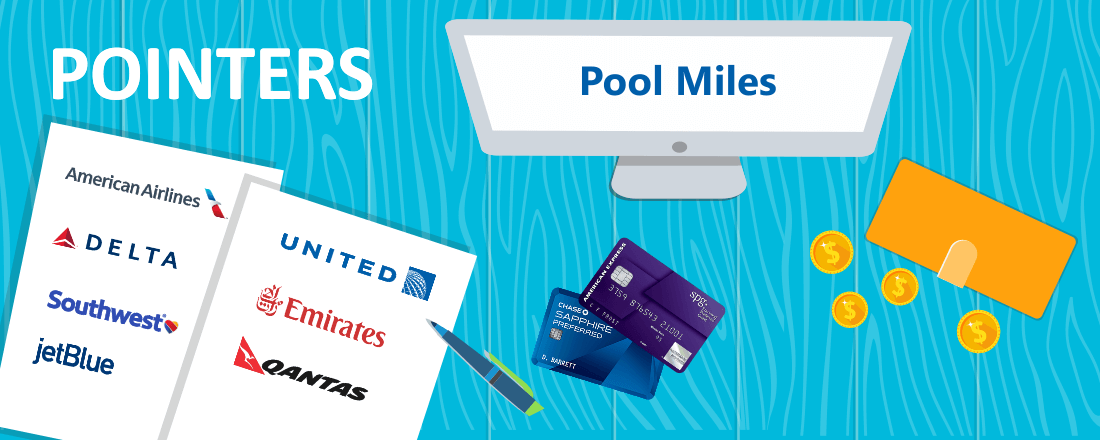 Most airlines allow you to purchase award flights for other people. While this is a great option to have, it's not as powerful as the ability to pool or share miles. Combining miles with family or friends can help you purchase award flights that you wouldn't otherwise be able to afford.
Another benefit of pooling miles is that individuals who have accrued only a small number of miles, such as children who don't often travel, can still put them to good use by sharing them with other members. Those miles might otherwise go unused.
Almost all airlines allow you to share or transfer miles, but only a few allow you to do it for free. Let's take a look at those carriers.
Domestic Airlines
Only three U.S.-based airlines—JetBlue, Hawaiian Airlines and Sun Country—allow you to share miles for free. JetBlue, the fifth biggest domestic carrier, allows pooling among family members. Its Family Pooling program allows up to two adults and five children to share TrueBlue points. If you want to transfer to someone outside of your family, it costs 1.25 cents per point.
There are few important rules to keep in mind if you're thinking about pooling JetBlue TrueBlue points. The carrier requires each Family Pooling account to have a household head. That person controls all the points that are transferred to the family account.
JetBlue also requires each person who participates to contribute at least 10 percent of the miles they earn. This shouldn't be a big deal if your family is combining all of their miles anyways, but it might discourage friends from creating a shared family account.
Hawaiian Airlines doesn't have a pooling program, but it does allow you to transfer miles for free to anyone who has a co-branded Hawaiian Airlines credit card. Without a card, it costs a cent per mile plus a $25 transaction fee. You can receive miles up to ten times a year.
Sun Country, a small Minneapolis-based airline that focuses on holiday travel, has the most generous sharing program. Members of the airline's UFly Rewards program can transfer points with up to 10 other people for free.
The four largest U.S.-based airlines—American, Delta, Southwest and United—will charge you a lot to transfer miles. In most cases it's not worth it. You'll be better off either paying cash for your flight or waiting to earn enough miles.
Here's a rundown of what the big four charge:
American
Delta
Southwest
United
Cost per mile/point
1.25 cents
1 cent
1 cent
1.5 cents
Additional fees
None
$30 per transaction
None
$30 per transaction
Transfer time
Up to 8 hours
Instantaneous
Instantaneous
Up to 48 hours
Additional terms
· AAdvantage account must be older than 30 days
· 200,000-mile maximum per year
· 30,000-mile maximum per transaction
· 150,000-mile maximum per year
· Up to 4 recipients per transaction
· 2,000-point minimum
· 60,000-point daily maximum
· 25,000-mile maximum per transaction
· 100,000-mile maximum per year
Foreign Carriers
There are nine major foreign carriers that allow you to share or pool miles for free. All of them are designed to be used by families, not between friends or other acquaintances.
Up to 7 people living at the same address can share and use Avios
Awards can't be booked for non-household members unless they're registered as Family and Friends
Up to 5 individual can be on the Family and Friends list
Transfers of 5,000 to 600,000 points are allowed between family members
600,000-point transfer limit per year
Up to 5 members per Family Mileage Plan
Must prove members are related
Up to 8 members per Family Account
Must be related and live outside of Japan
Costs 1,000 miles per person to join a Family Account
Up to 9 members per Family Club account
Costs 1,000 miles or $30 per person to join and 1,000 miles every 5 years
Members must live outside of Japan
Up to 8 members per Family Guest account, including one "household helper"
Might have to prove members are related
Up to 8 members per Family Bonus account
The Family Head gets 20 percent of the miles earned by family members
Up to 5 immediate family members per account
Must prove members are related
Up to 6 family members at the same address can join
Only 2 members can be over 18
Rewards Credit Cards With Transferrable Points
Don't forget about rewards programs, such as Chase Ultimate Rewards, American Express Membership Rewards, Citi ThankYou and Starwood Preferred Guest, that allow you to transfer points to airlines. The rules vary from program to program, but they all allow you to transfer points to someone else's frequent flyer accounts or to other program members. This means that you can top up accounts with a low balance and keep those miles from being wasted.
Chase Ultimate Rewards allows you transfer points to a spouse or domestic partner's frequent flyer account or UR account. American Express Membership Rewards, on the other hand, lets you transfer points to frequent flyer or MR accounts of authorized card users. It's easy to add users to most accounts.
Unfortunately neither Citi ThankYou nor Starwood Preferred Guest allow transfers to frequent flyer accounts that aren't in the cardholder's name. The good news, though, is that you can transfer points to other program members. They can then top up their own frequent flyer accounts.
Citi has the most liberal policy, allowing transfers to any other TY member. SPG, on the other hand, requires that members live at the same address.
Whether you transfer points from a credit card or are lucky enough to belong to a frequent flyer account that allows free pooling, there's no reason to let miles sit unused in a family member's account. Boost that balance or share those miles and get that free flight faster.