Like the regional carrier for the other U.S. noncontiguous state–Alaska Airlines–Hawaiian Airlines and its frequent flyer program have made themselves valuable to travelers looking for more than just a vacation to Hawaii.

HawaiianMiles has close relationships with all of the Virgin Airlines, including better rates on Virgin Atlantic and Virgin America flights than you'll get with the airlines themselves, and a new bond with American Airlines, after severing ties with longtime partner Delta.
Those who live in Hawaii or travel there often will find enormous value with this program, as it provides great redemption rates and several perks especially for inter-island travel which can be unduly expensive to book out of pocket. If you travel elsewhere frequently with Hawaiians partners you may find that it suits your needs better to credit your miles from other programs directly to Hawaiian as the miles can be very valuable for frequent travelers to and within the Aloha state.
Hubs:
Honolulu International Airport
Kahalui Airport (Maui)
How Can You Use Hawaiian Airline Miles?
Booking HawaiianMiles flights to fly Hawaiian Airlines is a straightforward online process. But you really need to watch the mileage rates, because there are five different award categories:
Coach Super Saver
Coach Saver
Coach Flex
First/Business Saver
First/Business Flex
When you use HawaiianMiles to book flights between Hawaii and the mainland, the lowest tier on the zone-based award system(i.e. Coach SuperSaver) results in a flat 40,000 miles round-trip, or 35,000 miles with their co-branded credit card. That is not a significant improvement on the redemption rates offered by major U.S. carriers. However, using HawaiianMiles to book both these flights and inter-island flights (7,500 miles one-way) can be a bargain compared to paying in cash.
With partners, though, Hawaiian has a complex system with different charts for different partners, some zone-based, some value-based and some distance-based. ANA, Korean Air, JetBlue, Virgin America, Virgin Atlantic and Virgin Australia are all booked according to zone-based award charts. There is great value on Virgin America however, which uses a value-based redemption system for its own flights, but can be booked on a distance-based chart through Hawaiian.
Program perks:
Premium flights on partner airlines credit 125-200 percent of miles flown
One-way awards available
Low taxes and fees on partner flights
Bookings quirks:
Miles expire after 18 months with no activity on the account
Partner award flights cannot be booked online
One-way awards not available through partners
Partner awards cannot be priced out unless you have the required miles in your account
Best value awards:
Upper class cabins with Virgin Atlantic and Virgin America give you the greatest value for your Hawaiian miles, and a far better value than you'll find booking directly through either program.
Paying for Virgin Americas first class cabin with miles can get quite expensive, as the airline pegs their redemptions to the cash value of the ticket. For their popular New York-to-Los Angeles route, it's common for these seats to price out at more than 175,000 miles, but you can get them for 90,000 booking through Hawaiian.
On Virgin Atlantic, the value isn't as clear immediately, because Hawaiian charges more miles (125,00 from the East Coast and 160,000 from the West Coast) for Virgins sleek Upper Class, and Virgin charges 80,000-100,000, depending on the exact departure point. The savings here comes in the fees and surcharges, which can easily run up to $1,200 on a reward in Upper Class when booked through Virgin, but are only a couple hundred dollars through Hawaiian.
Worst value awards:
The worst values with HawaiianMiles come when using those miles to book partners with disadvantageous award charts, such as ANA, American Airlines and Korean Air, which charge significantly more miles for the same routes than Hawaiian does.
One of the worst ways to use your Hawaiian miles is with Jet Blue, which operates its own award program on a value-based redemption system that pegs the price in TrueBlue points to the current value of the ticket. Hawaiian does the same; however, the cents-per-mile value of their chart is significantly below JetBlues own, to the tune of a loss of 0.5-0.7 cents per mile. Since value-based awards are often only a good value when you are getting the ticket at a time when the price is already discounted, this makes average-priced JetBlue tickets bought outside sale periods a truly bad deal with HawaiianMiles.
The Good Stuff: Upgrades and Elite Status
Flights booked with cash can be upgraded online up to 26 hours before departure. Upgrade rates are no longer included in the Hawaiian Airlines award chart, but cost roughly 25,000 miles for flights when First Class Saver awards are available and 50,000 when only Flex awards remain.
You can also upgrade for less than the advance rate at the airport during check-in.
HawaiianMiles Elite Levels and Perks
Each subsequent level includes the perks of the previous level unless stated otherwise.
Pualani Gold: 50 percent bonus miles, first two checked bags free, complimentary extra comfort or preferred seats on all domestic and international flights subject to availability, first class check-in, expedited security screening, Premier Club Lounge access for member and two guests, priority boarding, complimentary in-flight entertainment, additional award options and discounts, $100 annual credit toward in-flight purchases
Pualani Platinum: 100 percent bonus miles, first three checked bags free, no changes fees on inter-island flights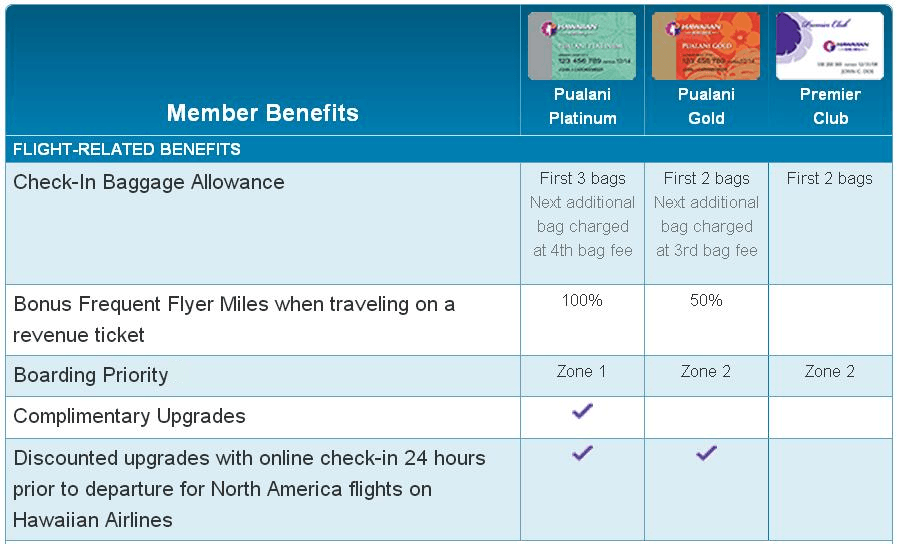 Associated Credit Cards
Hawaiian Airlines has switched its co-branded credit card affiliations in recent years and upgraded the card since as well.
Previously, Bank of America offered the Hawaiian Airlines Visa Signature, and the Bank of Hawaii also offered a card with the same name and benefits, but both cards converted to Barclays in April 2014.
Barclays originally offered two versions of the personal card, a Visa Signature card with a $79 annual fee and a Platinum card with a $50 annual fee, which some cardholders may still have. But now it is issuing one card, The Hawaiian Airlines World Elite MasterCard, in both business and personal versions, with a $89 annual fee.
The World Elite MasterCard, which carries no foreign transaction fees, comes with a sign-on bonus of 35,000 miles after spending $1,000 in the first 90 days of holding the card and earns double miles on Hawaiian Airlines purchases and one mile per dollar on everything else.
The card really shines in terms of flight discounts, offering:
Award flights between Hawaii and the mainland that typically cost 20,000 miles each way for 17,500
A one-time 50 percent off companion discount coupon for a flight between Hawaii and the mainland
$100 off a companion ticket for a round-trip ticket between Hawaii and the mainland each year as an anniversary gift