If you're saving frequent flyer miles, there's a good chance that you have plans to use them to get to and from Hawaii. Travel to these gorgeous islands is a rite of passage for nearly every loyalty program enthusiast.
Hawaiian Airlines and its HawaiianMiles program make it easy to use miles to fly to Oahu, the Big Island, Kauai, Lanai and Molokai. But, that's not all. You can also book flights on a variety of its partners. So if a trip to Hawaii doesn't pique your fancy, perhaps a visit to Sydney, Paris or Tokyo will.
If you're not already a member of Hawaiian Airlines' loyalty program, you can sign up here.
When Should You Use Hawaiian Airlines Awards?
This probably isn't a big revelation, but you should use HawaiianMiles to book award travel to Hawaii. The airline flies to the islands from 11 cities across the mainland, including Las Vegas, Los Angeles, New York (JFK), Oakland, Phoenix, Portland (Oregon), Sacramento, San Diego, San Francisco, San Jose and Seattle.
The airline flies to the following Hawaiian Islands:
Honolulu, Oahu (HNL)
Hilo, Big Island (ITO)
Kona, Big Island (KOA)
Lihue, Kauai (LIH)
Lanai City, Lanai (LNY)
Kahului, Maui (OGG)
Hoolehua, Molokai (MKK)
We love HawaiianMiles because there are no blackout dates on award seats. If a seat is available for cash, you can book it with your miles.
The airline also allows you to book one-way awards on its own flights (though one-way awards are not available on partner airlines). This is a terrific option since you may find the schedule to work best flying on Hawaiian Airlines on the way to the islands but another carrier might offer better flight timings on the way home. One-way awards make it easy for you to mix and match so you have the ultimate flexibility in using your miles.
Here's another plus: you can combine different HawaiianMiles award levels"Super Saver, Saver and Anytime Awards"in one itinerary.
Finally, the airline doesn't charge a close-in booking fee. All in all, the airline has some very customer-friendly policies when it comes to HawaiianMiles awards.
Partners bookable online:
Partners bookable by phone:
All Nippon Airways (ANA)
American Airlines
China Airlines
JetBlue
Korea Air
Virgin America
Virgin Atlantic
Virgin Australia
When to Book By Phone
If you want to use your HawaiianMiles to book a flight on a partner airline, you must call Hawaiian Airlines directly. Otherwise, if you're booking a flight on Hawaiian Airlines itself, it's easy and free to book online at the airline's website.
See below for phone booking tips.
How to Search for Hawaiian Airlines Award Seats Online
Start your search by visiting HawaiianAirlines.com and click on the "sign in" button for HawaiianMiles.
Once you're logged in, click on the "book an E-Award now" button at the top right-hand side of the screen.
Fill in your flight details in the "find flights" dialogue box. Decide whether you'd like to search for round-trip or one-way flights, the number of travelers, your departure city, your arrival city and dates of travel. There is also an option to show results for nearby airports. Click the "book a flight" button.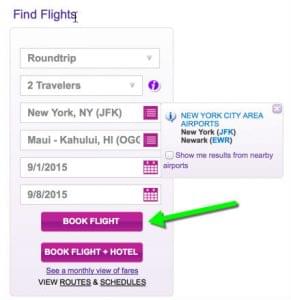 The website will return results for seven days of travel: your requested date of travel, plus three days before and after your requested date. You can easily see what day of the week has the best available fares. Look for Super Saver awards for rock bottom pricing.
You can select a coach or first class award. Click on the flight(s) you wish to book and then click the "continue" button at the bottom of the page.
Note: Instead of searching for particular dates of travel, you can also view a calendar of monthly fares by clicking the link under the flight dialogue box.
How to Confirm and Book Hawaiian Airlines Award Seats Online
After selecting the flights you want, the website will show you a summary of your potential award booking. It shows the number of miles in your account, how many miles the award ticket will cost per passenger, and how many miles will be left in your account after you book the award.
If everything looks good, click "continue booking."
Phone Booking Tips
Hawaiian Airlines Phone Number: 1-877-426-4537
The Hawaiian Airlines phone reservation center is only open from Monday through Friday, 7 a.m. through 4:30 p.m. HST. So, for example, if you're on the East Coast you'd need to call Hawaiian Airlines between noon and 9:30 p.m. EST.
Important Award Booking Considerations
$50 change fee for North American and International flights ($30 for interisland flights)
All flight changes must be made within the same class, and fees are per person, per way
$150 redeposit fee per transaction for North American and International flights ($30 for interisland flights)
Miles cant be redeposited from partially used tickets