American Express Membership Rewards points are worth an average of 1.8 cents each. That takes into account the wide variety of redemption options available to you, whether transferring them directly to airline and hotel partners or using them as a credit when booking through the Membership Rewards Travel portal.

However, value is highly dependent on exactly what you redeem your points for, the ease of booking, and your personal estimate of the trip's worth. Used carefully, your points could be worth much more. This article explains some of the factors that were used to reach an average number. You should also sign up for RewardExpert to see how many points each destination you want to visit will cost and how long it will take you to earn enough points.
Earning Membership Rewards Points
Briefly, there are six different cards you can use to accumulate Membership Rewards points, including business and personal Amex cards.
Except for the Amex EveryDay Credit Card, all of these have an annual fee. The two Platinum Card products are generally more useful for their other travel-related benefits (such as lounge access), whereas the other four cards are more useful for actually earning Membership Rewards points through purchases.
You can open more than one different card and accumulate points in a single Membership Rewards account, but you cannot transfer Membership Rewards points between members. That option only becomes available when transferring to an airline or hotel partner. You can direct them to a loyalty program account owned by yourself or another authorized cardholder.
Don't Shop with Amex
It is rarely a good deal to use your Membership Rewards points in the Shop with Amex online mall. It's the same story for a similar option to redeem them at checkout with Amazon.com. Compare the retail price of an item to the number of points required, and you may find you're getting between 0.5 and 0.7 cents per point.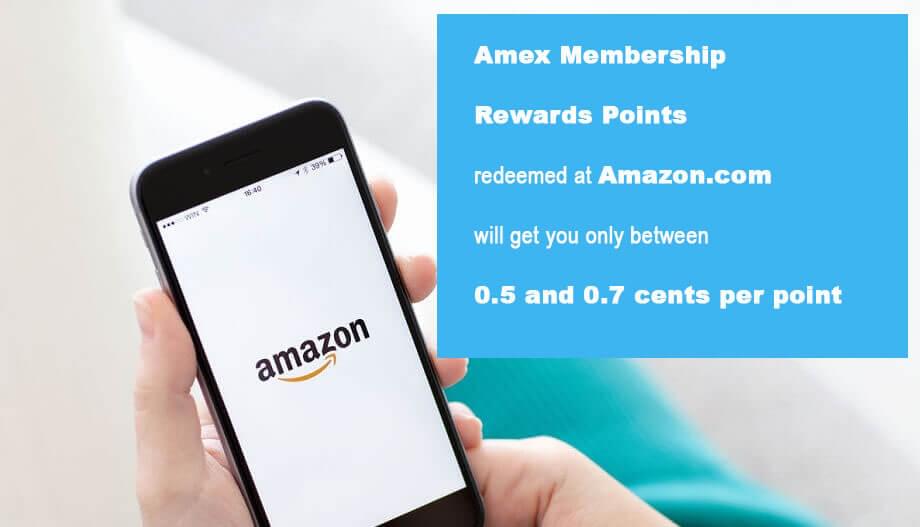 You can also use your card to shop elsewhere and then redeem your Membership Rewards points for a statement credit. This offers just 0.6 cents per point. It's likely you'll be better off with some of the other redemption methods described below.
Backup Plan: Book with Membership Rewards Travel
American Express operates its own online travel agency through which you can redeem Membership Rewards points instead of paying cash. This allows you to get access to the same flights and hotels available to ordinary travelers without worrying about award availability.
The value proposition of Membership Rewards Travel is mediocre. Expect to get 1 cent per point when you redeem Membership Rewards points for flights, and a little less (roughly 0.8 cents per point) for other travel expenses like pre-paid hotels and cruises. This is really only a good idea when award travel is not an option or if you expect to receive less than 1 cent per point through a partner.
Several Good Airline Partners, Others Less So
American Express has over a dozen airline partners, including Aeromexico, Air Canada (Aeroplan), Air France/KLM (Flying Blue), Alitalia, ANA, Cathay Pacific (Asia Miles), British Airways (Avios), Delta, El Al, Emirates, Etihad, Hawaiian Airlines, Iberia, JetBlue, Singapore Airlines, Virgin America, and Virgin Atlantic. Points transfer to most of these programs at a 1-to-1 ratio, although you can obtain a 5-to-4 ratio for British Airways or JetBlue, 2-to-1 for Virgin America, and 50-to-1 for El Al.


| Airline or Hotel Partner | 1,000 Membership Rewards Points = |
| --- | --- |
| Air Canada | 1,000 miles |
| Air France/KLM | 1,000 miles |
| Alitalia | 1,000 miles |
| ANA | 1,000 miles |
| Cathay Pacific | 1,000 miles |
| British Airways | 800 Avios |
| Delta Air Lines | 1,000 miles |
| El Al | 20 points |
| Emirates | 1,000 miles |
| Etihad | 1,000 miles |
| Hawaiian Airlines | 1,000 miles |
| Iberia | 1,000 miles |
| JetBlue | 800 points |
| Singapore Airlines | 1,000 miles |
| Virgin America | 500 points |
| Virgin Atlantic | 1,000 miles |
| Choice Hotels | 1,000 points |
| Hilton Hotels | 1,500 points |
| Starwood Hotels & Resorts | 333 points |
Transferring points to an airline loyalty program offers the chance at greater value because most programs charge a fixed number of miles while the cash price varies widely. When award space is availble, it's not too difficult to find an economy class award ticket for 25,000 miles instead of paying $500 (valuing miles at 2 cents each), or an international business class award ticket for 120,000 miles instead of $6,000 (valuing miles at 5 cents each). Some people redeeming miles would not actually pay $6,000 for that business class ticket, but they might pay $2,400, which still values them at a healthy 2 cents each. Finally, take into account the cost of fees and the hassle of finding award space.
Different award charts, different prices for tickets, and different transfer ratios make it difficult to say exactly what this means for the value of Membership Rewards points. A few of the better options are described below. In particular, keep an eye out for limited-time promotional bonuses that offer more miles in return for the same number of Membership Rewards points. If you have a favorite airline loyalty program, it could make sense to stock up by transferring points during a promotion rather than waiting until you're ready to book.
Air Canada's Aeroplan, Air France/KLM Flying Blue, British Airways Avios, and Singapore Airlines KrisFlyer are among the best airline redemption options for very different reasons.



Aeroplan, for example, offers much cheaper award travel in first class on Star Alliance members when compared to using United MileagePlus (and United isn't a Membership Rewards partner, which could make getting those miles are the more difficult). The caveat is that Aeroplan imposes extra carrier surcharges.
Avios is a good redemption option for shorter, non-stop flights and especially those in economy class. Travel between the U.S. West Coast and Hawaii for only 25,000 points round-trip — which means just 20,000 Membership Rewards points — on two of BA's partners, American Airlines and Alaska Airlines. Flights to Hawaii are normally $400 and up, representing a value of 2 cents per point. Even shorter flights can require as few as 4,500 Avios for one-way travel.
Flying Blue provides one of the few ways to book first class travel on SkyTeam carriers. Award space on multiple carriers is actually pretty good since Delta, the largest SkyTeam partner, blocks its members from booking first class awards. Also take advantage of monthly Flying Blue promo awards that offer 25-50% off select routes.
Singapore Airlines deserves mention because it provides excellent service to Asia, and, if you fly on one of Singapore Airlines' own planes, you can redeem online to save 15% off the award cost. This is also the only way to book awards in their exclusive Suites Class, which is not made available to partners.
Don't transfer points to Delta unless you've already found a good award. The Delta SkyMiles program has up to five different award levels and a pricing engine that sometimes quotes several hundred thousand miles for a ticket. (There's a reason it was nicknamed "SkyPesos.") While Delta still works well for some people, you just aren't likely to get the same value that you can with other airlines mentioned above. Consider Flying Blue instead if you need to travel within the SkyTeam alliance.
Be Skeptical of Hotel Transfers
Hotel transfers can be a good idea, particularly if award space for flights is limited. Most hotel loyalty programs allow you to redeem points for any standard room without blackout dates. Consider paying cash for the ticket and using your Membership Rewards points for a place to stay instead.
However, Membership Rewards has only a handle of hotel partners, including Best Western Rewards, Choice Privileges, Hilton HHonors, and Starwood Preferred Guest. None are particularly exciting. Let's look at a few examples for a mid-range hotel room that might cost $200.
Best Western and Choice Hotels are budget brands — fine if you need a place to stay, but not exactly aspirational redemptions. You can still get good value with either one. For example, book a room with 10,000 Membership Rewards points by transferring them to Choice Privileges and you'll obtain a valuation of 2 cents per point.
Don't transfer points to Hilton or Starwood if you can avoid it. Starwood Preferred Guest provides only 333 Starpoints in return for 1,000 Membership Rewards points, and the award chart isn't exactly cheap. You should still expect to redeem at least 10,000 Starpoints (30,000 Membership Rewards points) for a room that would otherwise cost just a couple hundred dollars — close to 0.67 cents per point.
Hilton HHonors offers a better transfer rate, with 1,500 HHonors points for 1,000 Membership Rewards points, but the award chart is quite expensive. You'd need just over 33,000 Membership Rewards points (converted to 50,000 HHonors points). That's just 0.6 cents per point.
Summary
This article makes several broad claims. To recap:
Transferring points to external loyalty programs is often the best deal. Most other redemptions offer 1 cent per point or much less.
American Express tries to keep programs on an even level with different transfer ratios to each one, but some are still a better value than others.
Keep an eye out for limited-time promotions that enable you to earn even more miles from transferring Membership Rewards points.
Flying Blue, Avios, and Aeroplan are among the best airline transfer partners with valuations between 1.6 and 1.8 cents per point. These are average valuations that depend on your itinerary.
There aren't many good hotel transfer partners, but Choice Hotels is worth a look.
We can establish a value for Membership Rewards points somewhere between 1.6 and 1.8 cents per point if we assume the best transfer options via Flying Blue, Avios, and Aeroplan. These airline programs all collect carrier surcharges and have other limits that make it difficult to book complex awards, which is why they aren't worth as much as, say, miles with United Airlines or Alaska Airlines (both closer to 2 cents each).
However, if these programs don't work for your situation, there are many other transfer options with a value of about 1.4 cents per point. Only in difficult situations, when there is no award availability, should you rely on the Membership Rewards online travel portal to book a ticket. Even so, this sets a lower limit of 1 cent per point.