You probably have a short list of favorite airlines for free award flights. That's all well and good, but it pays to have a cursory knowledge of a lot of different programs. That way, when the time is right, you'll be ready to take advantage of terrific deals that will help you travel the globe. If you don't know about Flying Blue and its monthly Promo Awards, which offer up to 50 percent off award flights, you need to read this article.

What Is Flying Blue?
Flying Blue is the awards program for Air France and KLM. Air France can get you to, you guessed it, France, but also many other European gateways. Additionally, Air France flies to cities beyond Europe.
Its network to Africa, including flights to Nairobi, Cape Town and Johannesburg, is quite good. From Paris, you can get to Pan-Asian destinations as diverse as Beijing and Hong Kong; Tokyo and Osaka; Bangkok; and Denpasar on the Indonesian island of Bali.
Dutch airline KLM flies to 674 destinations around the world and is a good choice when you want to visit places such as Amsterdam, Barcelona or Berlin. It also has excellent service to cities throughout South America, the Caribbean and Africa.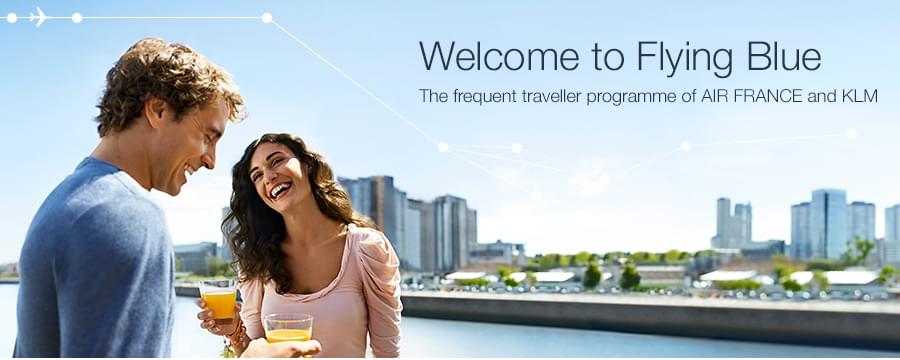 Join Flying Blue
You should be aware of Flying Blue even if you rarely fly on Air France and KLM. They offer some terrific mile-saving promotions, and you can easily use several transfer programs to deposit miles into your account.
For example, you can transfer Membership Rewards points from your American Express account to your Flying Blue account: 1,000 Membership Rewards points equals 1,000 Flying Blue miles. Citi ThankYou points also transfer to Flying Blue at the same 1:1 ratio.
Quarterly Promo Awards From Flying Blue
Now that you know how to easily pop some miles into your Flying Blue account, let's talk about why you'd want to do that. The program offers quarterly Promo Awards on select routes that can save you up to 50 percent on award flights.
For example, if you book by June 30 and fly in July, August or September, you can get a flight from Houston or Boston to any available European gateway on Air France or KLM for 37,500 miles roundtrip in economy class.
Is that a good deal? A United Airlines award flight from the U.S. to Europe costs 60,000 MileagePlus miles roundtrip in economy. By taking advantage of Flying Blue's Promo Awards, you'd spend 37 percent less miles.
When checking the Promo Awards, be sure to consider departing from someplace other than the United States. If you can get a positioning flight to Europe, for example, you could take advantage of these reduced-mileage, one-way flights to a variety of destinations in Africa, India and Asia:
20,000 miles in economy to Bangkok
30,000 in economy to Beijing
60,000 in premium economy to Singapore
75,000 in business class to Ho Chi Minh City
What's the Catch?
Promo Awards are based on availability, which can change rapidly. If you see an award you want, grab it. The only way to book a Promo Award flight is to do so at either AirFrance.com or KLM.com. You can book both one-way and round-trip tickets. Promo Awards cannot be modified, cancelled or refunded, so make sure your plans are set before booking a flight.