United Airlines is one of the biggest airlines in the world, and therefore it's no surprise that their loyalty program, MileagePlus, is also one of the most popular airline loyalty programs. It allows you to earn miles by flying on United Airlines flights, and redeeming those miles for free flights on United. But did you know that you can also earn United miles from your everyday shopping, through the MileagePlus X app?

What Is It?
The MileagePlus X App is a smartphone app that allows you to earn miles when shopping at participating local stores. The app lets you rack up extra United miles just by eating at local restaurants, shopping at local stores, and even by shopping at online retailers like Amazon.com. The app is free to download and use, and just requires that you have a MileagePlus account, which is also free.
How Does it Work?
Essentially, the MileagePlus X app works by letting you buy a gift card for the store you're shopping at, through the app, and then show the gift card to the retailer. There are tons of retailers available. You can check for nearby stores based on your location, search for a specific merchant, or browse a category.
So, for example, here's how a trip to your local Red Robin restaurant might go:
Sit down and order food as normal
Enjoy your delicious burgers
When the waiter or waitress brings the bill, note the total (and remember to factor in the tip amount, too)
Let's say the bill is $38, and you plan to tip $10 making it $48 total.
Pull up the MileagePlus X app and find Red Robin
Click "Pay Now" in the app
Type in the total amount of the transaction
Select your payment method (you can store credit cards in the MPX app)
Click Pay Now
You will see a Red Robin electronic gift card in the amount you purchased; show this to the waitstaff to pay your bill
In the MPX app, Red Robin currently offers five miles per $1 spent–so, on this $48 transaction, you would earn 240 United miles! This is also in addition to the rewards you earn on your credit card for actually making the purchase of the gift card. MPX purchases generally code correctly (i.e. a Red Robin purchase through the MPX app should code as a restaurant purchase), so if you pay using a card that earns a category bonus, you should still receive that bonus.
If you purchase a gift card and don't use it up immediately, the gift card will be stored in the MPX app for future reference.
How Much Can You Earn?
There is no limit to the amount of miles you can earn through MileagePlus X, although most merchants have an upper limit of $500 per transaction (and there may be a $500 daily transaction limit). Most merchants allow gift card purchases for as little as $5. The great thing is that you can buy a gift card for exactly the amount you need.
Every merchant offers different mileage earning rates (and these fluctuate from time to time), but here are a couple popular options to get you thinking:
Amazon.com – 0.5 miles per $1
Starbucks – 2 miles per $1
Jiffy Lube – 5 miles per $1
Sears – 3 miles per $1
Applebees – 5 miles per $1
Lowes – 1 mile per $1
OfficeMax – 5 miles per $1
GameStop – 4 miles per $1
Old Navy – 5 miles per $1
Red Robin – 5 miles per $1
Kohl's – 3 miles per $1
Barnes & Noble – 4 miles per $1
Uber – 1 mile per $1
Note: if you have a MileagePlus co-branded credit card from Chase, you'll earn an additional 25% bonus on MPX (so 4 miles per $1 becomes 5 miles per $1). You don't actually have to use the United card to pay, you just have to add it to your account and it will trigger the bonus for future purchases.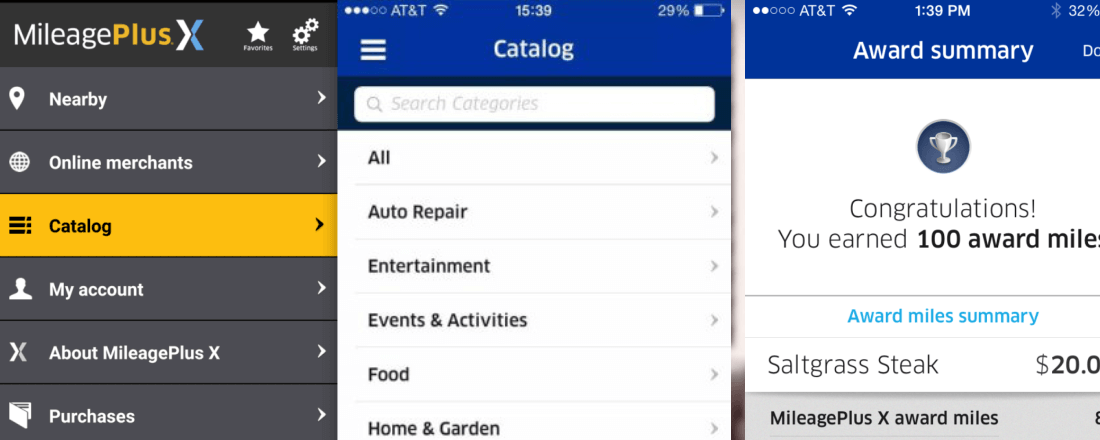 And again, remember that these are bonus miles that you'll earn in addition to whatever miles/points you earn on the credit card you use to pay.
Is It Worth It?
Yes, and no. The MPX App offers a relatively easy way to rack up extra miles in the United program. At the same time, it can be a bit clunky to use, especially at retail stores. It takes a bit to pull up the app, type in the transaction amount, purchase the card, and show it to the cashier – so if there's a line behind you, you might feel a bit awkward. You could always buy the gift card in advance using the app, but then that doesn't allow you to buy a GC in the exact transaction amount (which is one of the biggest benefits of the app).
Another consideration is that many merchants in the MPX app have gift cards that are pretty easy to pick up at a discount. You can check third-party gift card exchange sites like Raise, ABC Gift Cards, etc. to pick up gift cards at decent discounts. Or, you could wait for a sale on first-hand gift cards from retailers like Amazon and eBay. In some cases, the discount might outweigh the United miles you could earn through the app.
On the plus side, the MPX app is convenient, especially for restaurants where you have a few minutes to pay the tab and don't have to rush. The fact that you can buy an exact amount $23.82 instead of $25) is a huge plus. Also, the fact that MPX generally correctly passes through category merchant codes is great, because you can still earn category bonuses on your credit card. For example, if you went to Red Robin, purchased a $50 GC through the MPX app and paid with your Chase Sapphire Reserve, you would earn 250 United Miles + 150 Chase Ultimate Rewards points for that single transaction. Not bad!