There might be compelling reasons to book a partner's flight rather than one on United, even if United metal is cheaper to fly. First, United might be unavailable. Second, it can take more connections and/or time to reach your destination. Third, you might want to splurge to have a better seat, service and food.

There is an also an added benefit to using MileagePlus to book a foreign carrier. Unlike other domestic programs, United doesn't add fuel surcharges to any partners. An award flight on most European airlines like Lufthansa, Austrian, Brussels and others would normally cost you hundreds of dollars in fuel surcharges, but with United miles all you will be charged are airport taxes and fees.
United has the following Star Alliance partners:
Adria Airways
Aegean Airlines
Air Canada
Air China
Air India
Air New Zealand
All Nippon Airways
Asiana Airlines
Austrian Airlines
Avianca
Brussels Airlines
Copa Airlines
Croatia Airlines
EgyptAir
Ethiopian Airlines
EVA Air
LOT Polish Airlines
Lufthansa
Scandinavian Airlines
Shenzhen Airlines
Singapore Airlines
South African Airways
Swiss International Air Lines
TAP Portugal
Thai Airways
Turkish Airlines
Other partners:
Aer Lingus
Aeromar
AirDolomati
Azul
Cap Air
Edelweiss
Eurowings
germanwings
Great Lakes Airlines
Hawaiian Airlines
Islandair
Jet Airways
Silver AIRWAYS
Which Airlines to Look For
You won't always find nonstop business or first class availability on every airline, but if you do keep in mind not all premium seats are equal and availability can be limited. Some carriers, such as Lufthansa and Singapore, limit the number of premium award class seats, while others like Scandinavian and TAP still fly old angle lie-flat cabins. While even an angle lie-flat seat is light years ahead of coach, you probably want to get the best product for your miles so be sure to check what kind of seat is available.
Flights between the East Coast and Europe are shorter and traditionally easier to get, so let's try something more difficult. Let's assume you need two business class award seats for a flight between Los Angeles and Paris – the most popular European travel destination. Let's also presume you need your tickets in the second half of June, which is the beginning of the peak summer season. This is not an easy task, so you must be a little bit flexible.
Go to United.com, enter your search parameters and click Search. Make sure to choose My dates are flexible, and Search for Award Travel. It doesn't matter if you do or don't check Nonstop, since there are no nonstop flights between L.A. and Paris anyway. Unless you want to utilize a stopover or open jaw, we recommend you search and book oneway flights even if you are ultimately looking for a round-trip flight.
You will see quite a few green and blue boxes, which means premium class seats are available, but you might not like all of these options. Some of these flights are on Ethiopian, which has angle lie-flat seats. Others offer two connections which you might find excessive. Yet others are way too long, due to extremely long connection times. I had to click a few times before I found the perfect flight – on June 16th on Air Canada Airlines. Air Canada has extremely comfortable first class seats and the 13 hours flying time is almost perfect, considering that a nonstop flight between L.A. and Paris would clock at 11 hours.
If you want to verify the kind of seat you're getting, please check seatguru.com since United doesn't provide seat maps for most partners.
If you didn't log on before, the next screen will ask you to log on, so you could pay tax and complete your reservations.
The United Search Engine Is Not Completely Accurate
One of the quirks of the United award search engine is that it might do one of two things. It can show award availability that doesn't exist (phantom availability), or it might not show availability when there is some. This is how this quirk manifests.
Let's say you must fly to Paris on June 12. By looking at the availability table you may presume that only economy seats are available on that day, but if you click on this date and scroll down, you'll see this is not the case. There is a Saver award business class seat available for your destination. Granted, it's not ideal with the 24-hour flight duration, but it's there. Always click on the desired date just in case to make sure there is no error.
Best Star Alliance Availability to Europe
Luckily, one of the best business class airlines in the Star Alliance is currently the most readily available even for two or more people if you book a few months in advance.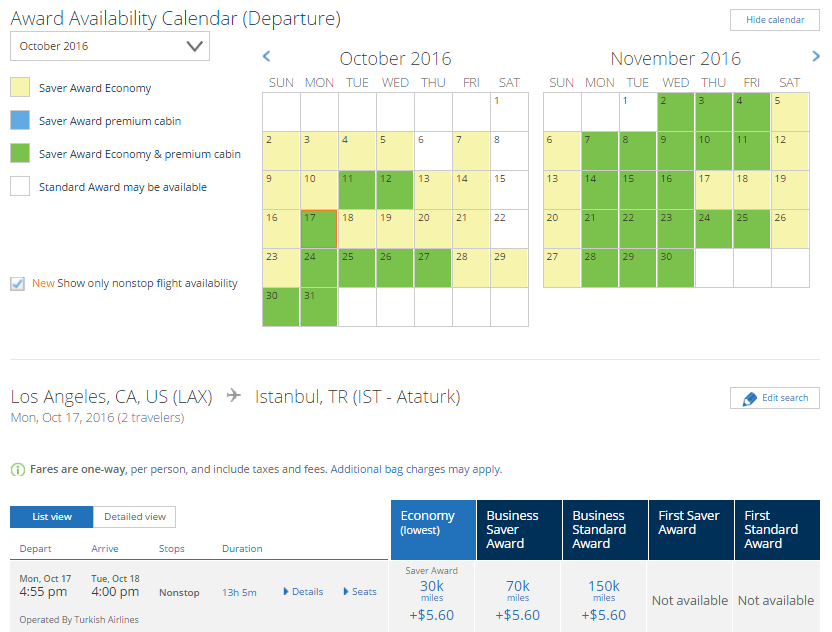 Turkish Airlines has a terrific business class cabin, arguably the best food in the sky, one of the best airport lounges in the world (in Istanbul) and an excellent intra-Europe network, so you can enjoy it even if you don't want to go to Istanbul. Turkish flies to Istanbul from Boston, Chicago, Houston, Los Angeles, Miami, New York (Newark), San Francisco, and Washington.