Between United Airlines and its partners, there is an unmatched number of destinations around the world you can see with a United MileagePlus award ticket.
Earlier in this series we looked at the best Star Alliance award flights in premium cabins to Europe, Asia, and South America, but there are more long-haul routes where you need to be sitting in the right cabin.
New Zealand
Air New Zealand transpacific business class cabins feature very comfortable lie-flat seats, good food and exceptional service, and the airline has recently begun opening up its business class award availability. Unlike many other programs that open up their award space months ahead, Air New Zealand opens availability only two-three months in advance. The airline flies to Auckland from Los Angeles, San Francisco, and Houston.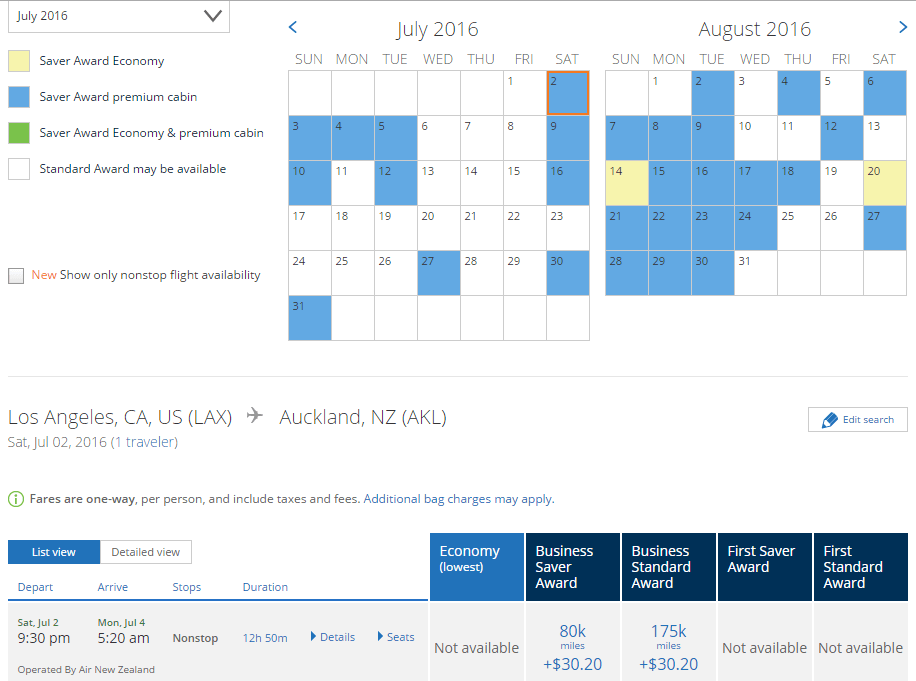 United is about to begin flying between San Francisco and Auckland on July 3, 2016. It's too early to tell how it will compare with Air New Zealand, but the award seat on United costs 10,000 miles less.
Oneway award tickets in business class cost:
United: 70,000 miles
Air New Zealand: 80,000 miles.
India
Getting an award ticket to India in a premium class cabin is relatively easy. You can use United, Air India, or a combination of Star airlines via Europe or Asia. There are too many options to list due to generous United routing rules.
There are two airlines that offer nonstop flights to India. United flies to Delhi and Mumbai from New York (Newark), and Air India flies to Delhi from Chicago, New York (JFK), San Francisco and from New York (Newark, JFK) to Mumbai.
Air India has especially good availability between Chicago and Delhi in business, first, or both.
Even if you can't find any award space for a nonstop flight, you can still use connecting flights. You can fly to India on Lufthansa via Frankfurt and even have a stopover in Germany.
One-way award tickets to India cost:
United business class: 70,000 miles
United first class: 90,000 miles
Air India business class: 80,000 miles
Air India first class: 140,000 miles
Africa
Africa is served by two airlines. South African Airlines flies to Johannesburg from New York (JFK) and Washington, and Ethiopian Airlines flies to Addis Ababa from Los Angeles (via Dublin), Washington, and New York (Newark). Flights from New York have been suspended, but will resume on July 3.
In terms of comfort, South African Airlines business class is better because it features a 180 lie-flat seat, while Ethiopian lie-flat seats are angled at 160 degrees, but getting a business class seat on South African is rather tough.
In contrast, Ethiopian Airlines business class awards from New York and especially Washington are readily available.
And since a flight from Los Angeles to Addis Ababa is routed via Ireland, you can have a free stopover in Dublin.
Both South African and Ethiopian have extensive networks on the continent, so you can fly almost anywhere you want.
One-way award tickets in business class (there are no first class cabins) cost 80,000 miles.