While an award ticket to Asia on a United partner airline can be expensive, there are three main reasons that make it worthwhile. First there is the sheer number of partner airlines you have to choose from.
Then there are the liberal United routing rules. For example, you can fly from the U.S. to Asia via Europe and have a stopover on the way if you wish. Another big one: unlike other airlines, United doesn't add any fuel surcharges to any of their partner airlines.
Award seats to Asia on partner airlines cost more than awards for flights on United. Here are the rates:
Japan Business Class: 75,000 miles
Japan First Class: 110,000
North Asia Business Class: 80,000
North Asia First Class: 120,000
South Asia Business Class: 80,000
South Asia First Class: 130,000
Central Asia Business Class: 80,000
Central Asia First Class: 140,000
North Asia includes China (except Hong Kong and Macau), South Korea, Mongolia, and Taiwan.
South Asia includes Bangladesh, Bhutan, Brunei, Cambodia, Hong Kong, Indonesia, Laos, Macau, Malaysia, Myanmar, the Philippines, Singapore, Thailand, and Vietnam.
Central Asia includes Afghanistan, India, Kazakhstan, Kyrgyzstan, the Maldives, Nepal, Pakistan, Sri Lanka, Tajikistan, Turkmenistan, and Uzbekistan.
As you can see, first class awards to Asia can get very expensive, but business class tickets are more reasonable, especially with zero fuel surcharges.
What Are the Best Star Alliance Airlines to Fly to Asia
United has the following Star Alliance partners that fly between the U.S and Asia:
Air China
All Nippon Airways (ANA)
Asiana Airlines
EVA Air
Singapore Airlines
Turkish Airlines (Turkish doesn't fly nonstop between the U.S. and Asia, but it's still one of the best connecting choices due to the liberal United routing rules).
Which Airlines to Look For
Unfortunately, not all of these airlines offer premium class availability. Singapore, for example, shares almost no business or first class award seats with partners on transatlantic or transpacific routes, and Air China and Eva are also quite stingy. That leaves us with the following airlines:
ANA (to or via Tokyo)
Asiana (to or via Seoul)
Turkish (via Istanbul)
Best Star Alliance Availability to Asia
Always search for a one-way flight between your nearest U.S. gateway city and the airline's main hub first, then for the flight between the main hub and your final destination in Asia.
ANA flies to Tokyo and beyond from Chicago, Houston, Los Angeles, New York (JFK and Newark), San Francisco, San Jose, Seattle, and Washington. You have a very good shot at getting your business or first class seat if you book well in advance. Below is availability between New York and Tokyo for two people.
Asiana flies to Seoul and other Asian cities from Chicago, Los Angeles, New York (JFK), San Francisco, and Seattle. Availability is crazy good, especially from New York and Los Angeles.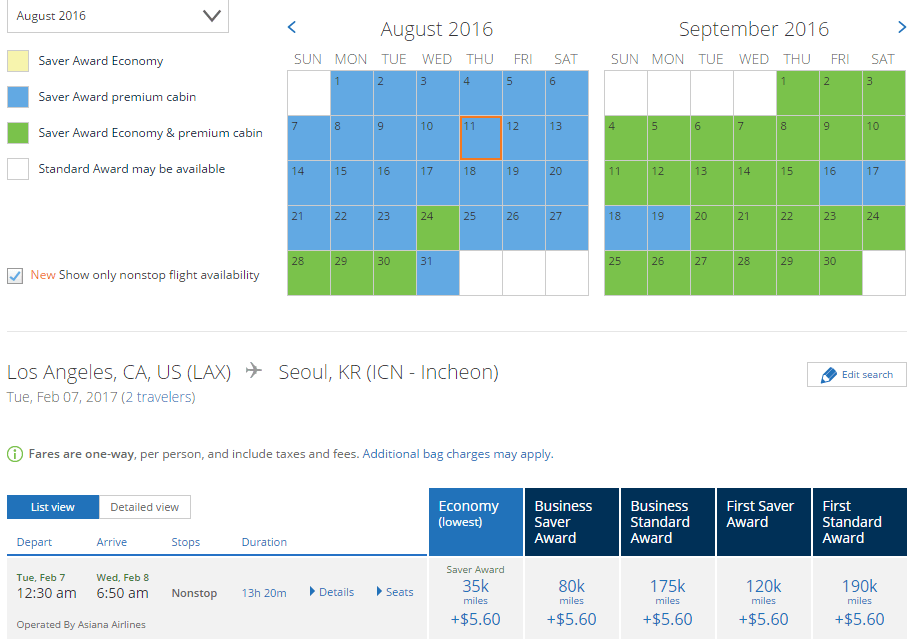 Finding a business class flight on Turkish takes a little finesse. The airline flies to Istanbul from Boston, Chicago, Houston, Los Angeles, Miami, New York (Newark), San Francisco, and Washington. You can try and do a simple search for your departure and destination cities, and you can get lucky sometimes. But a better way would be to find both flights and do a multi-city search to tie your itinerary together.
If you want to fly in business class between Miami and Bangkok find the first leg of your journey on United.com. Write down the date and the time of arrival in Istanbul.
Next click Edit in the middle of your screen and enter new search between Istanbul and Bangkok. Since your previous flight was on Feb 14, you're looking for a flight from Istanbul on Feb 15.
After you make sure the second flight is available, and the connecting time works for you, go to United multi-city search and enter your search data.
Pick your first flight between Miami and Istanbul.
Pick your second flight between Istanbul and Bangkok
Log on to complete your booking.
It may look like a long journey, but you will arrive to your destination rested and relaxed. And as a side bonus you get to spend three hours at the Turkish CIP lounge at the Ataturk Airport and enjoy fantastic amenities and endless first-rate food from Turkish Do & Co.