Valentine's Day is tomorrow, but it's not too late to get something shipped overnight. Chocolate and flowers are a safe bet for your special someone, but this year give a gift that your frequent flyer will really love. It's okay to throw in some candy and flowers too!
Scottevest
Start your shopping at Scottevest. The company makes clothes with tons of compartments and pockets so you can wear a lot of the small items that you'd normally tuck into a carry on. The clothing also has a conduit system for the wires of electronic devices, like the earphones attached to your smartphone.
The 24-pocket Travel Vest for Men can easily carry two cell phones, a camera, memory chips, batteries, a bottle of water, sunglasses, pens, keys, tablet, passport, and more.
The vest comes in four colors: black, navy, khaki, and olive. The Travel Vest for Women is available in black, gray, red, hunter green, and khaki. Vests cost $125 each.
TrakDot Luggage Tracking System
Wouldn't it be fantastic if you could effectively track your luggage? That way, if your luggage goes missing, you can actually tell the airline where it is instead of them running around searching for it. This is a reality with TrakDot's luggage tracking system that you toss in your checked bag. (It's pretty small at 3 x 2.25 x .75 inch.)
TrakDot uses ground-based cellular technology and microelectronics to determine its position on the ground. It also uses smart technology that puts the device into airplane sleep mode when the aircraft is in the air and turns it back on once the plane is back on the ground. Once the bag lands, it sends you a text like this one: Your Trakdot [#x] is in Logan International Airport, Boston, MA. For fun, you can even see the path your luggage took to get to its destination by using TrakDot's tracking feature.
The TrakDot Luggage Bundle costs $89.99 and includes the device, activation fee, the first year of annual service fees, and shipping. The annual fee starting in the second year of ownership is $12.99.
Bellroys Very Small Wallet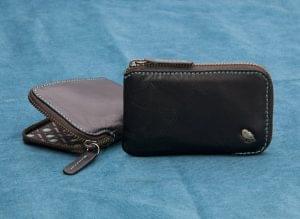 This company offers many wallets that are ideal for the on-the-go traveler but we recommend Bellroys Very Small Wallet. It's the perfect way to carry your loyalty program cards without bogging down your main wallet. You can fit over a dozen cards in this leather wallet plus a few bills and coins. It zips up all the way around keeping everything nice and secure. This slim wallet 4.1 x 2.5 inches comes in black, cocoa, tan, and blue steel and it costs $59.99.
Bose Noise Cancelling Headphones

At $349.95, these Bose QuietComfort 3 Acoustic Noise Cancelling Headphones may be a splurge, but they're worth it. These are terrific for long-haul flights (the rechargeable battery lasts for 25 hours). You can block out the noise around you so you'll have the quiet you need to read or sleep. Or, you can finally listen to music without the drone of the airplanes engines in your ears. The headphones are comfortable enough to wear for hours on end.
Dual-Voltage Travel Humidifier
Here's a terrific little product to make your hotel room a bit more comfortable during those dry days: a dual-voltage travel humidifier. It's super compact (just 4.5 x 1.75 x 2.5 inches) and weighs less than 7 ounces. Simply plug in a full plastic bottle of water (up to 17 ounces) and this whisper-quiet machine gets to work atomizing the water and spraying a fine mist into the air. Since it's a dual-voltage product, you can plug it in anywhere in the world without adding a converter and the adapter plug for continental Europe is included. You can buy this from Travelsmith for $59.
Don't forget to use your travel rewards card to buy the gift so you can earn more miles towards that next trip.