Capital One has just announced another exciting offer. Starting now through January of 2020, the Capital One Venture Rewards Credit Card and the Capital One VentureOne Rewards Credit Card are offering 10x miles when you book through Hotels.com/venture and pay with your card. This is a big step up from the 2x miles you previously earned for these purchases.
How the Hotels.com Offer Works
With this great new offer, you can now earn 10x the miles on purchases made through hotels.com, making the rewards earned on a $100 stay jump from 100 miles to 1,000 miles.
In order to take advantage of this offer, Capital One Venture and VentureOne cardholders just need to book their next hotel stay at Hotels.com/venture.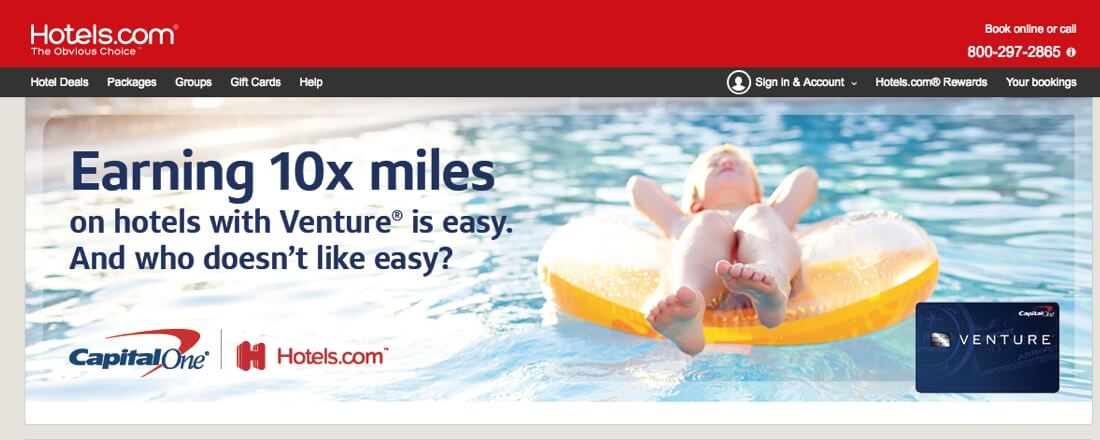 Simply visit the above link and pay for your hotel stay with your Capital One card. When given the option, select "pay now" at checkout since you must pay at the time of booking to be eligible for the deal.
Note that the card used must be a U.S.-issued Venture or VentureOne credit card that is open and in good standing.
There are certain bookings that do not qualify for the 10x miles offer. These include:
Rooms where you pay upon arrival at the property
Bookings for large groups
Reservations made by phone or through the Hotels.com mobile app
Any reservations made that include a flight
You are also not able to pay for the room with your PayPal account, even if it draws from your Capital One eligible card. It must be paid directly with your Capital One Venture or VentureOne Rewards card.
How to Double the Rewards and Earn up to 20x Miles
Not only do these cards now offer 10x the miles (or 10% back) on eligible Hotels.com purchases, but you can also get an additional 10% back when using the Hotels.com rewards program. This program offers one free night for every 10 nights booked through the site.
In order to qualify for the Hotels.com free night reward, you must sign up for a free membership and book 10 nights worth of accommodations through their site. You can book your stay at one of nearly 300,000 properties all over the world.
After your 10th night booked, you get a free night that is worth the average cost of the 10 nights you already paid for. There are no blackout dates when redeeming your free night, so you can book it whenever you would like.
The Basics of the Capital One Rewards Program
The Capital One Rewards program is one of the most straightforward programs out there. It's really quite simple: you earn 2 miles for every dollar charged on your Venture card and 1.25 miles for every dollar charged on your VentureOne Rewards card.
When you redeem your miles, you will get $1 back for every 100 miles you redeem. There are no caps on how many miles you can earn and miles never expire.
The interesting part about earning miles with the Capital One Rewards Program is that they are not part of any particular airline or hotel rewards program, but that's actually one of the biggest perks of this program.
You can redeem your miles in one of two ways with the Capital One Rewards Center.
Book Your Travel Through the Rewards Center Portal
You can choose to redeem your miles by booking upcoming travel plans through the Capital One Rewards Center. Either log in to their travel portal or call 800-228-3001, and you can book future airfare, hotels or rental cars using your reward miles.
Use the Purchase Eraser Tool
You can also choose to redeem your reward miles by erasing travel charges that you've already made using your Capital One Venture or VentureOne Rewards card. This is the best option because you can buy any travel you want from any vendor. There are no restrictions!
To do this, you log in to your account and select "Purchase Eraser" under the travel option on the redemption page. This will show any qualifying travel items you have purchased in the last 90 days that are eligible to be credited from your account using the tool.
To "erase" one of those charges, simply click on that transaction and then select the option that allows you to redeem your miles towards that purchase. Travel purchases that are eligible for this statement credit include purchases made for airfare, bus, train, car rentals, cruises, hotel stays, limo or cab rides or travel agency costs.
A Great Deal
This new announcement truly pushes Capital One into one of the leading spots when it comes to travel rewards cards. Many cards offer airfare rewards programs, but few non-branded credit cards offer rewards programs aimed at hotel stays. Now that Capital One has teamed up with Hotels.com to introduce this offer, you will really be hard pressed to find a better rewards program out there.