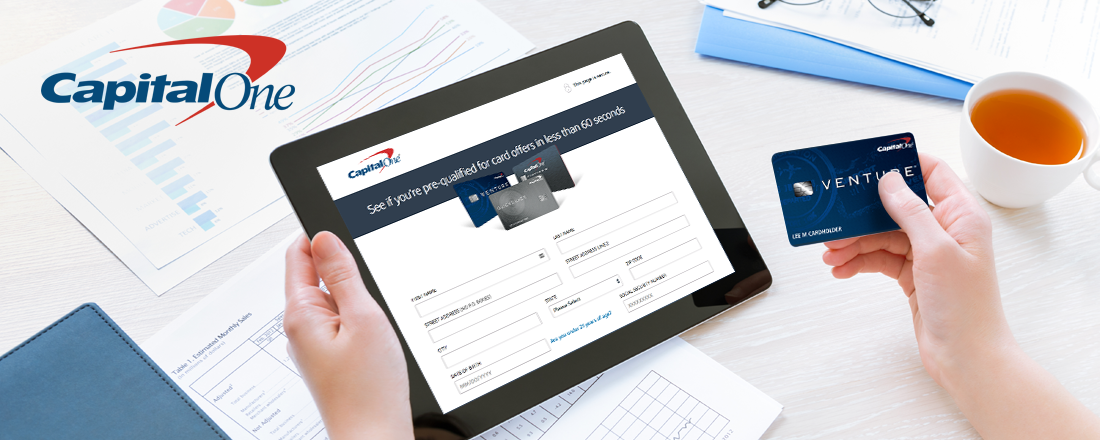 Most of us have gotten a letter from one credit card issuer or another telling us that we've been pre-approved for a card. But do you know what that really means? We'll give you the lowdown on pre-approval and our tips and tricks for pre-qualifying for that Capital One card you really want.

Trust me, you definitely want to pre-qualify for a credit card before you apply. If you submit a full application and you're not approved for a new card, your credit score will take a hit. That will make it even harder to get approved the next time you apply.
It's easy to see if you'll be pre-approved with Capital One, and it won't hurt your credit. So, let's take a look at how the process works, what it means to be pre-approved and how you can find out almost instantly if you pre-qualify. We'll even guide you toward the best cards for your specific needs.
Which Capital One Credit Card is Right for You?
Before we get too far, though, let's take a look at the Capital One cards you can get. When thinking about your options, it's important to pick a card that fits your needs
While your spending habits and rewards preferences are very important, you should always apply for a card that you're likely to get. That's determined in large part by your credit score. Good to excellent credit will get you just about any card, but you don't have to worry if your credit isn't stellar. Capital One has options for you, too.
Below are the top recommendations from our experts.
Best Capital One Cards for Good Credit
With a generous 50,000-mile sign-up bonus and excellent earnings of reward miles per dollar for all purchases, the Capital One Venture Rewards card is one of my favorite cards on the market right now.
One big reason this card is so great is that the rewards you earn are extremely flexible. It's a fantastic card that lets you buy the travel you want from anywhere. You aren't tied to a frequent flyer program, specific travel partners or anything else.
It's especially important to have that flexibility as airlines keep limiting award seat availability and devaluing award charts. If you often fly in business and first class and have flexibility in your schedule, you might do better with a different program. But for affordable economy seats on the dates you want, Venture Rewards are the way to go.
Capital One VentureOne Rewards Card
The VentureOne card is the no annual fee option in the Venture Rewards program. It's not as good as the Venture card, but it's still a great card. You'll get a significant a sign-up bonus and earn reward miles for every dollar spent.
Cash Is King: Quicksilver Cash Back for Excellent Credit
Perhaps an even better option if you want to avoid an annual fee is the Quicksilver card. It's a cashback card, so you don't have to use your rewards for travel purchases. Just redeem for statement credits.
There are two different welcome offers available with this card.
With either offer, you'll earn valuable cash back on all purchases.
Best Capital One Cards for Fair to Average Credit
The Capital One QuicksilverOne card is a good option for building credit due to its helpful tools, such as credit monitoring and unlimited access to your credit score. You'll also receive an increased credit limit after making timely payments.
The QuicksilverOne offers rewards in form of cash back on all of your purchases.
Platinum Credit Card From Capital One
While not a rewards card, the Platinum credit card from Capital One is also good for building credit. The fact that it has no annual fee and gives you access to a higher credit limit after you make your first five payments on time is great. It also comes with online and mobile banking, 24-hour access to your account and fraud coverage.
What Does it Mean to be Pre-Approved or to Pre-Qualify for Capital One?
Don't get too excited if you've been pre-approved for a Capital One card. It's not the same thing as being approved. It just means the credit card issuer thinks you're a good candidate for one of their cards.
Credit card companies like Capital One seek out potential applicants for their products by asking credit bureaus to review consumer credit profiles. The credit card company then purchases a list of those individuals who meet their criteria.
They look at everything from income, age and employment to debt and credit history. If you meet the criteria set by the issuer, you may receive an offer in the mail for a credit card along with a notice that you are pre-qualified, pre-screened or pre-approved for that particular card.
While you still have to apply for the card, and there's no guarantee you'll get it, getting pre-approved is a good first step. It will give you a good idea if the card company thinks you'll qualify for the card.
Does Pre-Approval Hurt My Credit Score?
Being pre-approved or pre-qualifying for a credit card absolutely does not hurt your credit score. That's one of the big advantages of getting pre-approved before actually applying, which will ding your score.
When a credit card company is considering you for pre-approval, they'll open a "soft" inquiry into your credit record. It will appear on your credit report, including who and when the inquiry happened, but it won't affect your score.
Only when you actually complete an application and apply for a credit card, is a "hard" inquiry recorded on your credit record. This hard inquiry does impact your credit score for a limited period of time, usually 6 to 12 months. Hard inquiries stay on your credit report for two years.
Pre-Approved vs. Pre-Qualified: Is There a Difference?
You may be wondering if there's a difference between these terms. You may also be surprised to find out that there really isn't.
Pre-qualified, pre-approved and pre-screened are used interchangeably by credit card companies, including Capital One. That includes offers you may receive from the issuer and if you actively seek out pre-qualification through an issuer's website.
As I mentioned above, pre-approval is only an indication that you are someone who fits the desired profile the credit card company or financial institution is targeting. Once you've actually applied for a card, the credit card company will do a more thorough investigation before it determines whether it will approve you for credit.
How to Pre-Qualify for Capital One Credit Cards
Want a risk-free way of finding out if you're pre-qualified for a Capital One credit card? You don't have to wait for an offer letter to know if you pre-qualify. Capital One offers a 60 second tool for just that purpose.
All you need to do is provide some basic information, including your social security number, and the Capital One pre-qualify tool will let you know which cards you should consider applying for.
Since this is not a credit card application, submitting the form does not affect your credit score in any way.
You Can Opt Out of Future Offers
If you have all the credit cards you need, or if you're just tired of getting offers in the mail, you can actually opt out of future offers. Just go to the official Opt Out Prescreen website or call toll free at 888-567-8688.
They even have staff who can answer questions about the pre-approval process and confirm if you're already on the opt-out list.
Now's the Time to Apply for a Capital One Card
What are you waiting for? Now that you know everything there is to know about Capital One's pre-approval process, you should head over to their website and find out which Capital One cards you should apply for.
We've even given you a headstart on finding the best Capital One cards based on your credit score. If you travel, you can't go wrong with the excellent Venture card. But if you prefer cash back, the Quicksilver card is a great choice, too.