If you are planning on a taking a trip in 2016, plan on booking it now or soon. If you haven't yet started planning a trip to take this year, start now. Why? Because a plethora of airlines are offering flights at rock bottom rates.

Thanks goes to fuel prices presently selling at levels last seen in 2003. Additionally, many airlines that were mired in red ink not too long ago are now posting record profits. A good many of those airlines are sharing some of their good fortunes with customers. Plus, January is traditionally a good month to find airline deals.
Moreover, cheap flights could be around for a while.
Investment bank Credit Suisse expects 2016 to be the seventh straight year in which the industry shows profitability. That would mark the longest positive cycle in U.S. airline history. It would also be quite an about face from the last decade when nearly every major U.S. carrier filed for bankruptcy.
Airline research firm Hopper, which analyzes billions of airfare price searches daily, says airfares booked in January will average about $210 per domestic roundtrip. That's more than 14 percent below the average price the same month a year ago. In fact, it's the lowest in the last three years.
Frontier, for example, is touting one-way tickets to destinations including Denver, Pittsburgh, and Miami from a number of cities starting at $19. Spirit is offering one-way deals to cities around the country for $23. Allegiant has deals for just $37. While these deals don't include fees, the total fares are still cut-rate.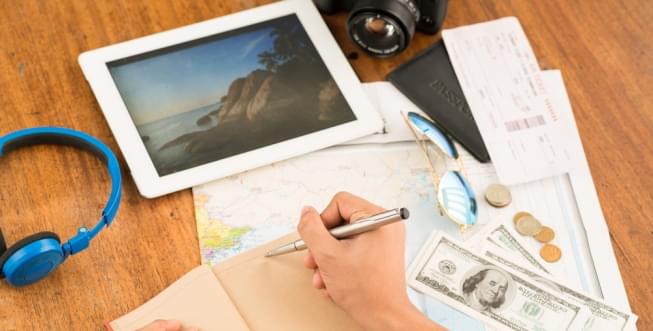 Not to be outdone, the industry's biggest players are hyping a number of bargain fares.
Roundtrip from Dallas to Miami on American Airlines can be bought for slightly more than $100. A round-trip flight from Atlanta to Philadelphia on Southwest was recently going for $82.
This entire year will likely be a good one in terms of deals for flyers. Ticket prices for the U.S. are expected to rise a minuscule 0.5 percent this year, according to the 2016 Global Business Travel Outlook report. Low oil prices are playing a key role in the sharply reduced fares.
Southwest Chairman and Chief Executive Office Gary Kelly said on January 21 after robust fourth quarter 2015 results that travel demand in 2016 continues to be strong amid lower fares.
Airlines overall saved billions in 2015 amid lower jet fuel costs and ample supply. They are expected to save even more in 2016, absent a sudden or unexpected spike in oil prices.
And thanks to record profitability, airlines are improving things they put on hold for years as they struggled to simply stay afloat. Carriers are hiring more people, buying more and newer planes, upgrading airport lounges, improving baggage handling systems, and investing in technologies to make flying safer. There's comfort in that alone.
With the current glut of oil in storage and no slowdown in production, cheap oil prices will be around for a while and will likely spur a flurry of flight deals. And the cost savings for airlines should make flying much more comfortable in the months ahead. For many, that's priceless.