As one of the three major domestic carriers, United can take you nearly anywhere you want to go in the U.S., and its partner network, including the powerful 27-member Star Alliance, can get you most places in the world.
Beginning in spring 2015, United will become either harder or easier to accrue, depending on how much you spend on cash airfares. The airline is switching to a revenue-based miles earning system, but you can also rack up United miles through their co-branding credit cards and strong partnership with transfer point programs like Chase Ultimate Rewards.
When Should You Use United MileagePlus Awards?
When traveling domestically, United has the same redemption rates as other major U.S. carriers (25,000 miles for the lowest-priced round-trip flight), so their MileagePlus miles are only of special value if you are trying to go somewhere that is primarily served only by Untied.
MileagePlus miles come in handy most for trips overseas, where the program really outshines the competition. It offers great availability, even in the lowest redemption category, and a lack of fuel surcharges on foreign partners.
Add these benefits to some of the most flexible awards around, with two open jaws, one stopover, and the ability to combine different cabins and redemption rates in one itinerary, and you have a very powerful mileage program.
The one catch to remember, particularly when trying to book your tickets online, is how United classifies its open jaws.
You can only have an open jaw at the end of each ticket. So you can fly New York to Paris with a week-long stopover in London and back from Amsterdam to Washington, DC. You cannot have an open jaw in the middle of the itinerary, such as New York to London with a stopover, then Paris to Amsterdam, and Amsterdam to New York.
Partners bookable online:
Adria Airways
Aegean Airlines
Aer Lingus
Aeromar
Air China
Air Dolomiti
Air India
Air New Zealand
ANA
Asiana Airlines
Austrian Airlines
Avianca/TACA
Brussels Airlines
Copa Airlines
Croatia Airlines
Edelweiss
EGYPTAIR
Ethiopian Airlines
Eurowings
EVA Air
Germanwings
Hawaiian Airlines
Island Air
LOT Polish Airlines
Lufthansa
SAS
Shenzhen Airlines
Singapore Airlines
South African Airways
SWISS
TAP Portugal
Thai Airways
Turkish Airlines
Partners bookable by phone:
Azul
Cape Air
Great Lakes Airlines
Jet Airways
When to Book by Phone
when you receive the We were not able to find any available flights for award travel meeting your requirements. You may modify your search criteria or review the MileagePlus Travel Award rules.
itineraries with multiple less-than-24-hour stopovers
if you are booking with a partner and United.com does not show award space (there are often partner flights available the web booking options miss)
award flights including the partners bookable only by phone
See below for our phone booking tips.
How to Search for United MileagePlus Seats Online
Though United's website allows an extremely seamless level of partner bookings compared to many other airline award booking websites, it often runs into trouble processing complex itineraries with stopovers. A less than 24-hour long stopover, the longer stopover you are entitled to on each round-trip award, and open-jaws can all cause issues when booking online.
Whether you are ultimately able to book online or need to book by phone, first plot out your flights in the United award search tool. Log in with your MileagePlus number before you search, as Chase United credit card holders and status members have increased availability.
On the United homepage, choose the advanced search option at the bottom of the flight booking section to adjust your search settings:
On the next page:
add your airports
choose flexible dates
change the number of flights to display to 50
select to search by award travel

You want to change the settings to show more flights because of the way United displays itineraries. All non-stop flights are displayed first, followed by fully United itineraries with stops, and finally partner itineraries with stops. Often the best flight, in terms of schedule, stops, or experience, is offered on a partner, so you want to make sure you see them.Click your preferred dates on the award calendar, even if the days are marked in white, which implies there is no space in the lowest redemption categories. This will give you a sense of what flights are scheduled that day with United and its partners.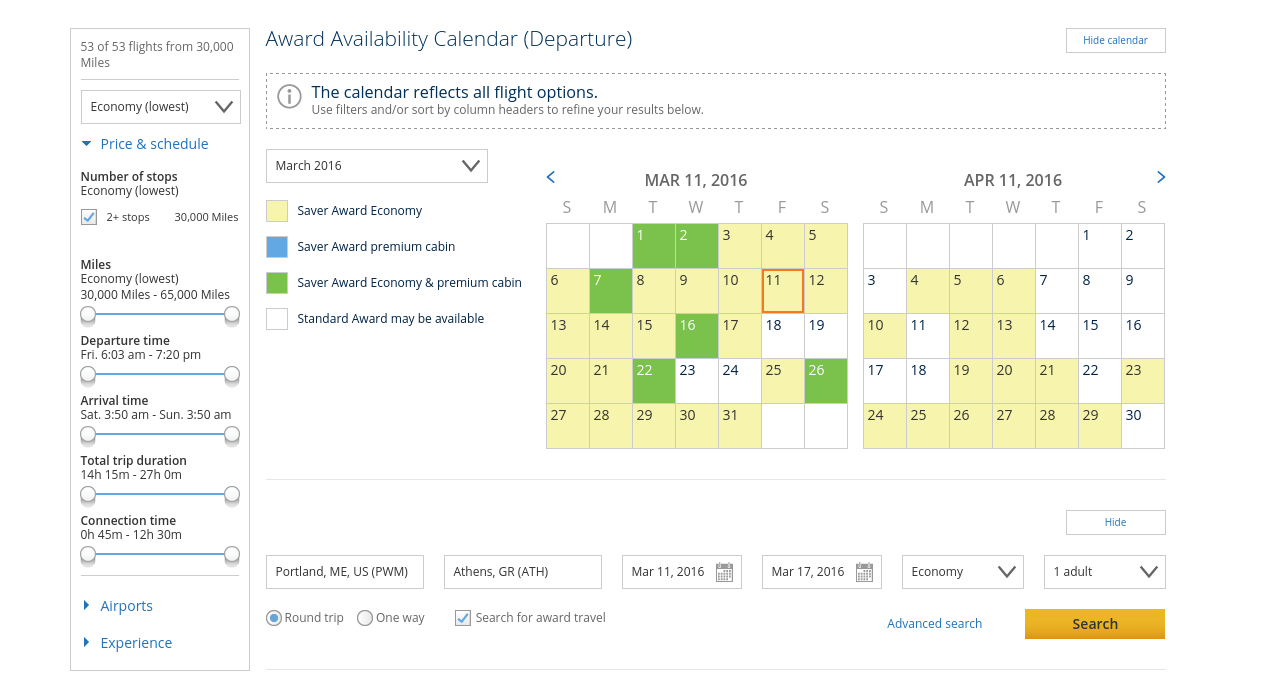 Ignoring the left section of the chart that shows which cabins and redemption levels of award space are still available, look through the flight schedules and see what the routing options are in terms of hubs and stopovers.

Pick out which routes look best for you in terms of departure and arrival, stopover, and total timing. Jot those down, and back up to the flight search screen to look at each leg one at a time.
If you received an error that the website cannot ticket your flight instead of a calendar, continue to walk through these steps to find space on each leg.
Let's say you want to fly from San Francisco, California to Venice, Italy. On your first search it looked like the best routing was through Houston and Frankfurt. Now, do three one-way searches on the flight out and again on the way back for:
San Francisco to Frankfurt
Frankfurt to Venice
Venice to Frankfurt
Frankfurt to San Francisco
Select the best flights at the best redemption rates with the amount of time you want in between for layovers.
How to Confirm and Book United MileagePlus Award Flights Online
Once you've picked out the flights you want, use the multiple destinations option to pull up each of your legs separately but as part of one itinerary:

If the site gives you an error, you have two options: search for your original round-trip and see if you can find the legs you selected in one itinerary in the search results, or call to book your flights.
When booking a complex itinerary, you will not know the total number of miles required for the ticket until you have chosen all your flights and the system tries to ticket the itinerary.
If you do not have enough miles in your account, United will sometimes allow you to hold the itinerary for three or seven days if the FareLock logo is showing next to the itinerary.


Once you're ready to move ahead, review the taxes and fees:


United usually has very low taxes and fees. Even, as in this case, less than $100 round-trip for international flights. If they are expensive, click on the breakdown and see if any of the larger fees are caused by your layover cities. If so, back out and use a different route to lower the price.
Phone Booking Tips
1-800-864-8331
Premier Priority Desk: 1-800-421-4655
Premier Executive:

1-800-225-8900
If you haven't already, walk through your itinerary one leg at a time on the United award search tool to make sure there is space on the flights and cabins you need before calling to book your award. Note down the United and partner if applicable flight numbers for each leg, as well as the number of miles and amount of fees each leg costs and the total cost of the itinerary.
When you get an agent on the phone, explain that you are trying to book an itinerary that you believe is within United's award rules and that you could not book it online and received an error. Hopefully, because of this, you can get the agent to waive the $25 fee to book by phone. It doesn't always work, but it's always worth asking nicely.
Important Award Booking Considerations
itinerary holds begin at $20 for 3 days
partner flights always fall into the lowest award category
one-way awards
multi-city awards
two-open jaws and one extended stopover on each round-trip ticket
unlimited less-than-24-hour stopovers
$75 fee for bookings less than 21 days before departure
$75 change fee
$200 cancellation fee, lower for elite status holders