Citi Premier® Card
Booking flights through the Citi ThankYou portal can be a better value than other redemption options. For example, booking flights with points earned on the Citi Premier card can yield a 60% bonus over a gift card if you book a flight with American Airlines/US Airways through the Citi ThankYou travel portal, where 30,000 points is equal to $480 toward a ticket on American or US Airways, or $399 on any other airline compared to a $300 value in gift cards if you went that redemption route.
The order of booking a flight with Citi ThankYou Points
1. Go to the Citi ThankYou website and click the "Sign On" button on the right hand side of the screen.

2. Enter your username and password and click "Sign On" again.

3. Click "Travel" then click "Flights."

4. You can then search for flights by entering your criteria and clicking "Search".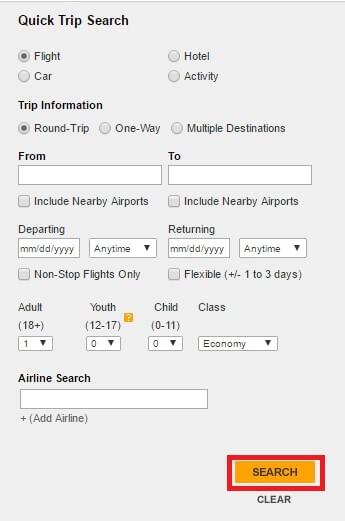 5. You will then see a list of available flights.To modify your search you can use the tools on the left hand side of the screen and sort by departure and arrival times, price, and carrier. You can also choose your departure and arrival flight separately or book a roundtrip ticket. For this example, we will choose a roundtrip flight. To do so, click the tab that says "Show Roundtrip Flights" at the top of the list. However, choosing your flights separately may afford more options.

6. Scroll down to see a list of available options. Once you have chosen click "Payment Options."

7. You will then have the option of paying for your flight with points or a combination of points and cash if you do not have enough points to cover the balance. Once you have chosen your preferred payment method click "Add to Cart."

8. A pop up box will appear which will allow the option of adding other items to your itinerary such as a hotel, car or activities. If you only want to book the flight click "View Cart."

9. Review your itinerary and then scroll to the bottom right side of the page and click "Checkout."

You can then confirm and submit your flight reservation. Shortly thereafter you will receive a confirmation email.