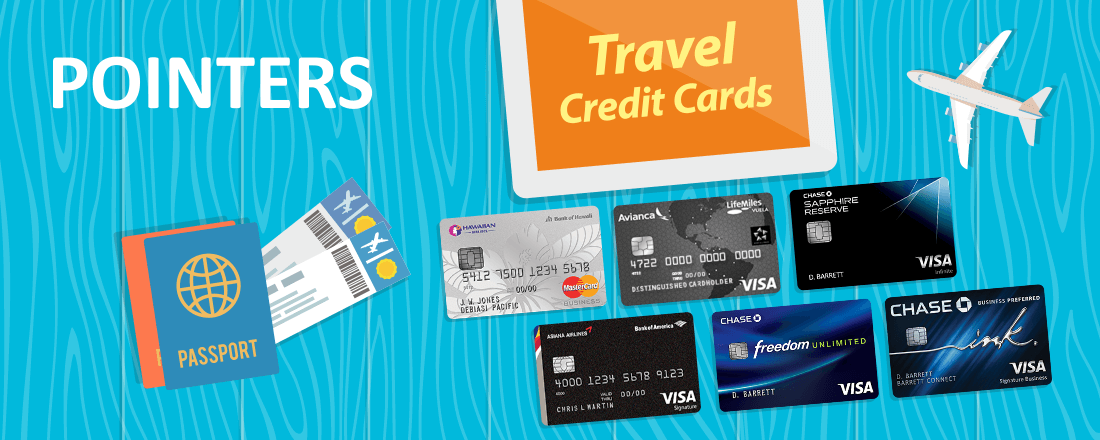 Chase introduced some exciting new Ultimate Rewards credit cards last year, including the buzzworthy Sapphire Reserve, a new Ink business card and a second no-fee Freedom card. A few airlines got in the act last year, too. There's a new and improved offering from Asiana Airlines, as well as a completely new lineup from Central America's Avianca and an excellent opportunity for small business owners from Hawaiian Airlines.
Let's take a closer look at these new cards and see why you might want one this year if you haven't already signed up.
Chase's New Ultimate Rewards Cards
Perhaps the most exciting new card of 2016 was the Chase Sapphire Reserve®. As the premium version of the already very popular Chase Sapphire Preferred® Card, its introduction received a lot of attention from frequent travelers.
It deserves the hype. When it was first offered, The Chase Sapphire Reserve® came with a huge 50,000-point bonus which was double the Preferred card's bonus. The bonus has since dropped to 50,000 points, but it still outshines its siblings and is well-worth the added cost.
You'll get triple points on all travel and dining purchases, compared to the Preferred card's double points. The Reserve card also comes with an annual $300 credit that's automatically applied to any travel charged to the card. And since it's an annual bonus you can get that credit twice a year. That goes a long way to covering its $450 annual fee.
The card also includes some valuable perks, such as a $100 credit for Global Entry or TSA Precheck and free access to over 900 airport lounges, thanks to a complimentary Priority Pass Select membership. In short, if you travel often, the card will more than pay for itself.
It's worth reiterating that both cards are part of the flexible Ultimate Rewards program, which allows you to transfer points to seven frequent flyer programs. Those partners offer a wide range of redemption options that can get you anywhere in the world through the three major airline alliances: Star, oneworld and SkyTeam. And it's the only credit card program that partners with United and Southwest, both excellent options for cheap domestic travel.
If that's not enough choices, Reserve cardholders also get an impressive 50 percent more value for their points when they redeem through the Ultimate Rewards online travel portal. That means each point is worth 1.5 cents towards airfare, hotels, car rentals and cruises. The Preferred version of the card offers only a 25 percent bonus.
Chase also introduced a couple of other great cards in 2016: the no-fee Chase Freedom Unlimited® and the Ink Business Preferred℠ Credit Card. Both would be great additions if you already have either of the Sapphire cards.
The Chase Freedom Unlimited® differs from its sister card, the standard Freedom card, by offering bonus points for all purchases. You'll get 1.5 points for every dollar spent, compared to the standard Freedom card's quintuple points on rotating categories of purchases. It's a great card to quickly boost your Ultimate Rewards points balance with everyday purchases without the hassle of remembering bonus earning categories.
Chase also replaced its Ink Plus® Business Credit Card card with the new Ink Business Preferred℠ Credit Card. The news is bit more mixed on this one. The Ink Business Preferred card comes with a bigger sign-up bonus than the Ink Plus did, giving you an impressive 80,000 points after spending $5,000 in the first three months. Plus it offers triple points for travel purchases. Ink Plus had no bonus earning for travel.
What you don't get with the new Ink Business Preferred℠ Credit Card is the fantastic 5X earning categories. With Ink Plus, those included some recurring bills, such as cable, internet and telecommunications, as well as office supply purchases. You're also losing double points at gas stations.
The Ink Business Preferred's bonus earning categories aren't bad, though. In addition to travel, you'll also get triple points for shipping, internet, cable and phone services. It also offers the unique benefit of earning triple points for all advertising purchases from social media and search engines. You can earn triple points on up to $150,000 worth of purchases a year.
Which business card is better? It's hard to say, but it doesn't really matter since Chase is no longer accepting new applications for the Ink Plus card. If you want an Ultimate Rewards business card, you have to get the Ink Business Preferred℠ Credit Card. As with the Ink Plus, the Ink Business comes with a $95 annual fee.
New Co-Branded Airline Cards
Asiana Airlines and Avianca introduced new credit cards in 2016, and Hawaiian Airlines started accepting applications for its business card again.
Asiana Airlines is one of South Korea's two major carriers and a Star Alliance member. It serves 90 international routes, including a number of cities in North America. Best of all, it has some fantastic redemptions hidden in its award charts. For instance, you can fly one-way from the U.S. to Europe in Lufthansa's fantastic first class cabin for just 50,000 miles. That's less than half the cost if you purchase the same ticket through United MileagePlus.
The airline's new card, the Asiana Visa Signature® Credit Card from Bank of America, replaces its old Amex offering. That's good news for a few reasons. First of all, the sign-up bonus jumped from just 10,000 miles up to 30,000 miles. You'll also get triple miles for Asiana purchases and double miles and grocery stores and gas stations. The new card has no foreign transaction fees.
The Asiana Visa Signature® Credit Card comes with a $99 annual fee, but there are plenty of excellent perks that can more than cover the cost. You'll get a $100 credit toward Asiana tickets, plus two lounge passes and a 10,000-mile bonus every year you have the card. This is a great card for anyone who plans to travel on Asiana, or for a seasoned travel hacker looking for some excellent Star Alliance redemptions via Asiana's award charts.
Hawaiian Airlines® Business MasterCard® is the only newly available offering from a U.S.-based carrier. The card comes with a 35,000-mile sign-up bonus after your first purchase. You'll also get a one-time 50 percent discount on a round-trip economy ticket between North America and Hawaii. If you're planning a trip, that can more than cover the card's $89 annual fee.
The best perk of the card, though, is the annual bonus you can earn if you reach certain spending thresholds. Making $50,000 to $99,999 in purchases in a year will nets a 20,000-mile bonus, but if you break $100,000, you'll get 40,000 miles.
Those are fairly high minimum spends, but if you use the card for business expenses there's a chance you can reach them. Why shouldn't you earn a free flight to Hawaiian while you work?
Avianca, the flag carrier of Colombia, also operates six other Latin American airlines, making it the second largest carrier in the region. The airline revamped its lineup of credit cards available to North American residents in 2016.
You can now apply for either the basic Avianca Vida Visa® Card or the premium Avianca Vuela Visa® Card. The former comes with a $59 annual fee, and the later with a $149 fee. Neither are waived the first year.
As you might imagine, Vuela is the better card. You'll get a 60,000-mile sign-up bonus, vs. Vida's 40,000 miles, and better bonus earning categories. The Vuela offers triple miles for Avianca purchases, double miles at gas stations and grocery stores and one mile per dollar for all other purchases. The Vida's only bonus earning is double miles for Avianca purchases.
The Vuela card also comes with a few unique perks. You'll get a free additional bag on flights between the U.S. and Central America and a 50 percent discount on an award ticket redeemed for a flight between those regions. You can get that 50 percent discount twice annually, after every $12,000 spent on the card. If you often fly to Central America on Avianca, the Vuela card could save you a bundle.
Which Card Is Right for You?
There were a number of worthy offerings introduced last year. Chase's Ultimate Rewards lineup got notably stronger and the program's flexibility is hard to beat. But you shouldn't be too quick to dismiss the new airline cards. If you often travel to Central America or Hawaii, or if you're hunting some redemption bargains among Star Alliance partners, those cards can be quite valuable as well.