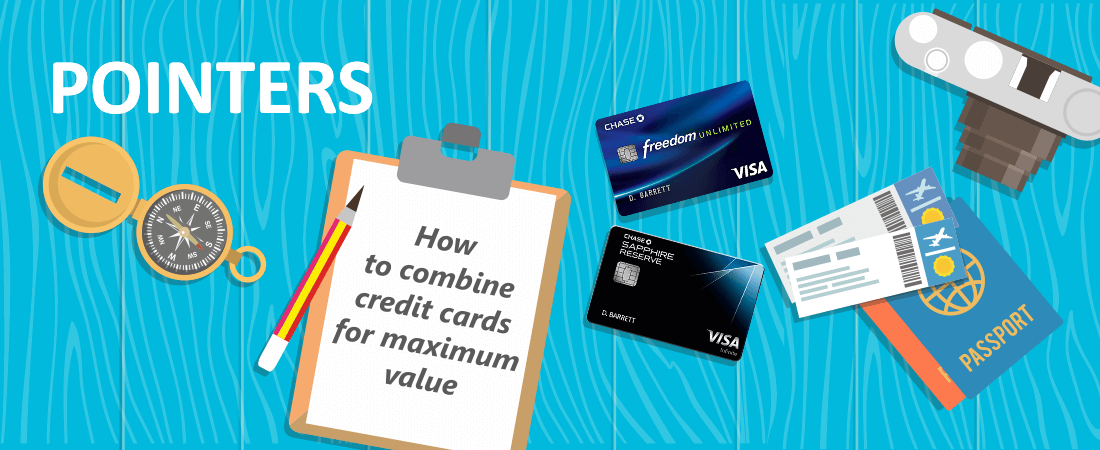 The Chase Freedom Unlimited card and the Chase Sapphire Reserve card is quite possibly the best credit card combination in the entire travel rewards industry. The combined benefits of this combo provide just about everything a travel hacker could want in their credit card portfolio – high points earning rates, a very valuable currency, a diversified array of travel benefits and purchase protections, and point transferability.
In addition, the ability to get so much out of only 2 cards allows travelers to simplify their wallets and reduce the cost of the annual fees they pay relative to a traveler who carries many cards. The Freedom Unlimited card has no annual fee while the Sapphire Reserve card carries a $450 annual fee.
Earning Points
The Freedom Unlimited card earns 1.5 Ultimate Rewards on all purchases with no limit. The Sapphire Reserve card earns 3x on travel and dining and 1x on all other purchases. This is the area where having the Freedom Unlimited card really helps create value: Ultimate Rewards is a very valuable currency, and with this card you will earn at least 1.5 points per dollar on all purchases.

It's essentially like having all your spending in bonus categories. In addition, you can supplement those earnings by using the Sapphire Reserve card to earn 3 points per dollar in the travel and dining categories.
Points Redemption Options
Chase allows you to easily combine your Ultimate Rewards across all your accounts. Therefore, when it comes time to redeem, you should transfer all points earned on the Freedom Unlimited card to your Sapphire Reserve account. This will open up 2 redemption possibilities that the Freedom Unlimited card doesn't have:
1. Redeem points by booking travel through Chase's portal at a fixed rate of 1.5 cents per point (versus only 1 cent per point if you used the Freedom Unlimited portal)
2. Transfer points to any of Chase's network of transfer partners at a 1:1 ratio (the Freedom Unlimited card doesn't allow you to transfer points)
Since the Freedom Unlimited card allows you to earn at least 1.5 points per dollar and the Sapphire Reserve card allows you redeem for at least 1.5 cents per point, you earn a minimum return of 2.25% when redeeming for travel. This rate of return is superior to that which you would earn using almost any co-branded hotel card from any issuer.

The points issued by most of the big hotel chains (Marriott, Hilton, IHG, Club Carlson) are typically worth well short of 1 cent each and the accrual rates from the corresponding credit cards don't fully compensate for these pathetic valuations. Therefore, the minimum 2.25% return available with the Chase card combination makes hotel rewards obsolete for most travelers.
There are 2 exceptions: Hyatt and Starwood Preferred Guest (SPG). Hyatt is a transfer partner of Chase, so if you find better values there you can take advantage of that redemption option. SPG points are also very valuable, but much of that value comes from the ability to transfer to a massive network of airlines, so SPG is not just a hotel rewards program.
Chase allows transfers to 7 different airlines with all 3 major alliances represented. Transferring points to airlines and redeeming for expensive tickets is typically the best method to get the highest value for your points. Whether it's luxurious international premium cabin travel or domestic travel on high-demand routes, it is often possible to get 3-4 cents per point or more with a little skill in navigating airline award charts.

Transferring to United gives you access to Star Alliance, which is the biggest alliance and has the best award availability for many routes. All Nippon Airways and Asiana Airlines are nice options for traveling to Asia, while Lufthansa and Turkish Airlines are good options if you would like to travel to Europe.
Singapore airlines is another great transfer partner. They are consistently ranked as one of the top airlines in the world and have some great features in their award program. They offer a 15% discount on award bookings made online and they also allow you to "waitlist" saver level awards. If the desired award becomes available, you will be contacted and normally be given 24 hours to book from that point.
Singapore Suites class on its A380s is one of the most extravagant first-class products in the world and is a great option for those looking for an unforgettable experience.

British Airways is a great option for short-haul travel with one-way awards starting at just 4500 miles internationally and 7500 miles in the US.
Korean Air is another great option for traveling to Asia. Korean has some of the best first-class award availability of any airline and charges a very reasonable number of miles during its off-peak dates. If you get frustrated by not finding award availability on other airlines, Korean is definitely worth a look.
Other Travel Benefits
All the benefits in this section come from the Sapphire Reserve card.
You can receive an annual $300 travel credit that shows up as statement credit. Chase defines travel very broadly and the credit posts automatically, so taking advantage of this benefit effectively reduces the annual fee to $150.
Once every 4 years you can receive a fee credit for a Global Entry or TSA PreCheck application. Acquiring this status can get you through airport security much faster and with much less hassle.

You receive a Priority Pass Select membership that includes complimentary guest privileges. The ability to get away from the crowds and enjoy free food and drinks in a lounge can make air travel a far more enjoyable experience.
You have access to the Luxury Hotel & Resort Collection which comes with a nice set of benefits such as complimentary room upgrades, complimentary meals, early check-in and late check-out, and often credit of $100 for things like food and other in hotel spending.
Conclusion
All in all, whether you are just starting out in the travel hacking hobby or are a seasoned veteran, the Freedom Unlimited and Sapphire Reserve card combo offers a ton of value and benefits and can simplify your wallet.