It's hard to believe it has already been a year since Chase announced the release of the Chase Sapphire Reserve℠. This card and its promotional 100K point sign up bonus sent shockwaves around the travel blogosphere.
For those who signed up for the card shortly after it was announced, the annual fee is coming due, so it's time to decide whether to keep, cancel, or downgrade the card. With a hefty $450 annual fee, the threshold for keeping this card is higher than most.
Is the Sapphire Reserve worth the annual fee after the first year?
The value proposition of the Sapphire Reserve card was a no brainer for people who signed up for the card when it offered a 100K point sign up bonus. However, for the second year and beyond you should determine if the ongoing benefits of this card are worth paying  the fee. We'll review the benefits offered and help you determine if you want to keep it going forward.
$300 Annual Travel Credit: The Sapphire Reserve offers up to $300 worth of statement credits per cardmember year which are automatically applied to your account. The way Chase manages these travel credits makes this one of the most useful and user friendly travel credit benefits of any card. The travel category is defined very broadly to include things such as parking fees and turnpike tolls. Since the credits post automatically, there is no extra work on your part. If this is your only card with a travel credit and you would normally have $300 per year of out-of-pocket expenses, then you can value this benefit at the full $300. However, if you need to stretch in order to use up the full amount, you may want to discount this benefit to something less than full cash value. This may be the case if you have multiple cards which offer a travel credit.
TSA PreCheck or Global Entry fee credit: This benefit can only be used once every four years, so at best it is worth $25 per year (Global Entry fee divided by 4). However, if you have already used it, the marginal value for the next few years is zero, so this is not a reason to keep the card.
Chase Sapphire Reserve℠
LEARN MORE
50,000
bonus points after you spend
$4,000
on purchases in the first
3
months from account opening. That's
$750
toward airfare, hotels, car rentals and cruises when you redeem through Chase Ultimate Rewards®.
Each year, automatically receive up to
$300
in statement credits as reimbursement for travel purchases such as airfare and hotels charged to your card.
Earn
3X
Points on travel and dining at restaurants- from airfare and hotels to fine dining and cafés.
Higher Point Value for Direct Redemptions: Points are worth 1.5 cents with this card when used to book travel through Chase's online portal. Chase's other annual-fee Ultimate Rewards cards offer a value of 1.25 cents per points, while the Freedom cards offer a straight one cent per point. For example, if you redeemed 100K points via the portal per year, you would derive $250 in extra value relative to one of the other annual fee cards. The value of this benefit is highly dependent on how many points you redeem via direct bookings (as opposed to transferring points to a partner).
Priority Pass Select: The Priority Pass Select airport lounge benefit offered by the Sapphire Reserve is the best of any travel card since it includes complimentary access for guests, with no stated limit on the number of people. This is great for those who often travel with family or friends.
3x Points Earning on Dining and Travel: This card earns three points per dollar on dining and travel purchases, which is an extra point each relative to the Sapphire Preferred which has the same bonus categories.
Do all of these benefits make the card worth keeping? Here is one way to think about it:
Let's assume that you want to have at least one card which offers the ability to transfer your Ultimate Rewards to partners. Therefore, you will have to pay an annual fee of at least $95. If you value the Sapphire Reserve's travel credit at the full $300, then the annual fee effectively becomes $150. So the question you have to answer is: are the additional benefits of the Sapphire Reserve worth the $55 extra dollars in annual fee cost relative to other Chase cards? The extra 0.25 cents per dollar for direct redemptions is worth $55 if you redeem at least 22K Ultimate Rewards through the portal per year. The lounge access can also easily be worth $55 of free food, drinks, and peace and quiet. If you are confident you will get at least $55 of value from the additional benefits, then keep the card.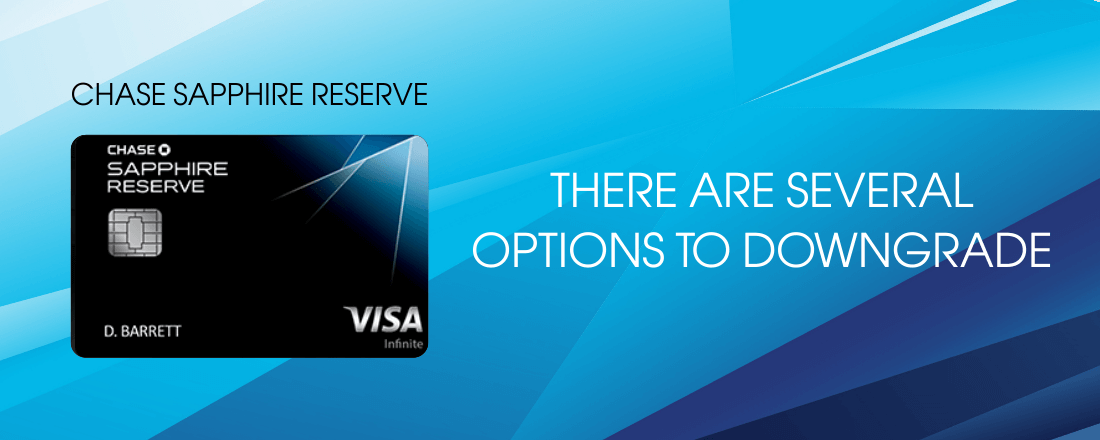 Downgrade Options
If you don't feel the benefits of this card justify the annual fee, there are several options to downgrade to cheaper cards. If you want to retain the ability to transfer points, you need to have an annual fee card. The only other annual fee Ultimate Rewards personal card is the Chase Sapphire Preferred® Card. However, the Ink Bold® Business Charge Card, Ink Plus® Business Credit Card, and Ink Business Preferred℠credit card offer this ability, so if you have one of those, you may want to consider downgrading your Reserve card to a no annual fee card.
Chase Sapphire Preferred® Card: This card offers 2x points earning on dining and travel, 1.25 cents per point on direct redemptions, and the ability to transfer your points to hotel and airline partners. The annual fee is $95.
Chase Sapphire® Card: The no annual fee version of the Sapphire card earns 2x points on dining and travel booked through the Chase travel portal (not all travel). This card does not offer the ability to transfer points to partners, so if you want to retain that ability you will need one of the cards with an annual fee.
Chase Freedom® Card: This is a no annual fee card that offers 5x points in rotating categories on up to $1,500 of spend per quarter. This card does not offer points transferability.
Chase Freedom Unlimited®: This version of the Freedom card earns an uncapped 1.5 points per dollar on all spending, but also lacks the ability to transfer to partners.
Last Resort: Cancelling the Card
Outright cancelling the card won't make sense for most people since there are several no annual cards to which you can product change. However, with Chase's new restrictions on having multiple cards in the Sapphire family, if you have no use for one of the Freedom cards, cancelling may be the option for you.