You might be taken aback by the $450-$550 price tag on a premium credit card, but you need to weigh the benefits to see if the fee is worth it. One of the biggest payoffs beyond the sign-up bonus the first year is the annual travel credit one gets with a premium card. When you put that together with lounge access and the other benefits these cards offer you might find the card not only pays for itself but gives you extra funds for travel.

There are plenty of excellent credit cards with no annual fees, but you get what you pay for. Or not. The perks of a premium card can make that fee look like a bargain. One of these great benefits carried by many premium credit cards is the annual travel credit, an allowance for travel that your credit card issuer will reimburse you for. How much the credit is and what qualifies as travel varies from card to card. Here's the lowdown by card.
American Express Platinum Airline Fee Credit ($550 annual fee)
The The Platinum Card® from American Express offers a $200 annual travel credit on incidental airline fees, such as checked bags, in-flight food and drinks, and different kinds of fees, like flight-change fees, baggage fees, and phone reservation fees.
The American Express airline fee credit has very restrictive terms. First, you can only be reimbursed for charges made on one airline that you can choose once a year in January. In addition, the credit doesn't cover tickets, upgrades, mileage points purchases and fees, gift cards, and award tickets.
The good thing is, you will receive a statement credit automatically within 2–4 weeks, so there is no need to call.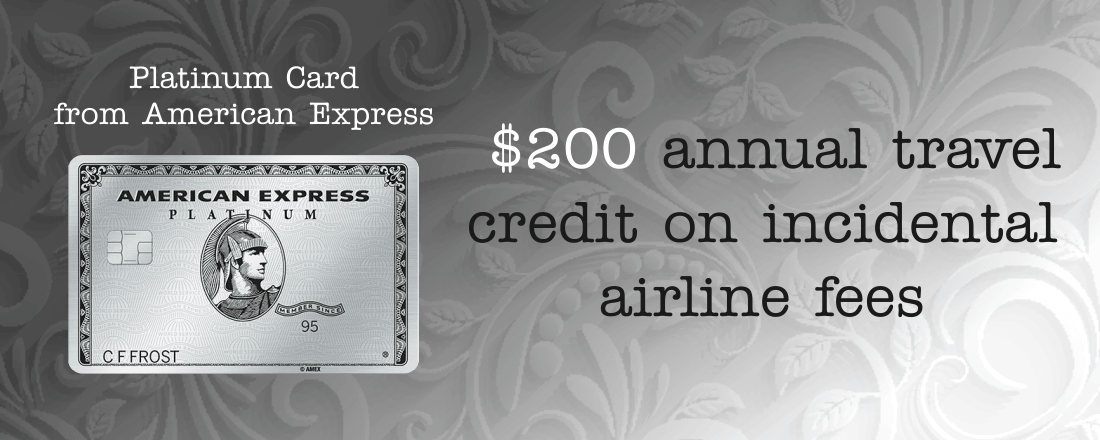 Note that the $200 airline credit is per calendar year, so in your first year as a member you can get it twice, before and after December 31.
UBS Visa Infinite ($495 annual fee)
UBS Visa Infinite, a newcomer to the premium travel credit card market, offers a $250 incidental airline fee credit that works in a way similar to the airline credit from American Express Platinum. You will automatically receive statement credits of up to $250 for qualifying air travel expenses on one eligible airline you'll need to choose. The UBS airline fee credit covers upgrades, meals, lounges, and a whole bunch of fees: cancellation fees, change fees, unaccompanied minor fees, pet travel fees and lost ticket fees. The credit is based on calendar year.
Chase Ritz Carlton ($450 annual fee)
Chase Ritz Carlton offers a $300 annual travel credit that's valid on incidental airline purchases, such as lounge memberships or day passes, seat upgrades, baggage fees, in-flight Internet/entertainment, or in-flight food or drinks. You will need to remember to call to get the Ritz Carlton because it's not reimbursed automatically like some of the others here.
However, it is often a blessing in disguise, because Ritz -Carlton's agents are actually pretty liberal at reimbursing your travel expenses, as long as you're not trying to get them to credit a very questionable $300 purchase. And there are no hold times, which is not always the case with many other premium cards call centers. The Chase Ritz Carlton annual travel credit is based on a calendar year.
U.S. Bank Altitude Reserve ($400 annual fee)
The U.S. Bank Altitude Reserve card offers a $325 annual travel credit with very liberal terms. You'll get credited when you make purchases directly from airlines, hotels, car rental companies, passenger trains and cruise lines. Keep in mind, though, that booking via online travel agencies, such as Expedia, don't qualify. In addition, your charges for taxis or limousines will also be reimbursed.  One difference between the U.S. Bank travel credit and travel credit from most other premium card issuers is that it's based on a cardmember year, rather than calendar year. So, no double-dipping on this one.
Citi Prestige ($495 annual fee)
Citi Prestige® Card offers an automatic $250 annual air travel credit that covers, among other things, airfares, baggage fees, lounge access and some in-flight purchases. Citi is somewhat vague in listing the purchases covered by the travel credit, but Prestige covers most air travel–related purchases, including many kinds of fees or even taxes paid on an award ticket. The credit is based on a calendar year.
Keep in mind that Citi Prestige counts purchases only when they post rather than on the day of the transaction. This is a bit different from other credit cards, so don't wait until December 29 to book a flight, because some of these purchases won't post right away, and you may miss the credit reimbursement cutoff.
We left the best for last. This credit card offers the best and most comprehensive annual travel credit in the industry.
Chase Sapphire Reserve® ($450 annual fee)
While Chase Sapphire Reserve's $300 annual travel credit is probably the most generous bonus among all premium credit cards, the eligibility terms are not clearly defined on Chase Sapphire Reserve's website. However, we do know how it defines merchants in the travel category.
Merchants in the travel category include airlines, hotels, motels, timeshares, car rental agencies, cruise lines, travel agencies, discount travel sites, campgrounds and operators of passenger trains, buses, taxis, limousines, ferries, toll bridges and highways and parking lots and garages.
And here are the purchases from merchants that are not supposed to be reimbursed: in-flight goods and services, on-board cruise line goods and services, sightseeing activities, excursions, tourist attractions, merchants within hotels and airports, and merchants that rent vehicles for the purpose of hauling. In addition, the purchasing of points or miles does not qualify in this category. Some cardholders have reported that the card issuer has been lenient in what it recognizes as travel.
The Reserve's travel credit used to be based on a calendar year, but in May 2017 they moved to a cardmember year. Hence, no double-dipping anymore.
As you can see, annual travel credit is an excellent benefit that can make even the most expensive credit card look affordable. However, since the travel credit terms vary widely among the issuers, choose the one that fits your travel patterns and makes sense for your wallet.