With the recent debut of the Chase Sapphire Reserve card, Chase now has two personal credit cards which carry the ability to transfer Ultimate Rewards to Chase's network of transfer partners. Since Chase Ultimate Rewards has the best combination of credit cards, diversity of transfer partners, and overall value among the transferable points programs, holding one of these two cards will be part of a long-term strategy for many travel enthusiasts.

While Chase has many other great cards, the Sapphire Reserve and Sapphire Preferred are the only two personal cards that allow you to transfer points to transfer partners, which is the best way to unlock maximum value for your points. We will compare these cards in a variety of categories and help you decide which one might be the better choice for your wallet.
Sign-up Bonus
| Sapphire Reserve | Sapphire Preferred |
| --- | --- |
| 100K UR after spending $4K in the first 3 months | 50K UR after spending $4K in the first 3 months |
The Sapphire Reserve is the clear winner here with a sign-up bonus that is currently 50K points higher than the Preferred. A bonus this generous is unlikely to last forever, so it's certainly a reason to consider going after the Reserve card first.
Points Earning Power
Sapphire Reserve
Sapphire Preferred
3 points/$ on dining and travel
1 point/$ on all other spend
2 points/$ on dining and travel
1 point/$ on all other spend
Both cards have the same bonus categories, making this an easy evaluation. The Sapphire Reserve is again the clear winner, earning 3x on travel and dining whereas the Sapphire Reserve only earns 2x.
Annual Fee
| Sapphire Reserve | Sapphire Preferred |
| --- | --- |
| $450, authorized users are $75 each | $95 (waived for the 1st year), authorized user cards carry no additional charge |
The Sapphire Reserve card carries an annual fee that is a whopping $355 more than the Sapphire Preferred. To make matters worse, it's not even free to add authorized users. The Sapphire Preferred is the clear winner here.
Point Value for Redeeming Ultimate Rewards Through Chase's Portal
| Sapphire Reserve | Sapphire Preferred |
| --- | --- |
| 1.5 cents/point | 1.25 cents/point |
The Sapphire Reserve makes your UR 0.25 cents more valuable when redeeming through the Chase travel portal. A key consideration to remember is that you can combine all of your UR across any UR-earning accounts you have. Therefore, this feature makes all of your UR more valuable, not just those that you earn with the Sapphire Reserve card. If you book a lot of travel via Chase's portal, this can really add up to significant savings.
Credits
| Sapphire Reserve | Sapphire Preferred |
| --- | --- |
| $300 annual travel credit, Global Entry/TSA PreCheck fee credit once every 4 years | None |
The Sapphire Reserve card is the clear winner here, and the $300 annual travel credit goes a long way toward reducing the sting of the annual fee for anyone who spends $300 or more out of pocket per year on travel. The credit is very broadly defined as applying to any travel expense and automatically credits to your account. It seems Chase may have done some research as to what people dislike about travel credits provided by other cards (cough Amex Platinum cough).
Airport Lounge Access
| Sapphire Reserve | Sapphire Preferred |
| --- | --- |
| Priority Pass Select membership | None |
This is another excellent benefit of the Sapphire Reserve card. For anyone who does a decent amount of flying, the peace and quiet of a lounge can make a world of difference. In addition, lounges provide free snacks and drinks and its usually easy to find a spot to charge your phone or computer.
Insurance and Protection Benefits
Both cards offer a very wide spectrum of benefits such as trip/luggage protection, rental car insurance, purchase protection, etc. We won't go into detail covering the entire range of benefits, but suffice it to say that the Sapphire Reserve card is at least equal to the Sapphire Preferred for every individual benefit and is superior for several.

The specific benefits for which the Sapphire Reserve card is better are rental car insurance (wider range of cars covered), roadside assistance, travel accident insurance ($1M in coverage vs $500K), and purchase protection ($10K per claim vs $500). These benefits can be useful for those who often rent cars or use their cards to make expensive purchases for which coverage may come in handy.
Which Card Should You Get?
We will start this conclusion by saying that anyone who does even a moderate amount of travel should definitely get the Sapphire Reserve card before the Sapphire Preferred. Even if you don't know anything about navigating transfer partner award charts and making award bookings, the difference in sign-up bonus alone is more than enough to make up the difference in annual fees.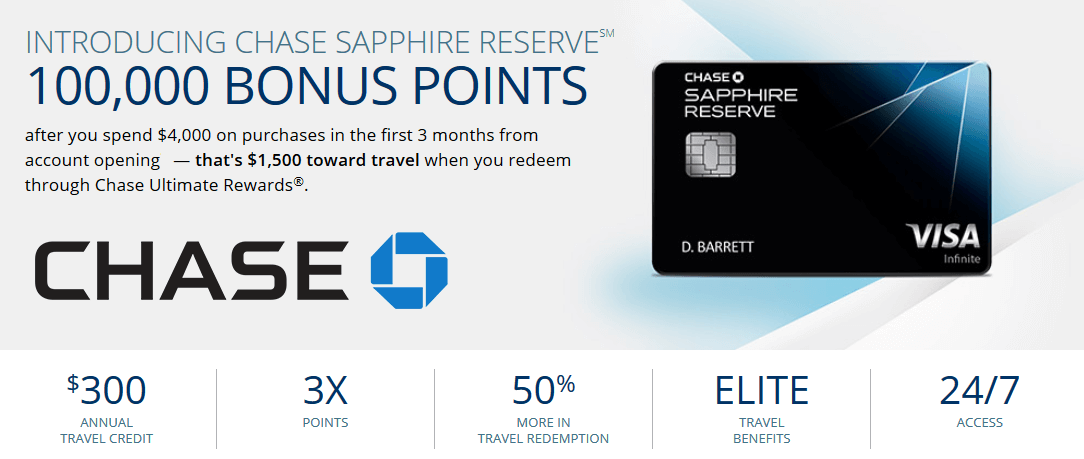 If you book through Chase's portal, the Sapphire Reserve bonus is worth $1,500 whereas the Sapphire Preferred bonus is worth $625. That's an $875 difference compared with an annual fee difference of $450 in the first year (which can easily be reduced to $150 by using the travel credit on the Sapphire Reserve card).
If you transfer your points to partners with valuable award charts, it is not very difficult to achieve redemption values of at least 2 cents/point (often 3-4) which widens the value disparity even more. If you don't feel that the Sapphire Reserve is worth holding long-term, then you can product change to another card with a lower or no annual fee.

The more difficult question is which card is better as a long-term hold. If you take advantage of the Sapphire Reserve travel credit each year, the effective difference in annual fees is $55. If you value the other benefits such as lounge access and higher bonus category multipliers more than that, then the Sapphire Reserve is better as a long-term hold.
You can also recoup $55 by redeeming 22K UR via Chase's portal given the difference in redemption values between the 2 cards. If none of these benefits add up to more than $55 for you, or you will not reliably spend $300 out of pocket on travel per year to take advantage of the travel credit, then the Sapphire Preferred may be better as a long-term hold.