Over the last eight years, my family and I have been the beneficiary of some incredibly generous military benefits given by U.S.-flagged air carriers. While these typically take the form of free baggage, there are other benefits the smart military family should try and utilize. Today, I'll cover all the benefits given to service members from each of the major carriers in the U.S.

As far as eligibility to military benefits, each airline has different definitions of who qualifies. Airlines typically break military families into the following categories:
Active duty
Active duty returning from overseas
Active duty traveling on official orders
Active duty on leave
Reservists
Members recently discharged
Veterans
Military dependents traveling on orders
Military dependents traveling without the service member
Read the (often vague) fine print available for your selected airline or call the airline before travel day to avoid any eligibility surprises at the check-in counter. Always bring your military ID and have your military dependents bring their ID as well, especially if they are traveling without you. Here's a list of military benefits and the participating airlines:
Free TSA PreCheck
A surprisingly overlooked benefit, military members and their family members with Department of Defense (DOD) IDs have free access to TSA PreCheck. Simply enter your DOD ID number from your ID card into the Known Traveler Number field on any TSA PreCheck participating airline and you'll be able to use the expedited security line. Family members aged 12 and younger can go through the PreCheck line with a traveling adult family member who has PreCheck on their boarding pass.
Airfare Discounts
I've routinely called carriers over the last eight years in hopes of finding a magical military discount, but usually come up empty. While the legacy carriers United, Delta, and American have what can be referred to as military fares and a military desk, these are tied to General Services Administration (GSA) official government travel fares and rarely offer any discount.
That said, there are a few airlines and methods that can save you money on airfare as a military family:
Delta Vacations — Not a straight airfare discount, but Delta Vacations will give you between a $50-$300 discount on your vacation booked through their site depending on the total cost of your trip. Based on the spend required, the discount works out to be a modest 2-5% off.
JetBlue — Members of the Veterans Advantage program (open to all veterans and immediate family members) can save 5% off the prices you'll find on JetBlue.com. JetBlue also advertises Military Leisure (MIL) Fares, but of the dozen or so times I've checked they have not been available or there are cheaper fares on JetBlue.com
Southwest — Southwest is the only airline I've found to have specific, regularly accessible, significant military fares. My family recently flew Baltimore-Phoenix round trip with Southwest and the military fare saved us $302. Military fares can only be found and booked over the phone, are not available on all flights, may not be cheaper than Wanna Get Away fares, and you must show your military ID at a check-in counter to get a boarding pass. Even better with Southwest, your dependents can fly on military fares even if you are not traveling with them.
United — As with JetBlue, Veterans Advantage members can save 5% off publicly available airfares found on United.com.
5 Credit Cards Offering Military Benefits
We've uncovered our favorite airline credit cards offering military benefits like free checked bags, early boarding, and even airfare discounts!
Baggage Allowances
Alaska Airlines – Active duty and military dependents (dependents must be on travel orders) receive five free checked bags, each weighing up to 70 pounds and less than 63 linear inches.
American Airlines — Dependents with ID traveling on orders and active U.S. military on official or personal travel receive up to three checked bags for free.
Delta — If you are: 1) active duty U.S. military personnel on orders to or from duty stations and dependents traveling with them; or 2) active U.S. military dependents traveling on relocation orders, you may check the following at no charge:
Up to four bags in Main Cabin on Delta and in all cabins on Delta Connection flights.
Up to five bags in Delta One, First and Business Class on Delta aircraft only.
Each bag may weigh up to 70 pounds and measure up to 80 linear inches. Specialty items such as pets or sporting equipment are not included in the free checked baggage allowance.
Additionally, active military personnel traveling on personal business on Delta and Delta Connection operated flights may check two bags up to 50 pounds and 62 linear inches at no charge.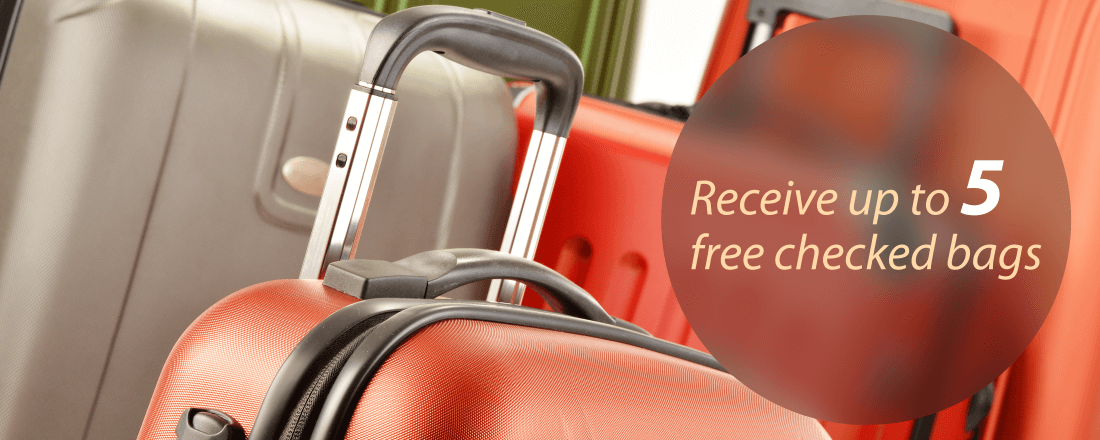 Frontier — With perhaps the simplest military baggage policy, Frontier plainly states no baggage fees for active duty military personnel.
JetBlue — Active duty and military dependents traveling on official orders may check up to five bags at no cost. If you are traveling on leisure, you may check two bags at no cost. Dependents much be on the same PNR or same flight as the military member in order to receive the free checked bags.
Southwest — Southwest does not charge anyone for the first two bags checked, but there are size and weight restrictions. Military Passengers traveling on active duty or permanent change of station orders will be exempt from the two-piece Baggage limit and will not be subject to excess, oversize, or overweight Baggage charges, provided that none of the pieces of Baggage exceeds 100 pounds in weight and 80 inches in size (L+W+H). In reality, I've always received this benefit when traveling for leisure as well.
United — Officially, U.S. military personnel on official orders may check up to five bags, weighing up to 70 pounds each and measuring 115 linear inches each, at no charge. In practice, even when on leave, I've been able to show my leave approval paperwork and given the same free baggage allowance.
Virgin America — Active Duty Military Guests are permitted to check in up to 10 bags free of charge when traveling on orders and up to five bags free of charge when traveling for leisure. Military family and dependents with travel orders and current ID may check up to 5 bags free of charge, when traveling for leisure normal baggage rules apply. All bags are subject to Virgin America's checked bag weight and size allowances. For Military Guests, one duffel bag, b-4 bag, or sea bag which exceeds the 62 outside linear dimensions will be accepted as two checked bags.
Lounge Access
American Express Platinum Cardholders — American Express waives the annual fee on all of its products for active duty military. This means you should have the Platinum Card from American Express, request the $450 annual fee waived, and then you will have a Priority Pass membership for lounge access around the world, Centurion lounge access, as well as Delta SkyClub access when flying Delta the same day, all for free.
American Admirals Club – U.S. military personnel traveling in uniform can enjoy complimentary access to all Admirals Club lounges as a courtesy when traveling the same day on an American Airlines operated flight.
United Club – Active U.S. military personnel with a valid military ID and boarding pass for travel within 24 hours on a United or United Express operated flight have complimentary access to the United Club. Access is only for the military member, no guests are allowed.
Waived Change/Cancelation Fees
I have not found an airline that has a written policy for no change, cancellation, or mileage redeposit fees for military. However, in eight years of planning vacations, I have had many leave periods changed or deployment dates changed, and I have never had no problem getting an airline to fully refund my ticket or redeposit my miles from an award ticket with no fee. You usually have to provide your commanding officer's name and phone number, or fax in a letter on your command/unit letterhead requesting the refund.
Bottom Line
You may find yourself the beneficiary of other unspoken benefits like being given premium economy seats for free or in the extreme rare instance, if traveling in uniform, an upgrade to a domestic first class seat. Remember, even if what you need is not a formally written policy, most of the airlines have been happy to work with me in return for a simple letter written from my unit.
I am very grateful to the support all of the airlines have given my family and I over the last eight years and will be sad when my time as an active duty member comes to an end.