Banks have continued to clamp down on people churning credit cards to earn sign-up bonuses. They want customers to keep cards for years because sign-up bonuses are loss leaders to earn our business. In keeping with this trend, American Express has added new language restricting sign-up bonuses based on the number of cards you've recently opened or closed, even with other banks.

American Express Restrictions on Sign-up Bonuses
American Express already has two major restrictions that affect customers who apply for credit cards and try to be creative while meeting minimum spends.
First, you can only receive the bonus on each specific credit card once per lifetime:
"Welcome offer not available to applicants who have or have had this Card."
And you cannot use manufactured spending to meet minimum spend requirements to earn the sign-up bonus (bold below is my highlight).
"The following eligible purchases do NOT count towards the Threshold Amount: fees or interest charges; purchases of travelers

checks; purchases or reloading of prepaid cards; purchases of gift cards; person-to-person payments; or purchases of other cash equivalents."
READ MORE: American Express Application Rules: Will You Get a Sign-Up Bonus?
American Express doesn't just disqualify gift card purchases towards earning the sign-up bonus. I recently purchased some gift cards from a local mall and didn't earn any Membership Rewards points when using my American Express Platinum credit card.
American Express Additional Restrictions
Now, American Express has added additional language that is similar to Chase 5/24 but more vague and open to interpretation. They are factoring in the number of credit cards you've opened and closed to determine your eligibility to earn a sign-up bonus.
"We may also consider the number of American Express Cards you have opened and closed as well as other factors in making a decision on your welcome offer eligibility."
In reality, banks have always had the right to review your credit report and analyze your loan and credit card activity to approve or deny your application. But, with automation and instant decisioning, most processes primarily focused on your credit score, payment history, and the number of recent open accounts when reviewing your application.
After reading about first victim's experience applying for a new Amex credit card, I thought I would test out the new American Express restrictions on credit card bonuses for myself. I applied for the American Express Platinum Card (a card I already have) and received the following message:
"Lee, because you have or have had The Platinum Card, you are not eligible to receive the welcome offer. We have not yet performed a credit check. Would you still like to proceed?"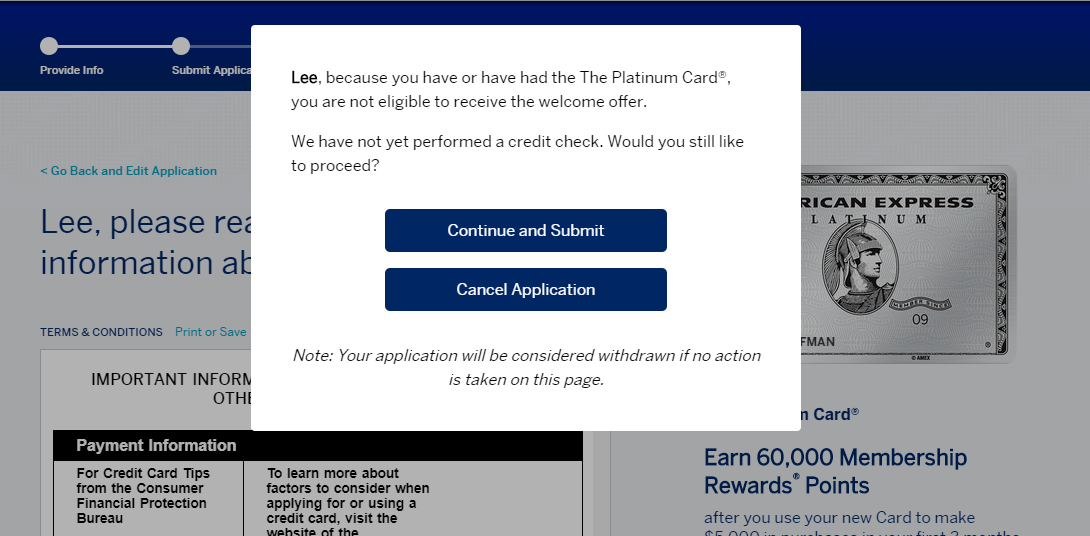 Of course, I chose to cancel the application because:
1) I already have the card and
2) Who wants a credit card that won't result in a sign-up bonus?
When I clicked to cancel the application, I was redirected to the following screen which encouraged me to browse other credit cards from American Express that I may be eligible for.
Interestingly enough, even though I canceled the application, American Express still sent me an email stating that they were reviewing my application. This makes me wonder if they'll factor in these soft inquiries into their decision for other credit cards that I may apply for now and in the future.
Banks continue to get smarter and more efficient in weeding out unprofitable relationships. You now have to be more strategic with your credit card applications to keep your credit score high and your banking relationships strong.
Conclusion
It simply doesn't pay (in the long term) to apply for a bunch of cards, hit the minimum spend, never spend another dollar on the card, then cancel it right away or when the annual fee comes due. American Express, Chase and other issuers continue to crack down on this behavior.
You need to be a good customer to the bank so that you can continue to be eligible for the best offers and benefits. Be sure to follow RewardExpert as we teach you how to maximize benefits while maintaining your banking relationships.