Delta is a transfer partner of the American Express Membership Rewards program, but it is not a partner of either Chase Ultimate Rewards or Citi ThankYou. You can still use TY or UR points to fly on the airline though by booking the carrier through a partner airlines. We will show you how.
How to Fly Delta on Chase Ultimate Rewards Points
Here are some Chase Ultimate Rewards partners:
Air France/KLM (Chase Ultimate Rewards and Citi Thank You transfer partner)
Korean (Chase Ultimate Rewards partner)
Virgin Atlantic (Chase Ultimate Rewards and Citi Thank You transfer partner)
What do they have in common? Not much, except that Delta is a partner with all three airlines. It's a member of the SkyTeam Alliance just like Air France and Korean, and it's a member of Virgin Atlantic Flying Club.
By transferring points from Ultimate Rewards to any of these airline programs you can book a Delta flight, and even get quite a bargain, sometimes.
Best Delta Redemptions With Air France/KLM Flying Blue
Flying Blue doesn't publish its award chart, so you have to use the Miles Calculator.
Israel
The best frequent flyer deal in the universe is redeeming Flying Blue miles for Delta flights to Israel. The savings can be huge.
That would be a phenomenal deal if you could actually find a non-stop Delta flight between JFK and Tel Aviv at a saver rate, but you probably won't. A round-trip flight to Israel costs 50,000 Flying Blue miles in economy and 125,000 miles in business, while the same flight costs 70,000 SkyMiles in economy and 170,000 miles in business. That's because Flying Blue puts Israel in Europe, rather than the Middle East like most carriers. And Flying Blue doesn't add fuel surcharges to Delta flights.
However, finding a Delta saver non-stop award to Israel in any class of service is an adventure, and you can only book a partner's flight if it has a saver award available. However, availability for connecting flights to Israel is quite good, even though you'll have to pay fuel surcharges on most Flying Blue partner airlines.
The best bet is to find a mixed flight to Tel Aviv where Delta would cross the ocean, and another Flying Blue partner would take you the rest of the way to Tel Aviv. That scheme would bring your fuel surcharges down to reasonable double digits, since Flying Blue doesn't add surcharges to Delta. For example, if you take a combined flight on Delta and Alitalia, your surcharges would amount to less than $40 per round trip.
Other Good Deals: Hawaii and South America
Using Flying Blue miles instead of Delta SkyMiles is a great idea because it's cheaper and there are no fuel surcharges in the Americas. Here are a few roundtrip examples.
Hawaii
SkyMiles: 45,000 miles in economy, 80,000 in business
Flying Blue: 30,000 miles in economy, 60,000 in business
Southern South America (economy and business)
SkyMiles: 60,000-150,000 miles
Flying Blue: 50,000-125,000 miles
Domestic U.S. flights cost the same 25,000 miles per round trip in both programs, but unlike Delta, there are no close-in fees for Flying Blue if you must travel within three weeks.
Korean Skypass
Korean has some decent redemption values, but until recently, it was a pain to redeem Skypass miles on partners. You would have to call customer service, and your award ticket would entail a long application process. In order to book a ticket for someone else, you'd have to fax customer service the proof of your family relation. That could be exhausting.
Fortunately, in December 2016 Korean joined the 21st century, so now we can book a Skyteam partners award ticket online. That, of course, includes Delta, and there are very compelling reasons to book Delta flights with Korean miles.

Business Class to Europe
You can buy a round-trip ticket in business class to Europe for 80,000 Korean miles. Compare that to the 140,000 Delta SkyMiles that would be required for the same ticket. This is one of the best redemption rates for business class flights to Europe in the industry.
Flights to Hawaii
Korean offers even better rates to Hawaii from the Continental U.S. on Delta than Flying Blue – 25,000 Skypass miles in economy and 45,000 Skypass miles in business per roundtrip vs. 50,000 and 80,000 SkyMiles. That's because Korean, unlike most other airline award charts, considers Hawaii one of the U.S. states, rather than a separate region.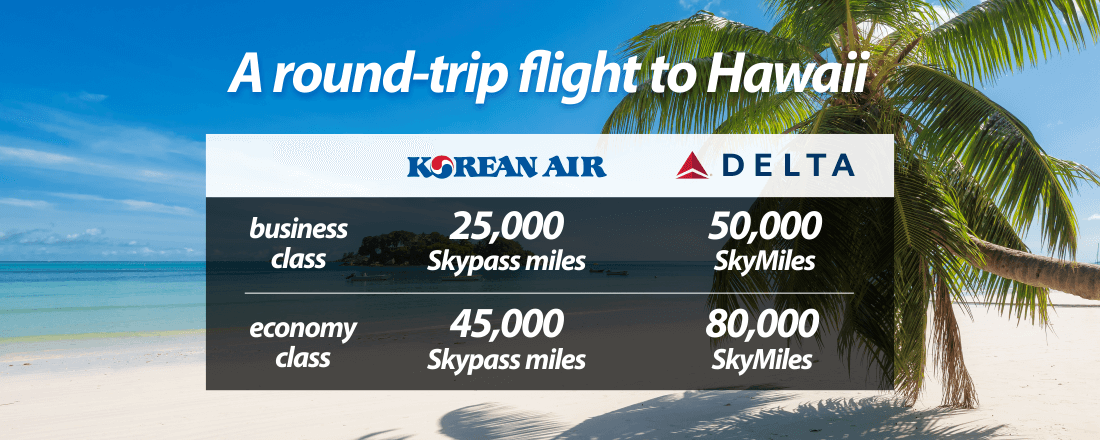 Southern South America (economy and business)
SkyMiles: 60,000-150,000 miles
Skypass: 50,000-110,000 miles
Virgin Atlantic
Virgin Atlantic is a non-alliance partner of both Chase Ultimate Rewards and Citi ThankYou programs, and there are some good deals flying Delta with fewer Virgin Atlantic miles compared to Delta SkyMiles.
Business Class to South America
Delta has recently increased the award redemption rates for business class flights to southern South America, which makes booking a Delta flight on Virgin Atlantic a true bargain. You will only pay 90,000 Flying Club miles versus 150,000 SkyMiles.
Business Class to Europe
A business class ticket to Europe costs only 100,000 Flying Club miles round-trip, which has become a great deal after Delta raised its own redemption levels to 140,000 SkyMiles.
Hawaii
Flying to Hawaii in both economy and business is a decent deal, although it's not as good as using Flying Blue or Skypass. You will save 5,000 miles on a round-trip flight in both classes compared to Delta SkyMiles (40,000 Flying Club miles versus 45,000 SkyMiles and 75,000 versus 80,000).
Virgin Atlantic – Caveat Emptor
Keep in mind that booking a partner award with Virgin Atlantic Flying Club miles can be a frustrating experience for the following reasons:
You can't book partners online–you always have to call (800-365-9500).
Virgin Atlantic agents are not always well-versed in researching and booking partners award flights.
Virgin Atlantic favors the easiest routings. While you shouldn't be confined to nonstop availability, the agents might not see a connecting flight and price it as two separate awards.
You can only book round-trip flights–one-way flights are not allowed.
If you know that your award and routing are legit but the agent is stuck, it's best to hang up and call again until you find someone more experienced who will be able to help you with your itinerary. To increase your chances, always check the Delta and Flying Blue websites to make sure your your award is available before transferring points.