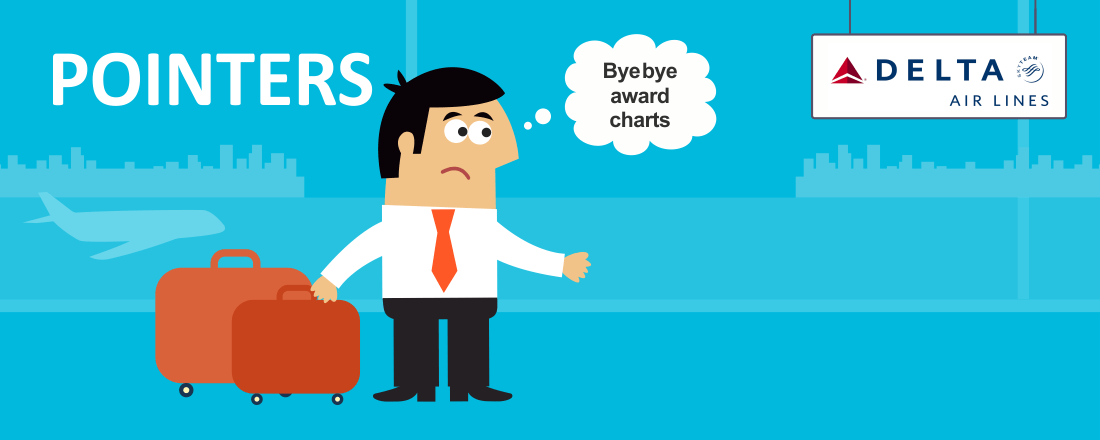 Delta SkyMiles members have been jerked around a lot over the past few years. Delta was the first of the major airlines to go revenue-based creating a domino effect with other airlines and limiting the mileage-earning potential of frequent flyers.

To top it off, Delta was already pretty limiting when it came to redeeming those miles: no international first class awards on any airline, limited business class space on partner carriers, heavy fuel surcharges on partner airlines like Kenya Airways, and a pitiful website that barely showed its own award space much less that of any partner airline.
Let's start off with some important points. Delta is a well-run and top-notch airline. Customer service and operational performance are both at the top of the charts, and customers and corporate clients regularly notice that. This is part of the reason that Delta can afford to derail their loyalty program so frequently from the fast track to customer benefit because they do provide a solid product in general.
So when Delta made things worse, it was quite a surprise. When it comes to frequent flyer programs, SkyMiles is not one of the most rewarding and rarely wins awards compared to American and United's programs. But, there are some solutions to the headaches Delta put forth to its members.
Bye bye award charts
Delta deleted its award charts entirely last year from its website. This means that customers no longer have any type of official mileage guide to plan trips. Delta instead is charging customers variable amounts that fluctuate based upon demand and season. Isn't that what the limited award seat space that most airlines offer on various flights does anyway? At least, they provide a gauge from which customers can plan aspirational travel. Delta drives a jackhammer through all of that transparency.
The next time you hear a credit card pitch peddling the benefits of a 25,000 mile award ticket in the airport or on the plane, be sure to point out the deleted award charts. With no official guide, there is no way to know how much an award should cost.
Some roundtrip tickets to Australia can cost hundreds of thousands of miles roundtrip in business class. There is no way to plan in advance; you only know the price when you come to book the ticket.
Finding awards is a chore
Delta thinks that delta.com is a dream website. Far from it. It does not play well if you try to add multiple segments into an award ticket, and it displays only a small fraction of its alliance partners for award redemption.
The same goes for a paid ticket; to avoid being overcharged, it is best to price your paid tickets at matrix.itasoftware.com before using delta.com. More often than not, Delta's website will display what it deems to be "the most convenient," but it is actually conveniently hiding the cheaper fares toward the bottom or on the second page.
Even when using delta.com to search for award tickets by calendar, the information is misleading. While it may show a lower mileage award, click through and the price might change on you. Only some partners are listed on the website like Air France, Aeroflot, China Airlines, China Eastern, China Southern, KLM, and Virgin Atlantic.
A nice workaround if looking for Delta partners is to use Air France or Alaska Airlines' website to search for award space. Air France is good at showing Alitalia, CSA Czech, and Kenya Airways award space (in addition to its own). If it appears at the classic level, then there's a good chance it is available on Delta, but you have to call. Alaska is great for showing Korean Air award space. Keep in mind that Delta does have blackout dates for travel on some of its Asian partners.
Hidden rules
Delta began a hidden practice of imposing advance purchase restrictions on some of its lowest mileage awards. Remember that 25,000 mile award? You better search for it 21 days in advance in most instances if you want to find it. On the plus side, Delta has put some shorter-distance awards on sale at lower prices (as low as 5,000 miles), but to find them, you have to search and reserve early enough to bypass these reservation restrictions.
Delta is also cryptic in its messaging, noting that beginning on June 1 it will change the way it prices awards to more closely align with fares. What that means specifically is unknown, but it does not bode well for those planning vacations with their hard-earned miles. Maybe it is better to save money and fly the cheapest carrier (Spirit, Southwest, or Frontier) and use that saved cash to buy your next vacation. Delta seems to underestimate consumer spending power when it institutes these shady rules.
Bone up on the latest rules before booking an award ticket.
Earn less miles on many partner airlines
Delta has dropped the earning potential on many of its alliance partners. This is a practice seen across the board, but Delta is particularly bad at nixing mileage earning and Medallion Qualifying Dollar accrual with some of its top SkyTeam partner members. Delta puts them into confusing groups, which is a jumble to unassuming fliers and leads to missing miles and qualifying spend when it comes time to study their elite status accrual for the year.
One way around it is to make sure your tickets are booked with Delta flight numbers (even if traveling on a partner). By booking it as a codeshare, you will earn miles according to Delta's rules rather than the partner. This can be trickier in some instances because the price might go up significantly, but try to search on a variety of websites like Orbitz.com or even foreign booking engines like Opodo.com to see if you can get a Delta flight number on your desired flight.
What is a loyal flyer to do?
Many Delta fliers are switching allegiance to other carriers, including some of its top customers, but others are held captive based upon where they live or their corporate contract.
There are still plenty of opportunities to enjoy earning and burning SkyMiles. The Delta-branded Platinum American Express credit card awards you 10,000 Medallion Qualification Miles (MQMs) when you reach $25,000 in spend (and another 10,000 MQMs when you reach $50,000 in spend). This is a great way for people who put a lot on their credit cards to get closer to elite status without flying. Plus, Delta waives the requirement to spend a minimum amount with the airline to earn elite status when spending $25,000 on the card.
While Delta is peddling alternative ways for you to redeem your miles, these are not going to provide the best value. Most recently, the airline suggests redeeming hard-earned miles for premium drinks in the Sky Club.
There are ways around the madness. Book your travel on Delta.com to assure you fly on -006 (Delta ticket stock) tickets to earn qualifying spend for elite status. If you book through a corporate travel portal, make sure they are not booking Delta's new lowest fare class. If it's E class, elite members don't get seat assignments, upgrades, or any other promised benefits.
Delta is a smart airline that is making money for its shareholders. If you climb through hoops to make SkyMiles work for you, it can still have great value (especially if your company pays the tab). If not, tread carefully. Unlike what former CEO Richard Anderson used to say in the safety video, Delta does not always have your back when it comes to mileage redemptions.