Aeromexico is Mexico's largest airline, with 14 non-stop routes between Mexico City and the United States. Its extensive network also makes it easy for U.S. travelers to fly to Central and South America with one connection in Mexico City.

Club Premier, the airline's frequent flyer program, has favorable economy and business class redemptions on flights between North America and other destinations worldwide, including Europe and Southeast Asia. It also has a unique OptionTown feature that offers low-cost upgrades if space is available before the flight.
Aeromexico offers one of the most generous round-the-world award tickets with SkyTeam's Go Round the World Pass. It costs 140,000 miles in coach and 219,000 miles in business class. Some round-trip redemptions in the SkyTeam award chart cost more. The Pass allows up to 15 stopovers, with up to five per continent.
Unfortunately, Aeromexico adds fuel surcharges to their own flights, and to tickets booked on partner airlines where applicable. A round-trip flight from New York to Mexico City on Aeromexico has about a $100 fuel surcharge.
One quirk of Aeromexico's program is that its currency is kilometers, but the AeroMexico Visa Signature® Card earns miles. If you're using the airline's award charts, just divide the cost in kilometers by 1.6 to get miles.
When Should You Use Aeromexico Club Premier Awards?
Club Premier uses a standard, region-based redemption scheme. That doesn't mean, however, that there aren't any interesting redemption options.
The reason most people fly Aeromexico is for its 14 non-stop routes between the U.S. and Mexico City. A roundtrip award ticket on these routes costs 35,000 miles for Tourist Class (coach) and 60,000 miles for Premier Class (business).
If you want to fly beyond Mexico, Tourist Class redemptions to Central and northern South America remain the same at 35,000 miles, which is a fantastic value.
Redemption levels to southern South America, Europe and Asia are also quite reasonable, especially in Premier Class. A business class round-trip ticket to Asia costs between 90,000 and 100,000 miles.
Aeromexico has excellent rates between the Continental U.S. and Europe: 50,000 miles for Tourist Class and 80,000 miles for Premier. Also note that while most airlines divide Russia into two or three zones, Aeromexico considers the country to be part of Europe. That means that you can fly as far as Vladivostok for 50,000 miles.
Partners Bookable Online: None
Unfortunately, U.S. residents cannot book Aeromexico or partner airline award flights online. You'll have to call.
Partners Bookable by Phone:
Aeroflot
Aerol­neas Argentinas
Air Europa
Air France
KLM
Alitalia
China Airlines
China Eastern Airlines
China Southern Airlines
Czech Airlines
Delta
Kenya Airlines
Korean Air
Middle East Airlines
Saudia
Tarom
Vietnam Airlines
Xiamen Airlines
When to book by phone:
For booking any award flight
To change an existing itinerary
See below for our phone booking tips.
How to Search for Aeromexico Club Premier Award Seats Online
While you can't book your flight online, you can search for Aeromexico flights. Partner flights are not searchable online. It's always a good idea to be familiar with the available flights before calling to book.
The airline's search engine is easy to use, and you don't need to be logged in. Go to the Aeromexico homepage, hover over Club Premier at the top of the screen, and click "Pay a flight with KmP," or Premier kilometers.
Select "flight."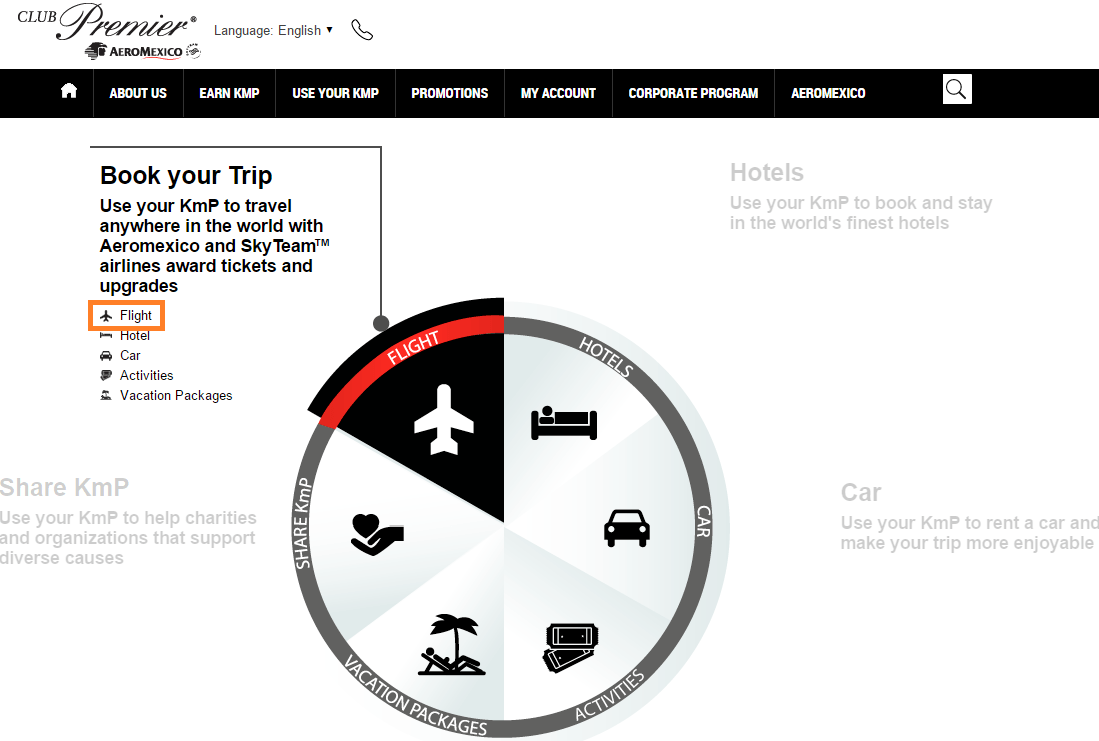 You will see a message telling you to call to book. Close it to continue searching.
Enter the flight information and hit "search."
Choose Turista (coach) or Premier (business class) from the options at the top of the search results. You'll want Clasicos tickets, which are saver fares. Siempre is the standard rate, which is notably more expensive, and should be avoided.
Click on the date you want and hit "continue." If you want to check for other dates, select "monthly view."
Pick the flight you want. Note the flight number and the date so you can give that information to the Aeromexico agent when you call.
If you hit "continue" at the bottom of the screen, you'll receive the same prompt to call.
Phone Booking Tips
U.S. phone number: 1-800-237-6639
The call center is open Monday through Friday from 8 a.m. to 8 p.m., central time. The wait times are typically short.
Aeromexico agents aren't always knowledge, and sometimes their fluency in English is questionable. If this happens, you can try contacting a different agent by calling back. If you just have questions, you can try emailing customerrelations@aeromexico.com.
Important Award Booking Considerations
Fuel surcharges on Aeromexico and most partner airlines
One-way awards available
Excellent redemption rates to Europe and Asia, especially in business class
Low change fees of about $26
Family mile pooling allowed
No miles plus cash awards
Excellent round-the-world pass with 15 stopovers
Credit Cards You Can Transfer To Club Premier From