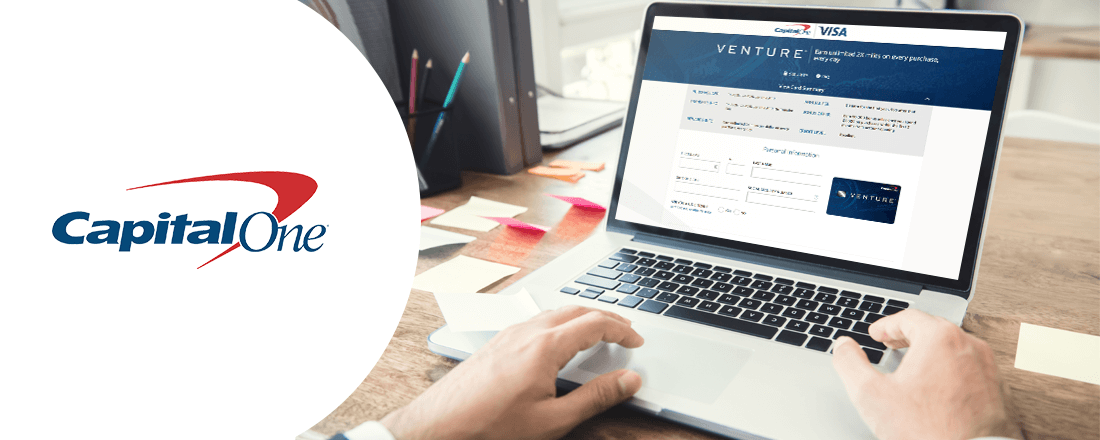 Known for its travel rewards with no blackout dates and the top celebrities who endorse their credit cards Capital One offers a wide variety of excellent cards. It doesn't matter if you're a new-to-credit beginner, a travel hacker, a big spender, a business owner or even someone with less-than-perfect credit, they have a card designed for you.

Capital One has also streamlined the application process, making it easier to figure out the best card for your specific needs and providing a quick pre-approval process to narrow down your options. You can even apply online and receive a decision within 60 seconds.
Our Top Picks for the Best Capital One Credit Cards
Before we get into the details of the Capital One credit card application process—and our tips for improving your odds and finding the best card—my top picks for the best Capital One cards are below.
If that's not enough, you can find additional information and reviews from our experts on all of Capital One's cards here.
Get the Biggest Sign-Up Bonus and Great Travel Rewards
Nothing beats a big sign-up bonus because it's like getting free money. The Capital One Venture Rewards credit card delivers with a 50,000-mile valuable sign-up bonus.
You'll earn more miles fast if you're a regular hotels.com user. And if you like to book through Hotels.com, you'll get an incredible rewards miles through hotels.com/venture.
Even better, all other purchases you make on the card will earn reward miles per dollar. There are no limits and no special bonus categories to worry about.
The miles you earn are super-flexible and can be redeemed toward any travel you purchase on the card at the rate of one cent each.
Great Rewards and No Annual Fee
If you'd rather not plunk down to pay a reasonable fee for a card, Capital One has you covered. The VentureOne Rewards card has no annual fee and a solid sign-up bonus.
The Capital One VentureOne Rewards credit card comes with a 20,000-mile sign-up bonus. Add to that by getting a bonus on all purchases. You'll earn reward miles for every dollar you spend.
Like the standard Venture Rewards card, the miles you earn with the VentureOne card can be redeemed toward any travel purchases you put on your card.
A nice feature of the VentureOne card is that it comes with a 0% APR on purchases. That's great if you're planning to buy a big-ticket item and need a little extra time to pay it off.
Earn Cash Back Fast
If you're not much of a traveler, the Quicksilver card is another great no-fee option from Capital One, and it earns straight cash back. The sign-up bonus is a little smaller, but you'll earn a little more on everyday purchases.
The card also comes with 0% APR on both purchases and on balance transfers. That makes this a good option if you want to pay down some existing debt, in addition to financing a big purchase with no interest.
The Best Capital One Credit Card for Business Owners
The Spark Miles card is a great choice for small business owners and independent contractors that don't want to keep track of special bonus categories. Like the Venture card, this card earns reward miles per dollar spent on all purchases.
You'll also get an excellent 20,000-mile sign-up bonus. The card comes with free employee cards and tool to help you keep track of your business spending.
If travel isn't your thing (or isn't a part of your business), Capital One also offers a cashback version of this card, the Spark Cash. It's a worthy contender for our best-of list, too.
Best Capital One Credit Card for Bad or No Credit
If you have bad credit or no credit history at all, it can be hard to build your credit. Most banks won't give you a credit card. That's where the Capital One Secured MasterCard comes in. It's a great tool to use when you need to improve your credit score. Plus, it offers all the convenience of a standard credit card.
In order to issue a card to someone who has bad or no credit, banks require some sort of collateral to protect their investment. This is quite simple with a secured credit card. You just have to provide a cash deposit for the amount of your credit limit.
Capital One requires an initial security deposit and will issue the card with a valuable credit limit. Plus, if you make the first five payments on time, they will increase your credit limit. Make regular payments and your credit will improve. You'll be able to step up to a rewards card in no time.
How to Find the Best Capital One Credit Card for You
Capital One offers so many excellent credit cards that the best one for you will depend entirely on your spending habits, rewards goals and credit history. Do you like to travel or would you prefer the ease and convenience of cash back? Maybe you're okay paying a little extra for a card if you can get a little more in rewards. And what about your credit score?
Fortunately, Capital One makes all of this easy thanks to their card comparison tool. They'll walk you through what each card offers so you can decide what you want out of a new credit card.
This tool is a great first step toward finding the right card and applying.
Get Capital One Pre-Approval
The next thing you should do after finding the card you want is to get Capital One pre-approval. It takes just a minute and does not affect your credit in any way. It's a smart, risk-free step to find out which credit cards are available to you.
It's important to note that pre-qualifying or being pre-approved is not the same as actually being approved for a credit card. It just means that Capital One thinks you might be a good candidate for their credit card.
You still have to complete a Capital One credit card application and submit it for approval. And, unfortunately, there's still a chance you won't be approved. It's just a good way to increase your odds.
For everything you need to know about pre-qualifying for a Capital One credit card, take a look at our expert guide.
How to Complete a Capital One Credit Card Application
So you've found the best card, and you've gotten Capital One pre-approval. Now you have to actually apply. You'll need the following info before you can complete a Capital One credit card application:
Your Social Security number
Your physical address (a P.O. Box won't work)
Your gross annual income
Your monthly mortgage or rent payments
Your checking and/or savings account information
The estimated amount you might spend on a credit card per month
Once you've gathered all the information you'll need, click the "apply now" button. You're ready to complete the application.
Read the Fine Print
Be sure to review the pricing information, terms and conditions, and confirm the sign-up offer. You don't want to be stuck with an unexpected annual fee or miss out on a sign-up bonus if you're completing the wrong offer. Once you submit the Capital One credit card application, you can't cancel it.
You'll see all of this info posted at the top and bottom of the application page. There's even an option to print a copy, which you should do for your records.
Include All of Your Available Income
One important tip regarding income is that if you receive money from someone on a regular basis to pay your expenses, Capital One allows you to include it. Their website states it can be included as income "as long as you are at least 21 years old and that income is regularly used to pay your expenses."
That can include your spouse's or partner's income, too. In short, if someone in your household makes money that's used to pay part of your living expenses, including bills, rent or a mortgage, you can include it. This could make you look like a more appealing candidate.
Checking Your Capital One Credit Card Application Status
Once you've submitted your Capital One credit card application, you'll receive some sort of a decision within 60 seconds. The decision could be that you are approved, denied or that your application is pending and that more time is needed.
If you are approved, you will receive your card in the mail within 7 to 10 business days.
If you receive a message that your application is pending and more time is needed, the application may need to be reviewed by a human and/or additional information might be needed.
You can check your Capital One credit card application status by calling 800-903-9177. There is no way to login to your account to check your Capital One application.
What to Do If You've Been Denied
If you are denied, a letter will be sent to you that will include the reasons for the decision. This is important. You should take note of the reasons and work toward improving those aspects of your application.
If your credit score is too low, be sure to pay your bills on time and lower your credit utilization ratio. You should be using less than 30 percent of the total credit available to you. This can easily be calculated by adding all of your card debt together and dividing it by the total of your credit limits.
If it's too high, pay it down. You may also be able to increase your credit limit by either calling your current card issuer and asking for an increase or by getting another card (perhaps one that doesn't require a great credit score).
And don't forget to take a close look at your credit report. The credit bureaus do make mistakes, and you need to request corrections if you find any. Look for debt that isn't yours, including auto loans, mortgages and credit cards. If anything looks weird, contact the credit agency.
Call the Reconsideration Line
If you've been denied, you should also call the Capital One reconsideration line. This is where you can plead your case and explain why you should, in fact, get the card. Try to come up with a strategy before calling so you're ready to explain to the customer service rep why you're an excellent candidate.
Call either the Capital One credit card application services line at 800-625-7866 or the general customer service line at 800-951-6951.
Tips for Capital One Credit Card Applicants
You can apply for a Capital One credit card every six months. Apply more often and risk denial.
Capital One will typically only allow you to have a maximum of two credit cards with them, not including business credit cards. Apply for more and you may be denied.
You can cancel a card within 30 days of approval and receive a refund for the annual fee. Your credit score will still take a hit due to the hard pull on your account during the Capital One application process.
You cannot cancel a Capital One credit card application once you have submitted it, so be sure that you want the card before applying. There will be a hard pull on your account.
You can only check your Capital One application status by calling.
If you're denied, look for mistakes in your credit report and call the reconsideration line to plead your case.
In Conclusion
Now that we've covered everything you need to know about selecting a card and completing a Capital One credit card application, there's only one thing left to do: Apply! There's no time like the present to start earning free travel, cash back, big sign-up bonuses and more for your everyday purchases.