When the travel hacking bug hits, most newcomers to the hobby only think about earning points that can be transferred to an airline or hotel in order to book an award. However, two major players in this field—Chase Ultimate Rewards and American Express Membership Rewards—offer so much more than a simple transfer of their points to an external travel loyalty program. Let's delve into the travel booking portals from both of these companies so you know all of your options when it comes to using your hard-earned points.
Yes, it's true that both Chase Ultimate Rewards and American Express Membership Rewards points can be transferred to a wide variety of frequent flyer and hotel loyalty programs. And, many times, that's exactly what you want to do in order to snag the travel award of your choice. However, each company's travel booking portal offers myriad other options. You can book travel right on these sites using your points with no points transfer necessary. It's hassle-free. You can also pay for your travel with a combination of points and cash, or simply purchase your ticket through their portal to earn additional points. Let's look at all of the options.

Booking Travel with Points Through Chase's Ultimate Rewards Portal
Chase's Ultimate Rewards travel portal says that it offers its customers the opportunity to book travel "for competitive rates" with "flexible ways to pay." When you log in to your Ultimate Rewards account, click the large "Book Now" button or select "Explore & Book Travel" from the "Use Points" menu at the top of the page.
Chase will then show you your Ultimate Rewards point balance and tell you how much money that translates into if purchasing your travel plans all with points. Each Ultimate Rewards point is equal to .0125 cents. So, if you have 100,000 points, you can book $1,250 worth of paid travel arrangements—be that an airline flight, hotel stay, car rental, or activity (everything from entrance to an aquarium to a city walking tour to a visit to an alpaca farm).
Let's walk through an example by searching for a nonstop airline ticket from Boston to San Francisco.
Chase returns a variety of flight options for your first leg, starting with a nonstop for $511.20 or 40,896 points per ticket.

Once you've selected your flights, you can determine if you want to use all cash or all points, or a combination of both.
Now, at first blush, spending more than 40,000 points on a round-trip domestic flight doesn't seem like a great travel hack. And, it's not except in unusual circumstances. For example, if you suddenly need to book a flight—say in order to attend a funeral—and no award space is available from your frequent flyer program. You can still secure the ticket without paying cash as long as you have the necessary Ultimate Rewards points in your account. There are no blackout dates so you can always use your Ultimate Rewards points to book a flight.
As a bonus, when you book a flight through Chase's Ultimate Rewards portal and pay cash, you'll earn two points per dollar spent.
Booking Travel with Points Through Amex's Membership Rewards Portal
Like Chase, American Express offers a travel booking portal in which you can pay for flights, hotels, and even cruises with cash or Membership Rewards points, or a combination of both. Amex also offers Insider Fares on certain flights that offer you a discount when you pay for it with all Membership Rewards points. An Insider Fares icon will pop up on any itinerary that fits this criterion.
Let's look at Amex's travel booking portal by doing the same search we did above at Chase's booking portal. We'll look at nonstop flight options between Boston and San Francisco.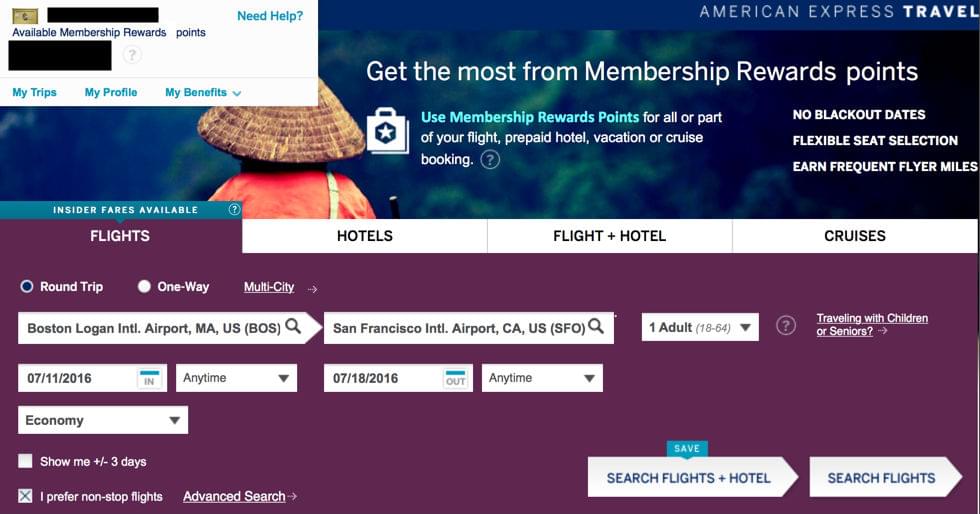 The same flight options are available with American Express as they were with Chase.
In this case, the fare is $519 or 51,819 Membership Rewards points. (Ultimate Rewards required 10,923 points less to book this same itinerary.) At Amex's site, you can also decide to pay with some cash and some points—the choice is yours.
Booking a Cruise with Points at Amex
Now let's look at a more interesting redemption: a cruise. With American Express Membership Rewards points, you can use them to book flights and hotels as well as vacation packages and cruises. Searching for a Caribbean cruise, the site lists many options. When booking a cruise, you can select from a wide variety of oceangoing and river cruise companies, including AmaWaterways, Avalon Waterways, Azamara Club Cruises, Celebrity Cruises, Crystal Cruises, Cunard, Holland American, Norwegian, Oceania Cruises, Princess Cruises, Regent Seven Seas Cruises, Royal Caribbean, Seabourn, Silversea, Tauck River Cruising, Uniworld, Viking River Cruises, and Windstar Cruises.
Once you select a voyage from your cruise line of choice, it tells you a bit more about the trip and reminds you that you can pay cash or Membership Rewards points, or a combination of both.
Here's a look at the three options:
If you paid all points for this cruise for two people, you'd pay 192,251 Membership Rewards points.
You could also decide to use only some points and pay the rest in cash. This example shows the cash equivalent of 100,000 Membership Rewards points ($700). So this cruise for two would only cost you $645.76 out of pocket plus 100,000 MRs.
Or, you can opt to pay all cash for your cruise: $1,345.76. Whenever you pay cash for travel booked through Amex's portal—making sure you charge the expense to your MR credit card—you also earn two Membership Rewards points per dollar spent.
Are the Credit Card Travel Booking Portals Worthwhile?
These travel booking portals from credit card companies are definitely worth it when you are booking paid travel because you get the benefit of earning more than one point per dollar spent.
Using points to pay for purchases at these portals can also be a valid solution for when you need to book travel at the last minute and no award tickets are available.
Are points redemptions at these travel portals the best value you can find? No. You can usually do better by transferring your points to a travel partner and booking an award ticket or hotel night directly through them. But, using credit card travel portals can make sense in certain circumstances. If you have a ton of points and you'd like to book a cruise without spending any cash, you can do that. That's a nice perk.
There is also value to be had when booking car rentals through these portals and paying with points. This especially so in markets like Maui and Honolulu, where car rental prices are sky high throughout much of the year. You can save several hundred dollars on a week's rental by booking through a portal and paying for the expense with points.
That's why it pays to have a stash of points with all of the major credit card companies that offer travel booking portals like Chase Ultimate Rewards and American Express Membership Rewards. It just gives you so many options when you decide to book a trip and need to make reservations, which could be paid, booked with points, or booked with a combination of cash and points.