Etihad is an American Airlines partner that still features old AAdvantage award levels. At some point in the future, they will update their chart, but for now you can book American Airlines awards the old way.
Unfortunately, there is no way to book partners on the Etihad website. You have to search for an award on AA.com and then call Etihad to book it.
There is a very easy but specific way to search the exact American Airlines flight you need.
Go to AA.com and enter your parameters, then click Advanced Search.
Make sure to choose First Class and American Airlines and American Eagle, then click Continue.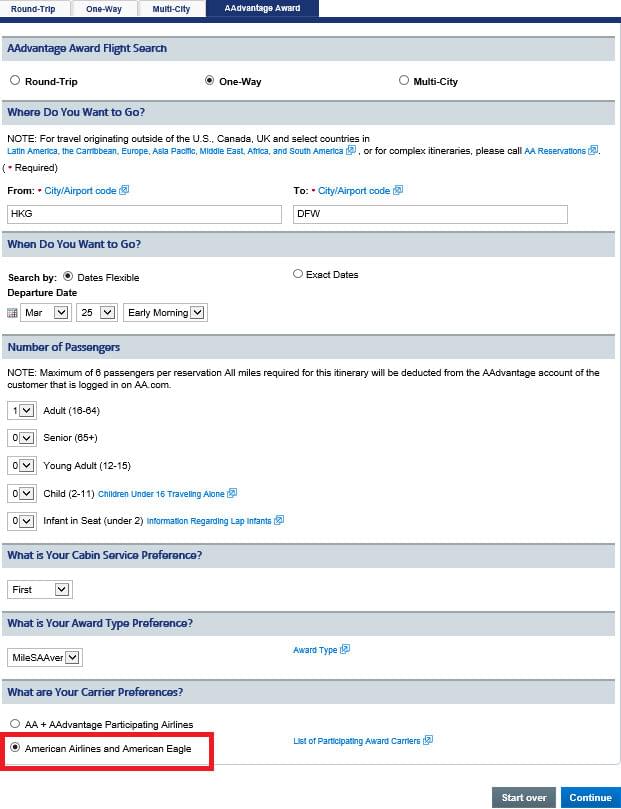 Click First Mile SAAver then Continue.
Pick your flight.
Make sure this is the aircraft you want to be in. Click See available seats, and check if it has three cabins. In our case, it does.
After you've found availability call 888-8-ETIHAD and give the agent all the information about the flight – the airline, the flight number, the airport, and the time. Some Etihad agents are more adept in finding partners awards than others.
Remember, you can only book your award flight on a partner airline if there is the lowest, saver rate available. Sometimes you won't be able to book your AA award even though you've found it on the American website. In this case, try to call again and see if another agent can help you.
How to Find the AA Award Chart on Etihad
Etihad will definitely catch up and update the chart to reflect the latest AA devaluation. In the meantime, here is the way to find a current Etihad version of the AA award chart.
1) Go to Etihad.com and hover your mouse over Spend Miles, then click Etihad Partners.

2) Find American Airlines and click Know more.

3) Click View redemption table here.

4) The next page will display the current Etihad award chart for American Airlines. It's currently the same as the old American chart before the latest devaluation.

How to Get Etihad Miles
There is no U.S.-based credit card that would allow you to earn Etihad miles, but Etihad is a transfer partner of the American Express Membership Rewards program, the Citi ThankYou program, and the Starwood Preferred Guest program. As such, there is a plethora of credit cards that will effectively allow you to earn points that transfer to Etihad miles with credit card spending. Most of these cards offer mega sign-up bonuses, too.
Most Popular American Express Membership Rewards Points Cards:
Platinum Mercedes Benz
Premier Rewards Gold Business
The American Express Membership Rewards program currently has a 30% transfer bonus to Etihad until June 15, 2016.
Citi ThankYou Points Cards:
AMEX Starwood Preferred Guest Points Cards:
Note that transfer times to Etihad might vary. Transferring from the Citi ThankYou program can take up to a week, from SPG more than a week, and transferring from the Amex Membership Rewards program can take around 48 hours. In any case, by that time the award seat you have found may be gone. Unfortunately, there is no way around this risk, and with Etihad you can't put an award on hold. Even if something like that happens, however, Etihad has 26 airline partners, so it's unlikely that your miles will go to waste.