I don't know anyone who didn't want to steal away to a Caribbean island at some point during the past few months of bad winter weather. When you have a stash of miles and points, its easy to do just that. Here's how my husband and I spent four days in Jamaica for just a few dollars.
Flying to Jamaica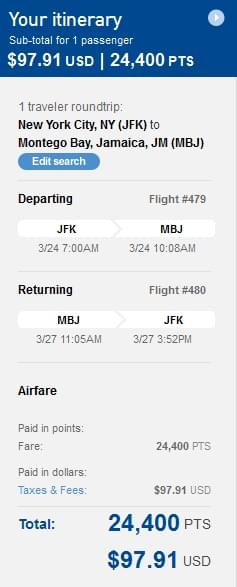 We're lucky enough to live near three major airports so there are usually several options when it comes to booking our flights. For this trip, we opted for JetBlue out of JFK and flew into Montego Bay, which is just a short car ride from Hilton Rose Hall where we were planning to stay.
JetBlue sets the points needed per flight based on the published base fare at the time of booking. We transferred some American Express Membership Rewards to my JetBlue account, and I booked the flights for about 20,000 points per person and about $98 in fees per ticket.
This isn't a terrific value when it comes to using miles, but we happened to have plenty of Membership Rewards points and didn't mind burning those instead of spending cash. If you plan your trip far enough in advance you may be able to find inexpensive airfare, which can be a better value than using points in some circumstances.
Hilton Rose Hall Resort & Spa
I have Hilton HHonors Diamond status, so whenever I plan a trip I generally check out Hilton hotels first. We knew we wanted to head to Jamaica for a few days, and the minute I looked at Hilton Rose Hall Resorts website I knew it was right for us. We just wanted a sunny, warm destination where we could go swimming and lounge on the beach reading a book.
We weren't planning on leaving the resort once we arrived, so we were looking for a hotel directly on the beach, a comfortable and spacious room, a terrific pool area, and reasonably priced food and drinks.
Hilton Rose Hall is an all-inclusive, so food and drinks as well as non-motorized water sports and other assorted activities, are included in the price whether you're paying in cash or points. The hotel itself is situated on the remains of an 18th-century sugar plantation with some historic ruins on site. The private beach is quite nice.
Booked before devaluations
We booked this hotel prior to Hilton's last point devaluation, so we paid 50,000 HHonors points per night. High season rates are currently running 70,000 to 75,800 points per night when the cash rate is about $379 a night.
What's awesome about this hotel though is the lazy river pool complex. Just grab an inner tube and let the river take you around the resort. You'll float by lush foliage, pass underneath waterfalls, and even have the opportunity to race down one of two water slides.
We're generally not fans of all-inclusive resorts because we love gourmet food and have had too many bad experiences at these types of resorts in the past. However, Hilton Rose Hall exceeded our expectations.
We dined at the Seaside Bar & Grille next to the oceanfront pool for sandwiches, salads, and fish and chips or at Mangoes, the pool grill by the lazy river. For dinner, there was Italian fare at Luna Di Mares or continental and Jamaican cuisine at Three Palms Restaurant which overlooks the golf course.