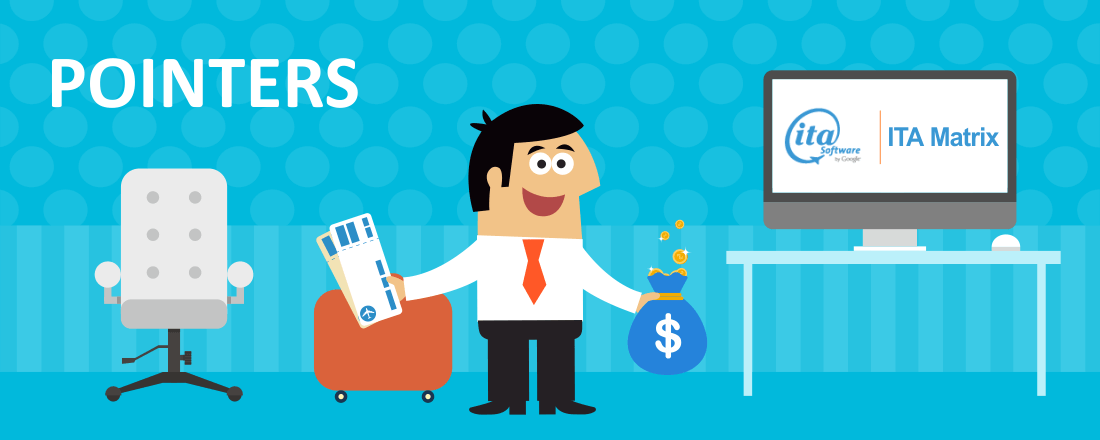 ITA Matrix is popular among frequent flyers and travel hackers because it provides so much control over the parameters of your search. You can force connections in a certain city, exclude airlines, and even pick exact flight numbers. Some of these functions are possible with other websites but can be extremely cumbersome. Finding a great itinerary with ITA Matrix can make it easier to reconstruct elsewhere for cash or award tickets.
There are many examples of saving money on air travel. This article describes three examples, some simple and others complex, that can be done more easily with ITA Matrix than on most other airline websites or online travel agencies. Before reading this article, I strongly recommend you read my introduction to ITA Matrix as well as a detailed primer on advanced routing language.
Split Fares When Availability Is Limited
There are multiple booking classes in each cabin, and each of them has a different price and a different number of seats for sale. When one sells out, customers are forced to buy the next most expensive booking class.
One of the rules when booking air travel is that everyone in the reservation gets the same treatment. That means if you have two people in your party and there is only one ticket left in the cheapest booking class, then both of you will need to book the more expensive booking class.
There is an alternative. Book one person at the cheaper fare and the other person at the more expensive fare. This might save $20 or $200 depending on the difference, but the point is that you don't need to buy the same expensive ticket for everyone if they aren't in the same reservation.
Most websites won't alert you to this opportunity. ITA Matrix will. Look for an asterisk in the search results, which indicates that the price you see is an average of two different fares.
In this example, $176 per person is actually the average price of an S fare that costs $155 and a V fare that costs $197. Booking separately saves $42. If you were to decide to book this flight on the American Airlines website after finding it, remember to search for one person at a time.
Find Cheaper Routes Using Open Jaws
Many round-trip journeys can be ticketed by combining two separate one-way fares. When these fares begin and end in different cities, the itinerary is called an "open jaw" because of the gap between these cities. A "double open jaw" has a gap on both ends.
Open jaws can save time, money, or both. Perhaps you want to visit two different islands in Hawaii, or you want to take a grand tour of Europe by starting in Berlin and ending in Rome. Maybe flights are expensive from your home airport, but you are willing to drive to a couple of nearby cities. (Even flying out of New York-JFK and returning to New York-LaGuardia is an open jaw, albeit a very small one.)
These itineraries are easy to search for. Remember from the earlier discussion of advanced routing rules that you can list multiple options for connecting cities by separating each airport with a comma. You can also separate multiple origin airports or multiple destination airports with a comma.
Here's an example of searching for a non-stop, round-trip ticket from Washington-Dulles to any of three different airports in Europe on a Star Alliance carrier.
In the results below, Rome is much more expensive than the other two options for the outbound journey. You can scroll through the results or click on the "From/To" button to filter them. These prices are all for round-trip travel and just represent the lowest possible fare; they could change after selecting the return journey.
I'll select Brussels as the outbound destination. Brussels is also the cheapest option for the return. However, Rome isn't as expensive on the return journey as it was during the outbound.
It turns out that by flying into Brussels and returning from Rome it is possible to pay $72 less than if I began the journey in Rome. I'm going to see both cities anyway (and everywhere in between) so why not change the order to save a few dollars?
Be careful when performing these searches! Multiple airports create many, many more results for ITA to explore, so you shouldn't use too many unless you also place additional restrictions such as a preferred carrier. In this example, I limited my search to the carriers in a particular airline alliance.
Hidden City Ticketing
Finally, you can use ITA Matrix to easily search for hidden city fares. These take advantage of the rules airlines use to price flights according to supply and demand between any two cities, not necessarily the cost of operating the plane.
Imagine there are high fares for a flight from Seattle to Minneapolis, but there are low fares for a flight from Seattle to Chicago. Minneapolis is on the way to Chicago, so even though non-stop flights are available to each city it is also possible that some connecting flights exist. Passengers who buy a connecting flight to Chicago might pay less than travelers to Minneapolis even though everyone takes the same initial flight.
Why? Because the airline can charge different prices and still fill the plane. That's the only reason necessary. Connecting passengers are important to maximize revenue even if they pay less that non-stop passengers. Sometimes it creates strange situations like this one.
Hidden city ticketing takes advantage of the fact that a passenger can book a trip to Chicago, get off the plane in Minneapolis, and never show up for the connecting flight. It only works for one-way travel because the rest of the ticket will be canceled as soon as that flight is missed. If you need to travel round-trip, book separate tickets in each direction.
Search for hidden city tickets by entering the hidden city (i.e., where you plan to miss your flight) as a connection using advanced routing language. Then enter one or more other airports as the destination. You don't care where as long as it's cheaper than the hidden city. You can list multiple airports separated by commas.
Another option is to use the "Nearby" function to automatically select airports from a list. This trick often works best if the hidden city is a hub, so you might look for airports near that hub.
Here's an option for a flight from Seattle to Chicago-Midway that connects in Minneapolis for just $107.
If you tried to book a flight from Seattle to Minneapolis, the cheapest option has a connection and costs $36 (34%) more.
Actually booking the same Delta flight that would be used for hidden city ticketing costs $328 (207% more).

WARNING: Hidden city ticketing is against the rules at most airlines, and customers who do it too often may be at risk of losing their frequent flyer miles or being refused service. The occasional flight is unlikely to be an issue, but if delays or cancellations interrupt your trip remember that the airline is only obligated to get you to the destination you purchased, not the hidden city!
Summary
There are many, many ways to use ITA Matrix to explore cheap fares and exploit loopholes in airline pricing. These are just three of the easiest tricks for beginners. Others, like fuel dumping, require more experience and are more likely to cause trouble. As you become more comfortable using ITA to search for air travel you'll be well prepared for new opportunities to save money on travel.