Stopovers are an incredibly valuable tool that allows you to see more places for the same amount of miles. This is one of the most underutilized perks of award travel, and one that is not generally available to passengers who pay for their ticket.
Of course, there are exceptions. Icelandair allows you to stop in Reykjavik on the way to or from Europe, Emirates lets you stop in Dubai. Air China lets you stop in Beijing or Shanghai. Finnair lets you stop in Helsinki. There are other airlines that allow stopovers, too.
However, stopovers on revenue tickets are always limited to a few days, and no airline that we know of would let you stop at a destination other than in their home country. Compare that to award tickets, which allow you to make a stop anywhere in the world and spend months in different places if you want. Yet most people just fly roundtrip and never use this unbelievable perk.
Cathay Pacific and Japan Airlines Have Generous Stopover Policies
In terms of stopover generosity, it's hard to beat Cathay Pacific and Japan Airlines. There are airlines that allow up to two stopovers on a round-trip ticket, like Alaska or Air Canada. But those have nothing on these two. Cathay Pacific allows up to five stopovers and Japan Airlines up to seven. Think about the possibilities.
Both Cathay Pacific and Japan Airlines are members of oneworld alliance, so here is the list of oneworld partners.
Cathay Pacific
Finnair
Iberia
Japan Airlines
Royal Jordanian
Cathay Pacific Stopover Policy
Cathay Pacific has two distinct charts. One is for a single or mixed carrier that allows for up to two stopovers (including the destination). But the other chart, called "Oneworld Multi-Carrier Awards Chart," offers up to five stopovers and two open jaws, and that's huge.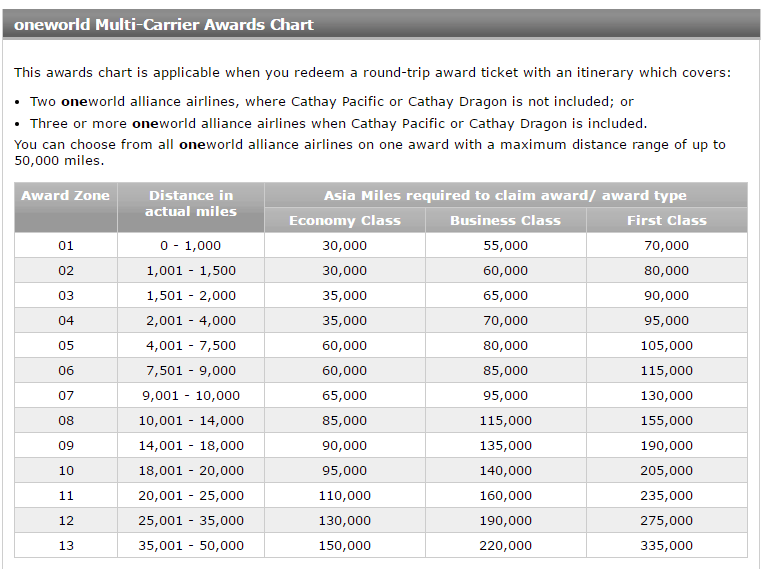 You can realistically visit five cities in Asia from the West Coast for 90,000-95,000 miles in economy, 95,000-140,000 miles in business, and 190,000-205,000 miles in first. The Cathay Pacific award chart is ideal for business class travel, since the difference between economy and business is not much.
There will be additional taxes and fees, including fuel surcharges, but you can fly from San Francisco and make stops in Tokyo, Seoul, Kuala Lumpur, Bangkok, and Hong Kong for only 135,000 Cathay Pacific miles. Of course, it is hard – but not impossible – to put an itinerary like this together, and you might occasionally not be able to find a flight in your class of service.
Or you could fly San Francisco – Tokyo – Seoul – Kuala Lumpur – Colombo – Hong Kong – San Francisco for 140,000 miles, which equates to 20,000 flown miles.
Which Airlines to Use
The good news is that American, Cathay Pacific, and Japan currently don't impose fuel surcharges (Cathay adds a tiny insurance surcharge), so use them whenever possible. In our example, using Cathay Pacific for flying between Colombo and Hong Kong instead of Malaysia will save you a few dollars.
Still, even when you have to pay fuel surcharges, they aren't really huge. Taxes and fees for a ticket like this would be around $400-500. That's not much for this amount of travel.
For travel to Asia you can use the following airlines: American, Japan, Cathay Pacific, Malaysia, SriLankan, and Qatar. Qatar has fifth freedom flights between Bangkok and Hanoi and between Phnom Penh and Ho Chi Minh City.
Cathay Pacific stopover deals are not limited to Asia. You can build killing multi-city oneworld itineraries to Europe and Latin America, too. Per T&C, there are some restrictions (for example, stopovers are not allowed on Iberia and some other airlines).
Japan Airlines Stopover Policy
If you thought that Cathay Pacific was great about stopovers, wait till you hear about Japan Airlines.
JMB has three international award charts.
JAL International Award Ticket Chart
JMB Partner Airlines Award Ticket Chart
oneworld Award Ticket Chart
All of these charts are good in their own right, but Japan's oneworld Award Ticket Chart offers seven stopovers. And not just offers – shouts about it from the rooftops.
This example shows an economy award for a flight between Tokyo and the U.S. with stopovers in Los Angeles, New York, and Orlando. It costs 60,000 miles and the same flight in business is 100,000 miles. You can do even better than that if you have the time.
Since Japan doesn't have a lot of routing restrictions, you can build amazing itineraries all over the world provided there is award space available. Here is an amazing itinerary you can put together from Miami to visit several South American cities.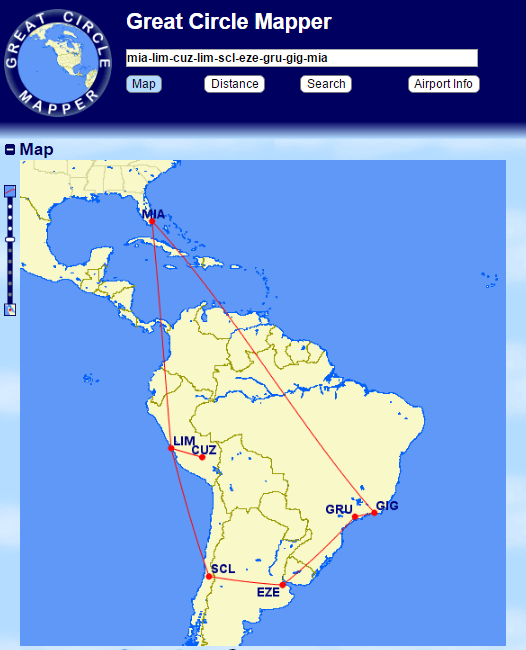 You can fly from Miami to Lima to Cuzco (Machu Picchu) to Santiago to Buenos Aires to Sao Paulo to Rio de Janeiro and back to Miami for 70,000 miles in economy or 110,000 miles in business. Compare it to American, which charges 60,000 miles in economy and 110,000 in business for a simple round-trip flight.
Or you could combine visiting two epic destinations in South America with a relaxing beach vacation in Punta Cana or Cancun on the way back. And you won't believe how much (or rather how little) it will cost you.
Fly from Miami to Guayaquil, Galapagos Islands (Baltra or San Cristobal), Quito, Lima, and Machu Picchu, before heading to Punta Cana or Cancun via Lima and back to Miami. You might really enjoy a few days at the beach after an active vacation like this. And this amazing journey would cost you 50,000 miles in economy or 80,000 miles in business (although you won't be able to fly business on all routes). And there are no fuel surcharges in the Americas.
Oneworld Award Ticket Restrictions
You are limited to eight segments. Basically, in order to get seven stopovers, all your flights must be nonstop, which is very difficult to achieve.
You're only allowed one open jaw, and it does count in total distance or as another stopover.
You can only have one stopover in one city, but you can backtrack to the same city up to three times.
Which Airlines to Use
Avoiding fuel surcharges is an art nowadays since most airlines add them to most of their partners. Luckily, Japan Airlines is quite open about it and lists some examples of taxes and fees.
Japan Airlines (JL): North America to Japan round-trip: minimum $119.70 maximum $148.46 in addition to required mileage.
Air Berlin (AB): U.S. to Germany round-trip: maximum $132.46.
American Airlines (AA): U.S. to Japan round-trip: maximum $80.86.
British Airways (BA): U.S. to U.K round-trip: minimum $554.16 maximum $900.16.
Cathay Pacific Airways (CX/KA): U.S. to Hong Kong round-trip: maximum $162.76.
Finnair (AY): U.S. to Finland round-trip: maximum $341.36.
Iberia (IB): U.S. to Spain round-trip: maximum $172.36.
LAN (LA): U.S. to Chile round-trip: maximum $88.06.
Qantas (QF): U.S. to Australia round-trip: minimum US$818.96 maximum $934.46.
Qatar Airways (QR): U.S. to Qatar round-trip: maximum $87.26.
Royal Jordanian (RJ): U.S. to Jordan round-trip: maximum $130.96.
TAM Airlines (JJ): U.S. to Brazil round-trip: maximum $94.36.
For the Americas, there are no fuel surcharges. You can fly American and LATAM (created by a merger of LAN and TAM airlines) almost anywhere. For Europe, use American and airberlin (no surcharges), Iberia for moderate surcharges, or Finnair for charging much less than British. For the Middle East, no surcharges are added to Royal Jordanian and Qatar. And you want to avoid British Airways and Qantas on long-haul flights.