Alaska Airlines has a generous booking policy that allows passengers to make a stopover on a one-way ticket. That means that you can make two stopovers on a round-trip ticket, which is even better than United's policy, which allows for one. In this post, we'll show you how to use that rule to see more places without spending extra miles.

A stopover is when you make a stop on your way to your final destination that is more than four hours on a domestic flight and 24 hours on an international flight. Stops that are shorter than that are considered layovers.
Alaska Airlines is smaller than the three major U.S. carriers—Delta, United and American—but it is much revered by its customers. Though its most extensive network is on the West Coast and in Alaska, the airline, along with its subsidiary Horizon, serves over 70 domestic destinations all over the country. It also flies to seven destinations in Mexico, two in Costa Rica and five in Canada.
Alaska Air's frequent flyer program, Mileage Plan, is also good. And it's worth joining, even if you're primarily interested in international travel outside of North and Central America. The airline has an impressive number of partners, rivaling some larger alliances. They include:
American Airlines
Aeromexico
Air France
British Airways
Cathay Pacific
Delta Air Lines
Emirates
Era Alaska
Fiji Airways
Horizon Air
KLM
Korean Air
LAN
PenAir
Qantas
How to Book a Stopover on Alaska Airlines
While there are a few airlines that allow more stopovers, Alaska's free stopover on one-way domestic flights is unique.
For this example, we'll book a one-way flight from New York to Anchorage, with a stopover in Seattle. In general, it's good to start any search on Alaska with one-way flights, particularly if you have some flexibility with your travel dates. That makes it easier to find the cheapest redemption rates.
Go to the Alaska Airlines website, and sign in to your Mileage Plan account.
Then click on the "book" tab, and then select "flights."
On the next screen, check "multi-city," and "use miles" on the left. Choose "miles only" from the drop-down menu on the right. Enter your flight information, and hit "find flights."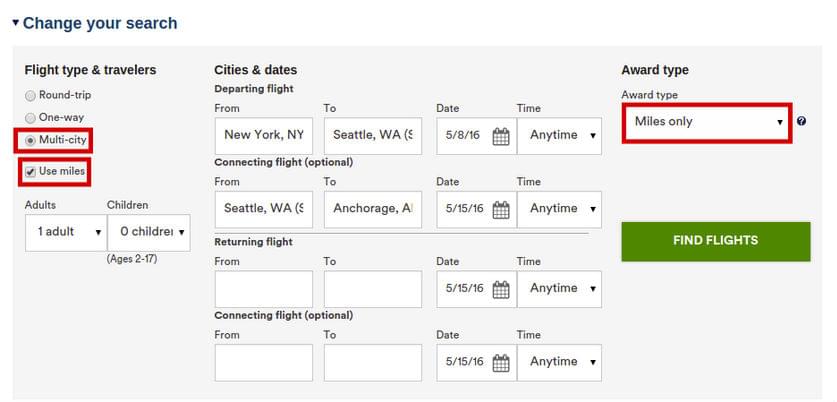 There's a flight available at the lowest redemption level on May 11. It costs 12,500 miles and $12 in taxes and fees.
Click on the flight you want, then hit "add to cart."
The next page will show the final itinerary and cost.
The price for this itinerary is the same as a flight without a stopover, so you're paying the same amount, but seeing two cities for the price of one ticket. Alaska sells it for $328.10, which is a good cash price for this long-haul flight, but you're still getting 2.5 cents per mile, which is an exceptional value.