Alaska Airlines allows you to make a free stopover on one-way award flights, even if they're booked on one of the carrier's partners. This flexible policy makes it possible to go to multiple destinations without spending more miles. In this post, we'll look at several possible itineraries that include Fiji, Australia and New Zealand.

Alaska Airlines Mileage Plan miles are valuable not only because of the carrier's impressive list of partners, but also because it allocates a decent number of award seats, particularly in coach. Finding premium cabin seats to Australia and Oceania can be challenging, but if you plan ahead and are willing to fly on one of Alaska's partners, it can be done.

Alaska Airlines' international airline partners include Cathay Pacific, Emirates, Air France, Delta, Fiji Airways, Korean Air, LAN, Qantas and more. Below are some potential itineraries for flights to Australia, New Zealand and Fiji that take advantage of Alaska's free stopovers.
You could fly to Auckland, with a stopover in Fiji: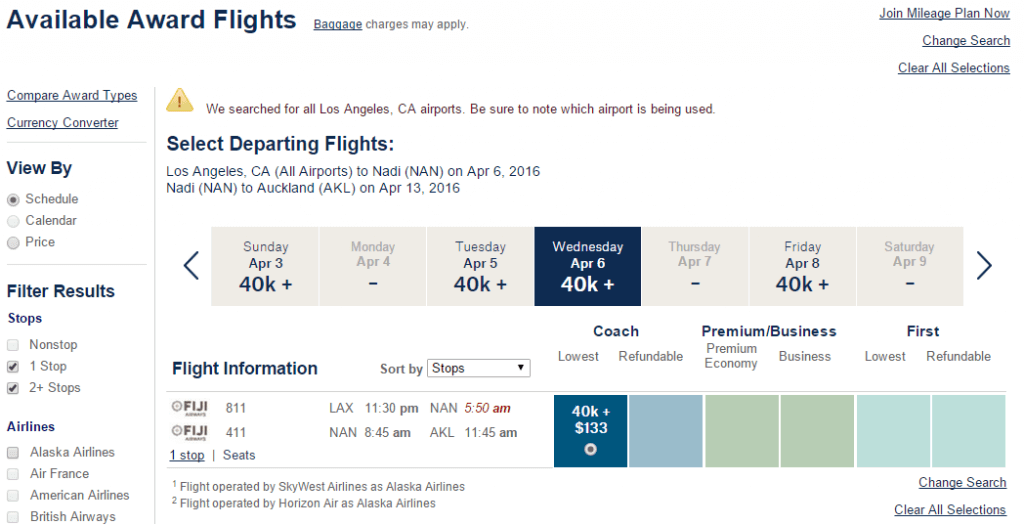 Or to Sydney, with a stopover in Fiji:
If you'd like to hit both New Zealand and Australia, you could fly to Sydney with a stopover in Auckland:
You could also fly to Sydney or Auckland, with a stopover in Hong Kong, but that has to be booked by phone. Those flights are on Cathay Pacific, and can't be booked online.
It's best to book these flights as one-ways, instead of roundtrips. That way, you can book two different carriers, something Alaska doesn't allow on round-trip award tickets, and get the best rates. You can still make one stopover on each leg.
So you can visit all three destinations—Sydney, Auckland and Fiji—by booking these two one-way flights:
And:
Since you'll use different airlines for your flights, it's not always possible to calculate how much a round-trip award ticket will cost. The information below is for one-way flights from the continental U.S. to Fiji, Australia or New Zealand. They include one free stopover.
Fiji Airways:
40,000 miles in ecomony
55,000 in business
First class is not offered
Qantas:
42,500 miles in economy


47,500 in premium economy

55,000 in business

70,000 in first

Cathay Pacific:
40,000 miles in economy


47,500 in premium economy

60,000 in business

80,000 in first

Cathay Pacific must be booked by phone by calling Alaska Airlines.
Other Options
You can also fly on Korean Air and stop in Seoul on your way to any of these destinations. Unfortunately, it has to be booked as a round-trip ticket, since the airline charges the same miles for both one-way and round-trip redemptions. That prevents you from making another stopover in Oceania.
Round-trip tickets on Korean Air from the U.S. to Fiji, Australia or New Zealand cost 85,000 miles in economy and 125,000 in business. First class is not offered.

You could also fly to Tahiti on Air France using Alaska miles. You won't be able to make any stopovers, though, because Air France only offers nonstop flights to Tahiti from the U.S. One-way economy tickets cost 40,000 miles. Business class costs 60,000 miles, but it's very difficult to find a business class award tickets to Tahiti on Air France.
Delta also flies to Australia, but with round-trip awards costing 100,000 miles for economy and 160,000 for business, it's the priciest option.