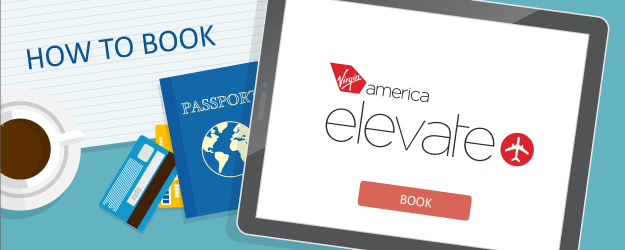 Virgin America is a San Francisco-based airline licensed by Virgin Atlantic. Its 21 destinations are mostly in the United States, with the exception of Cancun, San Jose del Cabo and Puerto Vallarta in Mexico.

Virgin America has a distinctive economy cabin, with mood lighting and 17.7-inch-wide seats that feature a 32-inch pitch. The airline's premium economy product, called Main Cabin Select, is also different from that of other airlines. It offers free food and beverages, including alcohol, and has seats with a 38-inch pitch.
Premium movies and TV programs are free for Main Cabin Select passengers, with additional access to on-demand programing. Live satellite TV is free for all passengers.
Virgin America has a frequent flyer program called Elevate. It's a revenue-based program, where the price of award tickets is based on their current cash value. In general, 2,500 points are equal to about $65. However, point values do sometimes deviate from this rule, particularly when the airline is offering special cash fares.
When Should You Use Elevate Awards?
Low fares equal fewer points for an award ticket. But Virgin America is known for offering promotions that considerably reduce the cost of cash fares. In those cases, the lower cost of the cash ticket may not correspond to a lower price for the award.
Virgin America's partners, on the other hand, have flat redemption rates depending on the destination, and some of these rates are good. However, watch out for the fuel surcharges added by some of these airlines. They can be substantial.
For example, Virgin Atlantic charges only 15,000 points for a round-trip flight between New York and London, but fuel surcharges and taxes come to $475. On the other hand, a Singapore Air flight between Los Angeles and Tokyo costs 40,000 points roundtrip, and the airline doesn't add any fuel surcharges.
Partners Bookable Online:
None
Partners Bookable by Phone:
Virgin Atlantic
Virgin Australia
Emirates
Hawaiian Airlines
Singapore Airlines
When to Book by Phone:
For flights on partner airlines
To make any changes to an existing itinerary
See below for our phone booking tips.
How to Search for Elevate Award Seats Online:
Go to the Virgin America Elevate website and log in.
Click "redeem points" at the top of the page.
Hit "book flights" on the next page.
Enter your departure and destination cities, and click "search flights."
Click on a departure date, keeping in mind that the higher the cash price of the ticket, the more points it will require. You can see the lowest ticket price on any given date on the calendar.

After selecting the date, change the payment method from U.S. dollars to Elevate points. This page also gives you a week's worth of fares to choose from, so you can make sure you're getting the cheapest flight.

If you have enough miles in your account, you'll be able to repeat the same steps for the return flight. After that, the website will walk you through the final steps of the booking, including finalizing your billing information.
Phone Booking Tips
Virgin America's phone number: 1-877-359-8474
Virgin America agents are cordial and helpful, but they might not be well-versed in booking flights on partners. It's always a good idea to find your flights online first before calling. You can then give the agent the flight numbers and dates.
Important Award Booking Considerations:
One-way redemptions cost the same as round-trip flights
Easy to search for Virgin America award flights online
Hefty fuel surcharges on some Virgin Atlantic and Emirates flights
Transcontinental flights are often expensive
No miles-and-cash awards
Change and cancellation fees are $100 to $150