Alaska bought Virgin America last December, and though have released a few details on how the merger would impact elite benefits, mileage earning, and other short-term concerns, they have kept travelers waiting for a bigger picture view of what these airlines will look like when the merger is complete.
Now, we finally have the answers. In general, there are more positives than negatives, especially for Alaska elites, though some features will be disappearing that Virgin America loyalists will probably miss.
Name and Logo
Alaska has announced that beginning sometime in 2019 the Virgin America name and logo will be retired and the entire combined airline will use Alaska's name and logo. They also said that certain brand elements may be adopted from the Virgin product, such as mood lighting and in-flight entertainment. However, the exteriors of Virgin's fleet will be repainted with Alaska's design.
Fleets and Cabin Configurations
One of the most challenging aspects of the merger is integrating the two fleets of aircraft. Alaska has an all-Boeing 737 fleet for its mainline aircraft, supplemented by Bombardier and Embraer regional jets. Virgin America's fleet is all Airbus. The Airbus aircraft (mostly A320s and a few A319s) are currently equipped with 8 seats in the first class cabin.
These seats are spacious, comfy recliner seats, which is the best offering currently available for short-haul domestic flights. However, these seats are significantly below the competition for transcon flights, where other airlines offer lie-flat products. Beginning in the fourth quarter of 2018, Alaska will begin retrofitting the Airbus fleet by removing the existing first-class seats and replacing them with 12 seats offering much less legroom.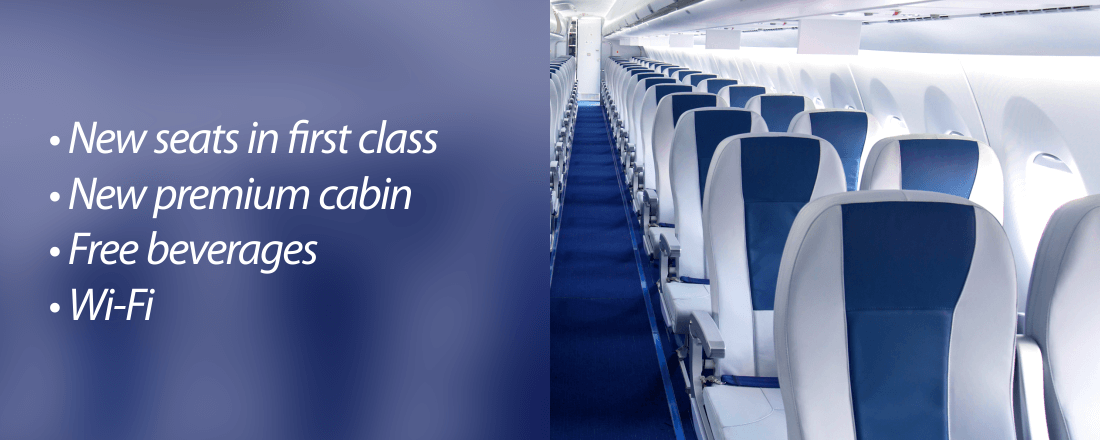 In addition to the changes to the first-class cabin, the Airbus fleet will also get Alaska's new "premium cabin," consisting of 18 seats. The current configuration only has standard economy and first class cabins. In the future, they will be separated by a premium economy cabin. These seats have three inches of extra legroom compared to standard economy, as well as complimentary wine, beer and cocktails.
Virgin America's Elite Program Will Cease to Exist
At some point in 2018 Virgin America's Elevate program will no longer exist and Alaska's Mileage Plan will become the sole program. Alaska also highlighted the fact that mileage earning will continue to be distance based, which is much more lucrative for most flyers than the revenue based programs that all the legacy airlines have moved to. This is great news for travel hackers since it will be easier to rack up miles to redeem on Alaska's excellent award chart and partner award charts.
An additional benefit of the combined program will be that Elite members will be eligible for complimentary upgrades, which is something Virgin's program does not offer. This benefit will begin in late 2018, coinciding with the increase in first-class seats from eight per cabin to 12. While this is a nice benefit, 12 first-class seats is still a relatively low number, so upgrades are likely to be difficult to come by for all but top-tier elites. While Alaska's press release didn't get into the details for upgrades into Premium class, it is likely that this will be offered as a consolation prize for those failing to clear into first-class.
Technology Upgrades Coming for the Entire Fleet
Alaska's existing Boeing fleet will be upgraded with satellite wi-fi by the fall of 2018. Upgrades to the Airbus fleet will follow and are scheduled to be completed by the end of 2019. This is great news because satellite wi-fi is significantly faster than the often unbearably slow wi-fi available on many planes today.
In addition to wi-fi, Alaska will also be expanding its offering of in-flight messaging. Alaska allows passengers to send messages for free with Gogo inflight wi-fi using Facebook Messanger, Whatsapp, and iMessage. This does not require the purchase of a wi-fi plan. Alaska will expand this service the Airbus fleet as well.
Back in January, Alaska launched a temporary promotion offering its entire catalog of more than 200 movies and TV shows for free. Now Alaska will be making permanent the ability to access free entertainment on guests' own devices on its Boeing fleet. Their library of free movies and TV shows will expand to Airbus aircraft via the Red entertainment system in August 2017. Passengers on Airbus aircraft will be able to purchase early release movies.
New Atmosphere and Décor
Instead of just giving Virgin's Airbus fleet a makeover to look like the existing Alaska product, the entire airline will be getting a facelift, both on and off the planes. According to Alaska, they will be gradually rolling out new branding throughout 2017. The goal is to create a warm and welcoming West Coast vibe throughout the passenger experience. Music from fresh new artists will be featured on planes, in airport lobbies and at gates.
In 2018, Alaska will reveal an entirely redesigned cabin with new seats and amenities. A portion of the existing Boeing fleet has already been retrofitted with expressive blue mood lighting. Alaska will be partnering with fashion designer Luly Yang to design new uniforms which will roll out in mid-2019 for flight attendants, customer service agents, pilots, mechanics and ground crew.
Updated Dining Options
By the middle of 2017, first-class passengers traveling on legacy Alaska aircraft will be able to pre-select meals before they fly, and by early 2018, Alaska's economy class passengers will be able to pre-pay for their meals before they fly. Food pre-ordering will be extended to Airbus flights sometime in the future.
New and Updated Lounges
Alaska has plans to expand some of its existing lounges as well as build new ones. By early 2019, renovations and expansions are scheduled to be complete for airport lounges in Seattle, Portland and Los Angeles. New lounges will be built in San Francisco and at JFK Airport in New York. The expansion plans will double the square footage of Alaska's airport lounges.
Overallm this is a promising list of enhancements and most importantly it keeps Alaska's highly rewarding mileage accrual rules and award chart intact.