While Spirit will never win a popularity contest, it's hard to argue with its financial success. It was profitable even in the hardest of times, when every other airline was struggling to stay afloat. Spirit Airlines has only one competitive angle: low price. And for that price, it provides only one service, transporting you from point A to point B. Everything else costs extra.
Spirit's loyalty program, Free Spirit, is a mixed bag. On the one hand, your miles expire in only three months (compared with at least 18 months from other airlines) unless you make at least one purchase a month on the Spirit Airlines World MasterCard. On the other hand, if you know how to use Spirit miles wisely, you can get unbeatable bargains.
Free Spirit is probably the only program where you must have their credit card in order to qualify for the lowest award rate. If you don't want to apply for the Bank of America Spirit World MasterCard, you'll pay more for flights.
If you are willing to get the card, though, you'll get a 15,000-mile sign-up bonus, which is good for up to three round-trip flights, and the chance to get award flights at rates far lower than those offered by other programs.
When Should You Use Free Spirit Awards?
Spirit is a region-based program. There are four regions, determined by the distance traveled:
Region 1: up to 1,249 miles
Region 2: 1,250 to 1,749 miles
Region 3: 1,750 to 2,499 miles
Region 4: 2,500+ miles
Free Spirit awards are an especially good value on flights within one or two regions. For example, award flights between NYC and Fort Lauderdale or Houston and New Orleans only cost 5,000 miles roundtrip. These flights often run between $250 and $300.
However, you are not limited by distance. Spirit has an extensive network, so you can easily build a transcontinental flight between NYC and LA, for example. It might make perfect sense, especially at times when revenue flights are prohibitively expensive.
You will find Spirit even more attractive if you live in or near one of Spirit's focus cities, such as Fort Lauderdale, Chicago, Detroit, Dallas or New York, to name a few. Those cities have a larger number of departures and more access to award flights.
Partners: None
Booking by Phone
There is no longer an option to book by phone. While some people might find this inconvenient, Spirit's online award booking engine is easy to use and comprehensive.
How to Search for Free Spirit Award Seats Online
Start by logging in:
Then go to "book" and select "flight." Do not go to the Free Spirit menu.
Spirit advertises off-peak periods on their award chart, but they do not necessarily correspond to lower fares. It's best to ignore them and do a search for the dates you're looking for to see if you can get the lowest rate.
Choose "round trip" or "one way" and enter your departure and arrival airports and dates. Check the box at the bottom to "purchase flight with Free Spirit miles." Click the "search flights" button.
You can choose to see the flights by week or month. The flights with black triangles in the upper left corner have the lowest redemption rates. In the example below, they cost 2,500 miles for a one-way flight. Once you select the day you want, you'll need to choose the outbound flight:

And then select the inbound flight: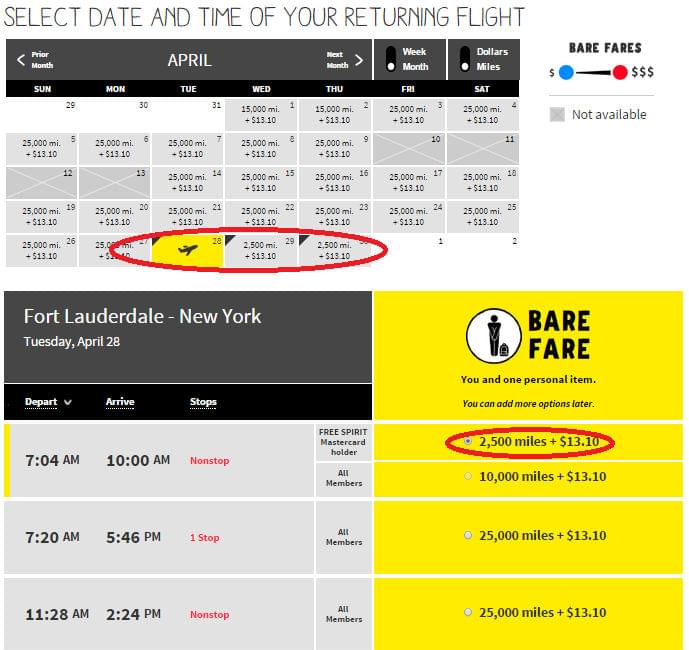 How to Confirm and Book Free Spirit Award Seats Online
After you've decided on your flights, you'll see your itinerary:

Next, you'll have to decide if you want to pay for a bag. Spirit only allows one free personal item, measuring 16 x 14 x 12 inches.
Larger carry-on bags and checked bags cost extra. It's cheaper to pay for them before you get to the airport.

If you're only bringing a "personal item," then click "continue without selecting bags."
Assigned seats also cost extra. You have three choices: a Big Front Seat, an emergency exit row or standard seating.
The Big Front Seat is the same as any domestic first class seat, without the improved service. The seats themselves are wider, recline well and have plenty of legroom. While this is the most expensive Spirit option, it's a bargain, considering how much every other airline charges for first class.
The second option is an emergency exit row seat. This is normally what other airlines sell as economy comfort. For only a little more, you get a lot more legroom, making it a good deal, too.
If you're determined to squeeze every penny out of your air travel and buy a standard seat, you should consider paying a little more for an assigned aisle seat. You can get them for as little as $10 in the back of the plane. Spirit's regular seats are as bad as people say. They're small and cramped, and being in the middle seat on a Spirit flight is anything but fun.

If you check in online, you won't have to pay $10 at the airport. Select "I'll check in at Spirit.com for free." You can only check in 24 hours before departure.
After that, you'll be taken to your final bill. In the example below, you'll pay 5,000 miles and $26 for a round-trip flight between New York and Fort Lauderdale. If you book your flight more than six months in advance, you can avoid the $15 booking fee and pay only $11.
Remember, you must pay with your Spirit credit card in order to get this rate.
More Redemption Options
You don't have to use the cheapest redemptions to get a good deal with Free Spirit miles. Award flights between New York and Lima, Peru, are very affordable. Lima is the farthest of Spirit's destinations, and a cash fare runs around $700. But it only costs 15,000 miles plus $90 in taxes and fees. It's not the easiest route to find award availability for, though.
Important Award Booking Considerations
Must have the Spirit MasterCard to get the lowest redemption rates
$15 fee for booking a flight less than six months in advance
Everything costs extra, including carry-on bags and checking in at the airport
Affordable seat upgrades for cash