The past year was one of non-stop change in the travel rewards industry with huge changes in major frequent flyer programs, bank credit card offerings, and mergers and acquisitions. We saw devaluations continue for all three of the major domestic legacy airlines. And the major travel rewards credit card issuing banks all imposed stricter sign-up bonus rules. There were several mergers between airlines and hotels that also lead to some big changes to loyalty programs.
Mergers Shake up the Industry
There were two major mergers that took place in 2016.
Marriott acquires Starwood – This merger was arguably the one that caused the most anguish in the travel rewards community. SPG is the favorite program of many travel hackers. Not only do they have a great lineup of luxury hotels where you can redeem points for solid value, but they also allow you to transfer points to over 30 different airlines. Transferring points in increments of 20K results in a 5K (or 25%) bonus. Unlike most programs, SPG rarely devalues. They also offer creative redemption options that allow you to stretch the value of your points even further such as SPG Nights & Flights. The ultimate fate of the program is still unknown and it will exist in its current form until at least 2018. Changes so far have been positive – SPG and Marriott elites get reciprocal benefits and you can freely transfer points between the programs at a ratio of one SPG point to three Marriott points.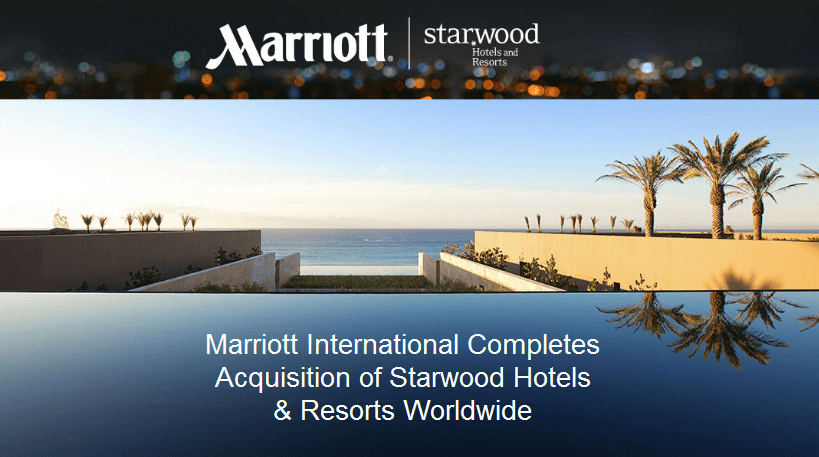 The Marriott/SPG merger closed this past year
Alaska Airlines acquires Virgin America – This merger is a recent development and many details are still unknown. However, Alaska has announced a few details. Elites for both airlines will receive priority check-in and boarding privileges on each airline. The airlines and loyalty programs will continue to operate separately for the time being as Alaska conducts market research. You can earn points and miles in either program from flying on either airline. Overall, this is a positive development because Alaska has one of the best award programs in the industry and by increasing the size of the company it will likely prevent the airline from being acquired by one of the legacy carriers. An acquisition by Delta, American, or United would have almost certainly resulted in massive devaluations. The amazing partner award redemption options such as 50K miles in business class on Cathay Pacific should remain intact.
Virgin America Elevate members and Alaska Mileage Plan members are eligible to earn rewards on each other's networks
Revenue Based Mileage Earning is Now the Norm
Revenue based earning means that frequent flyer miles are earned based on the price of the fare rather than the number of miles flown, with multipliers for each level of elite status and for premium cabin tickets. For most leisure travelers, this significantly reduces the number of miles earned since travel hackers tend to pay for cheap economy tickets and redeem miles for expensive premium cabin tickets. This trend was started by Delta in 2014 and was copied by United. American was the last holdout of the legacy airlines, but sadly announced this past year that they too would be going revenue based. Fortunately, many airlines outside of the big three, such as Alaska, still have mileage-based earning.
Anti-Churning Rules Spread
The major credit card issuing banks have all made it more difficult to earn sign up bonuses when opening new cards. Some banks are more restrictive than others, and opinions differ about which type of restriction is the most onerous.
Chase – Chase began implementing the dreaded 5/24 rule back in 2015. This rule makes it very difficult to get approved for a Chase credit card if you have opened five or more new credit card accounts in the past 24 months. At first the rule seemed to only apply to Chase Ultimate Rewards earning cards, not the extensive lineup of co-branded cards. Since Chase never made a formal announcement regarding this rule the travel community has had to figure it out by sharing data points. Early in 2016 the scourge spread to most of the co-branded cards as well. There are still a few cards to which it does not apply (British Airways and several hotel cards).
You can only apply for five cards in two years if you want to have a successful Chase credit card application American Express – Amex has restricted sign-up bonuses on personal cards to once in a lifetime for several years, but in February began applying the restriction to business cards as well. Some people are lucky enough to receive targeted offers that do not include the restrictive language, but other than that it is nearly impossible to get around this restriction.
Citi – Citi made two changes this year that both hinder the ability to earn sign up bonuses. Previously you were not eligible for a bonus if you opened or closed that card within the past 18 months; early in 2016 they extended that limit to 24 months. Then in August, they made a very onerous change which limited the ability to earn a bonus to each product family. This means for each rewards family of cards issued by Citi (Thankyou points, AA miles, Hilton points, Expedia points), if you receive a bonus for one of the cards, then you are ineligible for the bonus on all cards in that family for the next 24 months.
Chase Ups Its Game, Citi Declines
Chase came out with some awesome cards in 2016. First was the Freedom Unlimited card which offers unlimited 1.5 UR on all purchases. Then they released the Sapphire Reserve card, which along with the 100K sign up bonus caused the biggest stir ever for a travel rewards card. Citi, on the other hand, significantly reduced the value of its offerings. They butchered the benefits offered by the Prestige card by removing Admirals Club access, reducing points redemption values, and eliminated the 3 free rounds of golf benefit. They also reduced the standard sign up bonus from 50K to 40K ThankYou points. The Premier card had a several month period where it offered no sign up bonus at all, although the bonus has returned recently, giving us some hope that Citi will continue to offer competition to Chase and Amex.