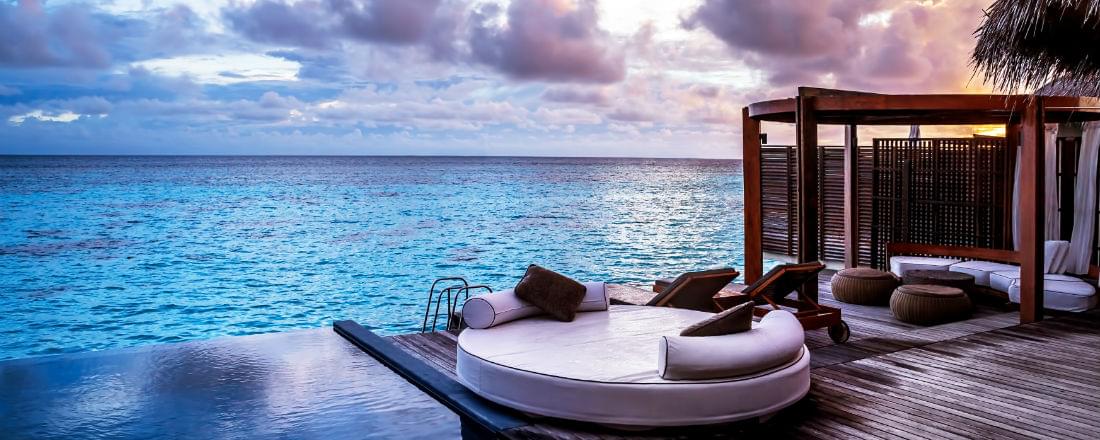 If your imagination were the only limit, where would you go?
A secluded island getaway with private access to a crystal clear lagoon from your glass-bottom villa floating over the warm tropical water?
According to Conde Nast Travelers 2013 Readers Choice Awards, the prettier-than-a-postcard private islands in the Maldives are a dream getaway for many people:
"Our readers found this island nation to be the epitome of "rest, relaxation, and indulgence," citing the "polished, polite" service, the "gorgeous resorts" and the "superb villas."
Diving into the "turquoise water," lounging on the "white sands," and dining under the "incredible sunsets" make the Maldives experience "more picturesque than postcards can portray."
So, let's dream that dream for a second.
Though a pampered Maldivian vacation sounds like something you might win in a contest on the radio, you can make it happen just by living your normal life with a simple plan and two well-chosen credit cards.
Choosing the Right Reward Cards
Only two rewards cards are needed, but they won't be the same for every person. It depends on what the best airline is for you to fly across the world on and what kind of credit card spending you can comfortably manage each year.
Some truly luxurious airlines, including Emirates, Turkish, Etihad, Singapore Airlines, and Cathay Pacific, fly to the Maldives. However, none of them have good co-branded credit cards for Americans. Opt for a card that allows you to transfer points to these airlines, whether through another airlines frequent flyer program or directly from your credit card.
The main three transfer programs Chase Ultimate Rewards, American Express Membership Rewards and Starwood Preferred Guest have a variety of cards to choose from, as do the major airlines. You'll start with 30,000 free Delta miles with the American Express Gold Delta Skymiles, 30,000 American Airlines miles with the Citi Premium Select American Airlines AAdvantage Visa Signature, and up to 100,000 Avios with the British Airways Visa Signature Card.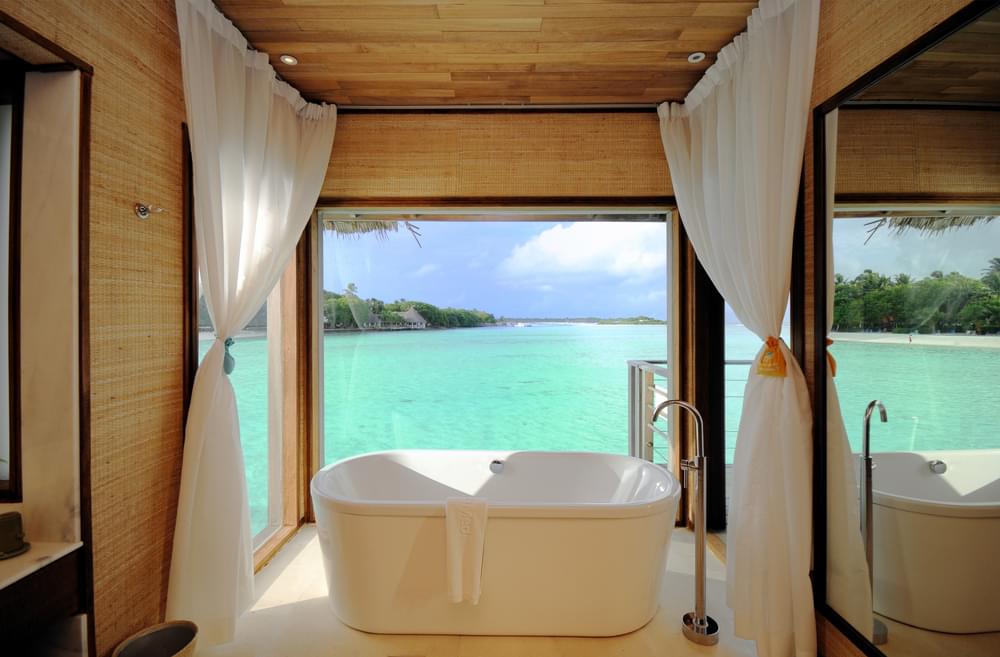 For your hotel nights, you have many options for booking with points. Indulge all the way with princely, private villas starting at 30,000 points per night at the W Retreat & Spa Maldives and the Conrad Maldives Rangali Island by Hilton, two of the country's most luxurious resorts. Or experience more laid-back luxury at the Sheraton Maldives Full Moon Resort & Spa, Holiday Inn Resort Kandooma Maldives through IHG, and the soon-to-open the Radisson Plaza Resort Maldives Naagoshi.
Sign up for the card that goes with your dream hotel:
The IHG Rewards Club Select Visa from Chase: 60,000 points after an initial spend of $1,000 in the first month; 2 points per dollar on gas, groceries, and restaurants; 10% bonus on IHG redemptions; free anniversary night
Club Carlson (Radisson) Rewards Visa Signature Card: 50,000 points after your first purchase and 10,000 additional points after spending $1,500 in the first 90 days; 25,000 renewal bonus points per year; one free night on every reservation of two nights or more; 3 points/$1
Hilton HHonors Surpass American Express: 60,000 point sign-on bonus; priority pass for lounge access; 6 points/$1 on gas, restaurants, and groceries; 3 points/$1 on everything else
Starwood Preferred Guest American Express:

75,000 points sign-up bonus after spending $3,000 in the first 3 months. While the number of points is higher than the sign-up bonus of many other travel rewards cards, Starpoints are also among the most valuable so this is an outstanding bonus.
Blogger Andrea Rotondo checked this dream trip off her bucket list using points and miles.
Map Out Your Path to Paradise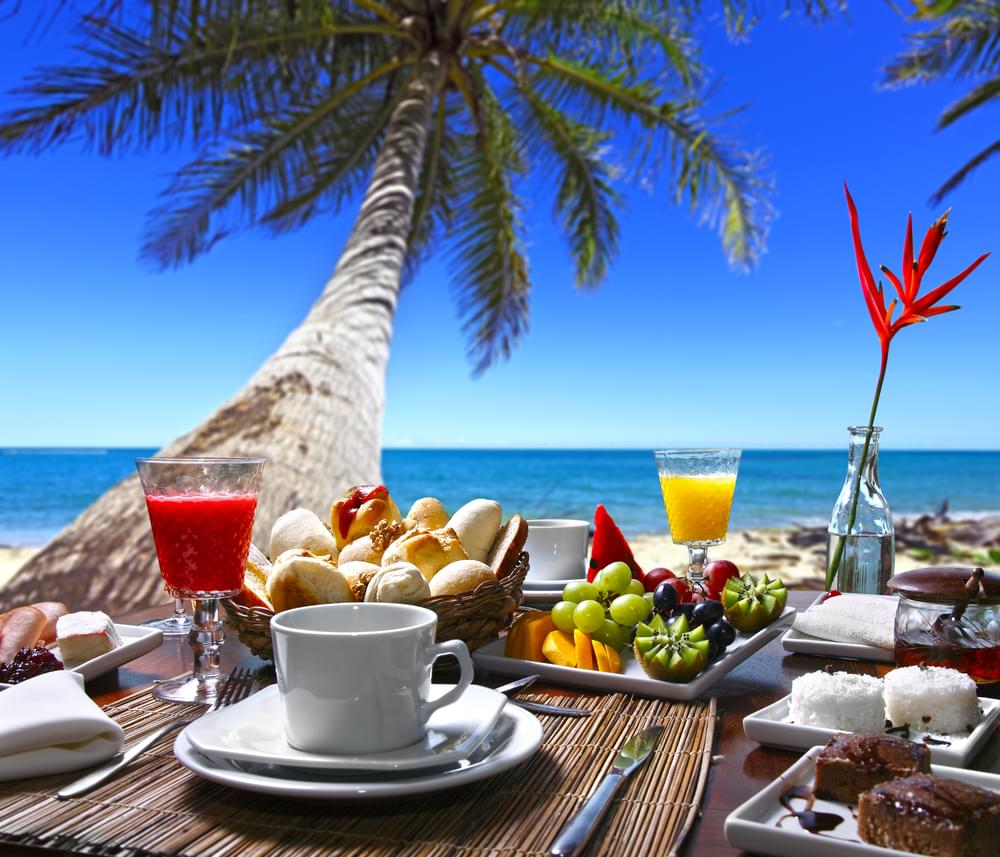 Through most programs, you'll need 80,000 points for an economy ticket and 120,000 for a first or business class ticket (which is what you would want on a dream vacation, right?).
In most cases, you'll start out with 60,000 hotel points and 30,000 airline points for signing up for those two cards. Let's say you're going away for a week. That's long enough to forget that any other world exists beyond your tropical breakfast served on the mirror still waters of the lagoon.
So, you'll need 120,000 points for your flight and somewhere between 120,000 and 300,000 hotel points depending on how splashy your vacation will be.
How do you get them all?
Look at your credit card, debit card, and cash spending for one year:
If you use a personal finance tracking like Mint, it's a snap to tally this all in one place.
Otherwise, you can log into your banks and add everything up manually.
If you want to sign up for a card that gives bonus points for gas, grocery, and restaurant spending, break those out separately and multiply by the bonus.
Say you've got $3,000 spending per month or $36,000 for the year, with half that in categories that earn extra points. You can easily earn around 54,000 points in one year.
You can earn extra points in so many ways:
Bonus points on spending. Most cards have a quarterly offer for anywhere from 5 to 15 points per dollar on spending in certain categories.
Point exchange bonuses. Last December, American Express offered a 35% bonus on transferring points to Virgin Atlantic, which transfer to double Hilton points.
Paying rent with points. Unless you completely own your house, your biggest expense if probably your housing. Amazon Payments allows you to pay rent with a credit card so you can earn points.
Paying your mortgage with points. If you have a mortgage another huge expense that seems like it must be paid in cash check out ChargeSmart, a website that allows you to pay your mortgage and home-related expenses with a credit card.
Making basic purchases through shopping portals. Everyone knows that you can buy practically anything on Amazon these days, but you can also find pretty much anything you'd buy online through point shopping portals, where you earn up to 12 times normal points buying goods and gift cards for popular brands.
730 Days to Dreamy Ocean Views
With the right reward cards and a little diligence, you can amp your reward earning up to 100,000 points per year.
Add in sign-on bonuses (about 90,000 points) and in two years, you've got nearly 300,000 points! More than enough for a week in paradise.