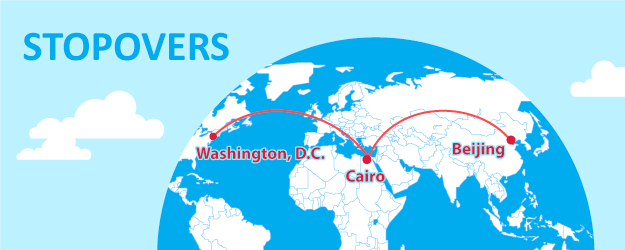 United allows MileagePlus members to use a stopover and two open jaws for free on a round-trip award flight. You can use this policy to your advantage and fly to more places for free. Sometimes you can even save miles by adding a stopover to your itinerary. In this post, we'll see how to maximize the destinations on your itinerary and save miles at the same time.

A stopover is when you stop somewhere on your way to your final destination for more than four hours on a domestic flight, or for more than 24 hours on an international flight. On a United award ticket, you can visit two cities in Europe or two cities on different continents for the price of a round-trip flight.
An open jaw is the portion of an itinerary that is not flown. So, if you fly from New York to London and then out of Paris back to New York on a round-trip ticket, the open jaw is between London and Paris. Since United allows two open jaws per roundtrip, none of your flights have to return or leave from the same cities. There are two important caveats, though:
You are responsible for getting between the arrival and departure cities of an open jaw
The distance of an open jaw must be shorter than the flown segments
We discuss open jaws in more details in this post about how to visit New York, Boston, London, Paris and Istanbul for the price of one round-trip award ticket.
How to Use a Stopover and Two Open Jaws and Save Miles
Let's say you're planning a trip to Egypt from the U.S., but you have some extra time, and you've never been to China or South Korea. Maybe you live near Washington, D.C., and you haven't been to New York City in a while, so you'd like to spend a few days there as well. Here's how you can do all that on one round-trip award ticket:
Fly from Washington, D.C., to Cairo
Use a stopover to spend a few days there
Fly from Cairo to Beijing
Use an open jaw to get from Beijing to Seoul
Fly from Seoul to New York
Use a second open jaw from New York back to Washington, D.C.
Keep in mind that you'll be responsible for getting from Beijing to Seoul, and from New York to Washington, D.C. Also note that this is just a sample itinerary. You can potentially fly into and out of different cities in the same regions and pay the same amount of miles, assuming that they're served by United or one of its partners.
To book this itinerary, go to United's website. Click "search multiple destinations," and enter your flight information.

When you're done, click "search" at the bottom.

Choose the first flight, between Washington, D.C., and Cairo.

Then choose your second flight, from Cairo to Beijing.

Transportation for the open jaw between Beijing and Cairo is your responsibility. You can find a flight for as cheap as $150, or you can take a more adventurous route by taking the train to Qingdao, and then the ferry to Seoul.
Select your final flight, from Seoul to New York.
The next screen will show you your final itinerary and the cost of the award ticket.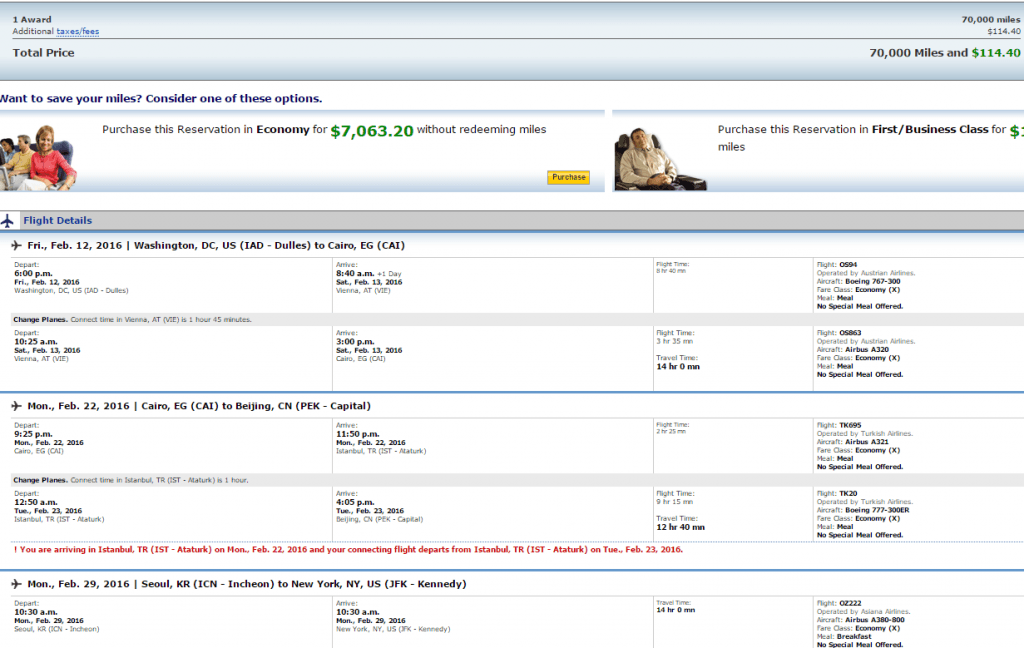 The final cost of your flight is only 70,000 miles and $114.40 in taxes and fees.
Round-trip flights to the Middle East at the lowest redemption levels cost 85,000 miles. Flights to China and Korea, though, cost only 70,000 miles. Surprisingly, United prices this itinerary at the lower rate. By adding Beijing to your itinerary, you actually save 15,000 miles.