Unlike Europe, you don't have a lot of options for Latin America with AAdvantage miles. Aside from American Airlines, there are only two carriers that can get you there, the Chile-based giant LAN and Brazil-based behemoth TAM. The two carriers merged a few years ago to form an even bigger airline called LATAM, but they are running things separately for now, until at least 2017.
Of course, we are mostly interested in flying in premium class to real long-haul destinations, such as Lima, Rio de Janeiro, Sao Paulo, Buenos Aires, or Santiago de Chile. The American Airlines award chart puts these destinations in South America Region 2.
Redemption rates between North America and South America Region 2 (one-way) are:
Business Class: 57,500 AAdvantage miles (two-class aircraft)
First Class: 85,000 miles (three-class aircraft).
You can't search and book awards on LAN or TAM by searching AA.com. Your options are the British Airways website, Qantas website, or you could just roll the dice and call AA, which might not be your best strategy. Please see our previous post: Oneworld Best Business Class Redemptions to Europe.
LAN (including LAN Peru and LAN Argentina) flies to the following U.S. cities:
From Santiago

Los Angeles
Miami
New York (JFK)

From Buenos Aires
From Lima

Los Angeles
Miami
New York (JFK)
Orlando
Washington (Dulles)
TAM
From Sao Paulo

Miami
New York (JFK)
Orlando

From Rio de Janeiro
From Brazilia
LAN has a great Premium Business cabin in 767s on all its long-haul routes (and lately 787s on some routes). It features lie-flat beds, gourmet cuisine, fantastic wine list, and great choice of entertainment programs.
In our last installment we discussed searching your flights on the British Airways website. The BA site is not designed so that we could conduct a speedy research, but it is more accurate. The Qantas site is more user-friendly, as it offers a calendar view, but it's more prone to errors, like this one.

When you see an error message where it shouldn't be, try to log out and log in again. In addition, keep in mind that Qantas doesn't like when you are doing a lot of research on its site. At some point it will kick you out, and you will have to wait to find your way back in.
How to search availability and equipment on Qantas
Log in your Qantas account and enter your search parameters. You must choose Classic Award.

In the next screen uncheck Economy and check Business. Then click Go.
If you can't find availability (and if you're flexible) click Previous 14 days in the left lower corner. When you see a gray little man-in-a-chair symbol, you've found availability. In our case, it's March 18. Click this date, then Continue.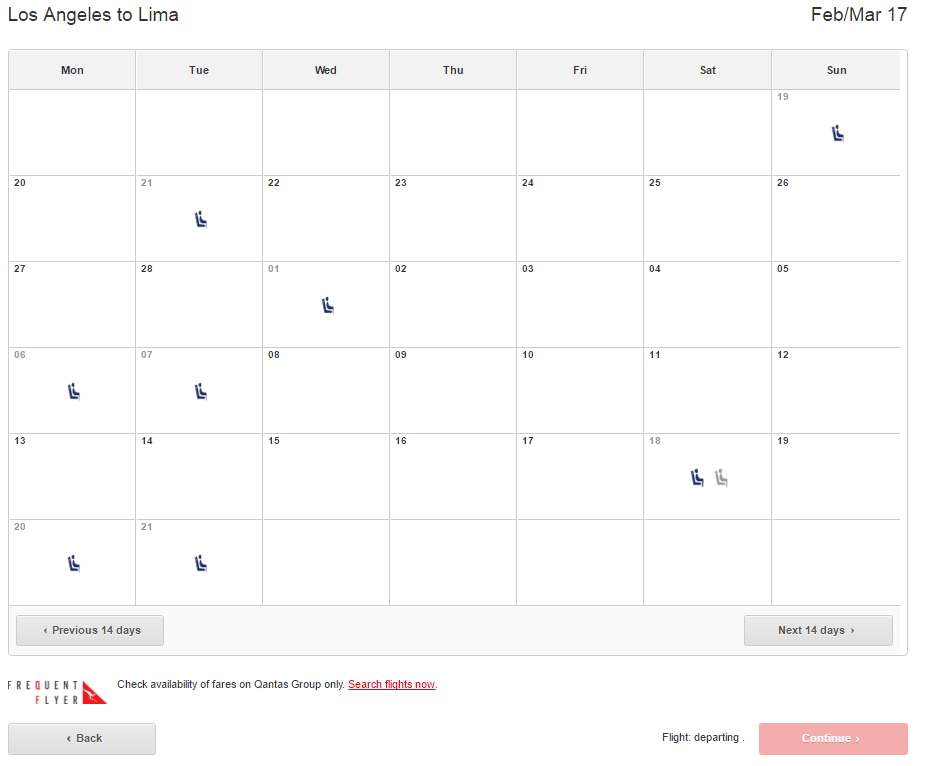 Click this date, then Continue.
The flight you're interested in is at the top: LA2605. Write it down and call AA to complete your booking.
Please remember that you have to call the American Airlines Call Center with your flight numbers to complete your booking.
Next: Strong American Airlines and One World: Best Business Class Redemptions to Asia