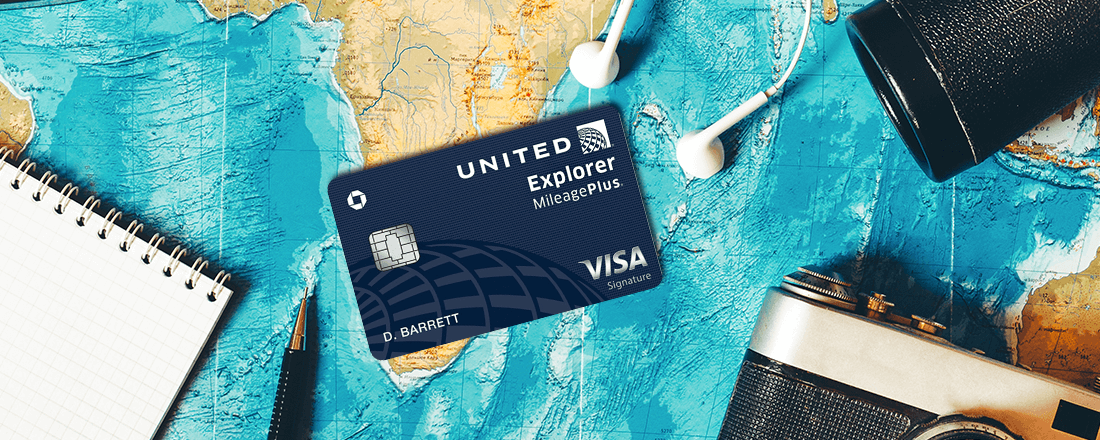 The credit card world is constantly changing. Cards that were awesome yesterday are ho-hum today, so banks are always evaluating their credit card portfolio to see where they can add more value and gain more of your wallet share. Chase has recently released a new United Explorer credit card, but does it belong in your wallet? Let's take a look.
What If I Already Have A United MileagePlus Explorer Card?
Starting June 1, 2018, all existing Chase United MileagePlus Explorer cardholders will receive new cards. The new cards will automatically come with the new benefits, but will also lose some of the perks you may have loved about the card.
New Benefits of the Chase United Explorer Credit Card
The team at Chase and United wanted a co-branded credit card that customers would use more often. With so many credit cards offering bonus points on travel and dining, they knew they had to make a change to keep the United Explorer credit card front-of-wallet.
Bonus Points for Dining and Hotels
You'll earn 2x miles on dining and hotels in addition to the 2x miles you earn when spending with United Airlines for flights, checked bags, in-flight purchases, etc. You'll continue to earn 1x miles on all other purchases.
These extra miles on dining and hotels are a nice bonus for those of us that don't have a Chase Sapphire Preferred or Chase Sapphire Reserve. These credit cards earn 2x or 3x, respectively, on travel and dining.
If you do have the Reserve card, you're better off spending on that credit card for travel and dining, earning 3x Ultimate Rewards, then transferring 1:1 from Chase points to United miles.
Global Entry or TSA PreCheck Reimbursement
Reimbursement for Global Entry or TSA PreCheck is normally reserved for premium credit cards with annual fees of $400+. The Chase United Explorer card is one of the few sub-$100 annual fee credit cards that offer this benefit.
You can get reimbursed for your application fees once every four years.
Discount on In-Flight Purchases
In-flight purchases of Wi-Fi, food and beverages are big profit margin items for airlines. You're a captive audience for hours at a time and the airlines continue to reduce service that used to be free.
Having the Chase United Explorer card will give you a 25 percent discount on Wi-Fi, food and beverages during your flight, which brings the prices down to a more reasonable level.
When you make these purchases, you'll be charged the full amount and a credit will post to your account within 24 hours. Comparable co-branded cards from American, JetBlue and Delta also offer in-flight purchase discounts on food and beverages ranging from 20 to 50 percent, but their discount doesn't apply to Wi-Fi.
Existing Benefits Remain
Most of the benefits of the Chase United MileagePlus card transferred over to the Chase United Explorer card:
Free first checked bag for cardmember and one companion when you use your card to purchase the United flight. That's a savings of $25 per person each way.
Priority boarding for you and your companions.
Two one-time use United Club passes each year (value of $59 each).
Your miles never expire while you hold this card.
No foreign transaction fees.
Retention of these benefits, along with the addition of bonus miles on dining and hotels and Global Entry reimbursement, make this card a keeper in my eyes.
Any Benefits Lost?
Unfortunately, what one hand gives, the other hand takes away.
Here are the benefits that were removed or reduced when the MileagePlus card converted into the Explorer card:
10,000-mile bonus after spending $25,000
Trip cancellation coverage limited to $1,500 per trip
Price and return protection has been removed from all Chase credit cards
Does the 24-Month Bonus Rule Apply?
Chase does not allow you to earn a credit card bonus until 24 months have elapsed since you last earned a bonus with that card.
Because the Chase United Explorer card is a brand new credit card, the 24-month language won't apply, even if you've received a bonus from the Chase United MileagePlus Explorer card in the last two years.
United Rewarded Summer
Chase and United Airlines are partnering with Tracee Ellis Ross to showcase how cardmembers will be rewarded throughout their travel experience.
Rewarded Flights: In the gate area of three surprise United hubs, cardmembers will have the chance to win hotel stays, restaurant vouchers, in-flight perks and many other prizes. The ultimate surprise is that customers on three flights can win a portion of up to 20 million United MileagePlus miles. You can also enter here to win for free.
Twice in a Lifetime Rewarded: This summer, PopSugar.com will host a promotion reserved for United cardholders and MileagePlus members. Stay tuned for details.
United Explorer Card Food Truck: This July, a co-branded food truck will roam the streets of New York City handing out samples of treats from some of the most popular restaurants from Newark Liberty International Airport.
Apply For the Chase United Explorer Card
When you apply for the Chase United Explorer card, not only will you receive all of the benefits described above, you'll also earn 40,000 United miles after you spend $2,000 in eligible purchases within the first three months of account opening.
There are also some added bonuses to encourage you to apply:
A $100 statement credit after your first purchase
5,000 bonus miles when you add an authorized user and they make their first purchase within 3 months of account opening
The $95 annual fee is waived the first year
With the annual fee waived the first year plus the $100 statement credit after the first purchase (that will cover the annual fee the second year), you get to try out the new Chase United Explorer card for free for the first two years. With a deal this good, you can't lose.