Flight delays are a part of the traveling experience, but wouldn't it help if you knew ahead of time which airlines have the best track record when it comes to getting you to your destination on time, and which ones have the worst? With the release of the U.S Department of Transportation's Air Travel Consumer Report, we do – and Hawaiian Airlines took the top spot, with 90% of their flights being on time for take off and landing

Hawaiian Airlines was followed by Alaskan Airlines, Delta Airlines and Virgin Airlines – all of whom did really well in the report by keeping their on time levels above 80%. But Spirit Airlines did not fare so well in the report with just under half (49.9%) of their flights arriving on time.
The best and the worst – the rankings
When it came to determining what on time meant when traveling the U.S Department of Transportation determined that a good benchmark would be if the flight arrived within 15 minutes of their scheduled time in the airlines computerized reservations system.
So where did your favorite airline fell into the mix? Here the rankings for June 2015, starting with the airlines with the best on time flight ratio, and ending with the worst.
Hawaiian Airlines, 90%

Alaskan Airlines, 87%

Delta Air Lines, 82%

Virgin America, 81%

Jetblue Airways, 78%

Skywest Airlines, 77.3%

American Airlines, 77.2%

Southwest Airlines, 73%

ExpressJet Airlines, 71%

Envoy Air, 70%

Frontier Airlines, 67%

United Airlines, 66%

Spirit Airlines, 50%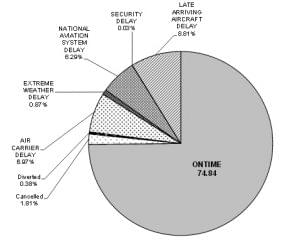 Its all about baggage
Losing your luggage is definitely a headache, so the U.S Department of Transportation took at this area as well, by looking at how many complaints were filed by passages whose luggage was lost between January 2015- and June 2015. Here too some carriers did better than others. With Virgin American, Jet blue Airways, Delta Air Lines, Hawaiian Airlines having the least complaints, while the smaller carries like Sky West Airlines, Express jet Airlines and Envoy had the most.